Stand up for the facts!
Our only agenda is to publish the truth so you can be an informed participant in democracy.
We need your help.
I would like to contribute
"We did not seek an impeachment of President Bush."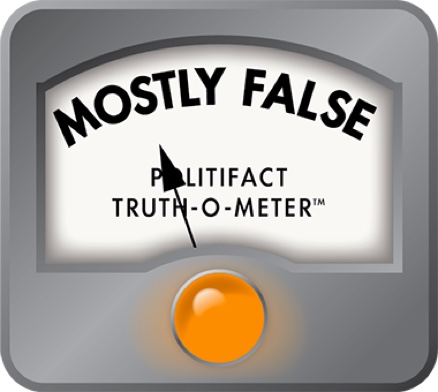 Jackson Lee says 'we did not seek an impeachment of President Bush' but she co-sponsored '08 bill
As Congress' August recess loomed, partisan skirmishing reached a crescendo, with the U.S. House approving, on a near-party-line vote, a lawsuit against President Barack Obama on the grounds that he had overstepped his constitutional authority.
Democrats, noting past statements by some Republicans in Congress, raised the specter of the president being impeached, though Republican House leaders insisted that impeachment wasn't an option.
During the floor debate over authorizing the lawsuit against Obama, Rep. Sheila Jackson Lee, D-Texas, suggested that Democrats had the moral high ground.
Even though some Democrats had thought that President George W. Bush had abused his authority when he initiated the Iraq War, the House, while under Democratic control in 2007 and 2008, did not impeach him.
The current resolution to authorize a lawsuit, Jackson Lee said in a floor speech on July 30, 2014, "smacks against the Constitution, which says there are three equal branches of government. Therefore, the executive has the right to perform his duties. I ask my colleagues to oppose this resolution for it is, in fact, a veiled attempt for impeachment, and it undermines the law that allows the president to do his job. It is a historical fact that President Bush pushed this nation into a war that had little to do with apprehending terrorists. We did not seek an impeachment of President Bush because as an executive, he had his authority. President Obama has the authority."
A reader asked us to check whether it's accurate for Jackson Lee to say, "We did not seek an impeachment of President Bush." So we took a closer look.
Jackson Lee, it turns out, is an imperfect vehicle for making this charge. Here's the problem: A dozen House Democrats in 2008 did introduce a resolution seeking the impeachment of Bush. And Jackson Lee was one of the measure's 11 co-sponsors.
The measure in question was H. Res. 1258, introduced by then-Rep. Dennis Kucinich, D-Ohio, on June 10, 2008. The resolution -- a 167-page laundry list of criticisms -- accused Bush of "high crimes and misdemeanors," citing numerous "abuses of power" related to his prosecution of the war in Iraq and the fight against global terrorism, among other topics.
If Jackson Lee means to define "we" as the Democratic caucus as a whole, she has a point. The resolution never gained wide support among the Democrats, even though they controlled Congress at the time. The bill died quietly in committee.
Pelosi explained her thinking about the impeachment resolution in a July 2008 interview on ABC's The View. "I thought that impeachment would be divisive for the country," she said. "We have to create jobs, expand healthcare, protect the American people and educate our children. And you can't do that if you're trying to impeach the President at the same time, unless you have the goods that this president committed crimes."
Even so, it seems odd to hear Jackson Lee saying "we did not seek" impeachment when she, in fact, was a co-sponsor of a measure that sought precisely that.
When we reached out to Jackson Lee's office, communications director Michael J. McQuerry said, "the Congresswoman was stating that the Democrats did not try to impeach President Bush over executive orders."
However, we looked through Jackson Lee's floor speech and saw no references to executive orders. For that matter, the specific target of the House GOP's lawsuit -- administrative changes to delay the effective date of the Affordable Care Act's employer mandate -- did not take the form of an executive order, either, although Republicans have been critical of some of Obama's executive orders more generally.
Further undercutting Jackson Lee's explanation, the 2008 impeachment resolution she co-sponsored did address executive orders twice:
• It quoted then-Sen. Russ Feingold, D-Wis., saying the Bush administration's "shroud of secrecy extends to agency rules and executive pronouncements, such as executive orders, that carry the force of law. Through the diligent efforts of my colleague, Sen. (Sheldon) Whitehouse (D-R.I), we have learned that (the Office of Legal Counsel) has taken the position that a president can 'waive' or 'modify' a published executive order without any notice to the public or Congress -- simply by not following it.'"
• Citing a 2007 article from the Washington Post, the resolution said that Mike McConnell, Bush's director of national intelligence, in a letter to the late Sen. Arlen Specter of Pennsylvania, "acknowledged that Bush's executive order in 2001 authorized a series of secret surveillance activities and included undisclosed activities beyond the warrantless surveillance of emails and phone calls that Bush confirmed in December 2005."
Our ruling
Jackson Lee said, "We did not seek an impeachment of President Bush." She has a point that neither the House nor a majority of the Democratic caucus sought Bush's impeachment. However, a dozen Democratic lawmakers did -- including Jackson Lee herself. It seems hypocritical of the congresswoman to seize the moral high ground -- essentially saying that her party gallantly went against self-interest by declining to seek Bush's impeachment -- when in fact she personally had sought precisely that outcome. On balance, we rate the claim Mostly False.
Sheila Jackson Lee, remarks on the House floor, July 30, 2014
Text of H.Res. 1258 (2008 impeachment resolution)
congress.gov, co-sponsors for H.Res. 1258
Text of H.Res. 676 (2014 authorization of lawsuit against Obama)
Email interview with Michael J. McQuerry, communications director for Sheila Jackson Lee, July 31, 2014
Browse the Truth-O-Meter
More by Louis Jacobson
Support independent fact-checking.
Become a member!
In a world of wild talk and fake news, help us stand up for the facts.