Stand up for the facts!
Misinformation isn't going away just because it's a new year. Support trusted, factual information with a tax deductible contribution to PolitiFact.
I would like to contribute
"Wendy Davis' legal work is currently under FBI investigation."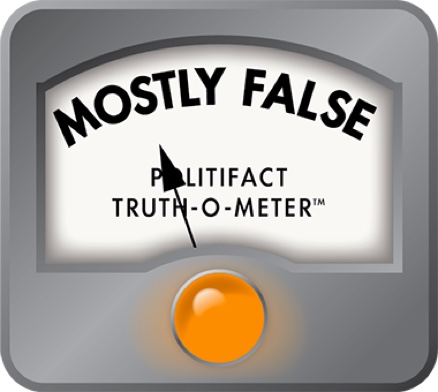 Greg Abbott lacks proof Wendy Davis is under FBI scrutiny
Democrats gathering in Dallas for their state convention were welcomed by a billboard featuring a photo of their gubernatorial nominee, Wendy Davis, and this message: "Wanted: Wendy Davis' legal work is currently under FBI investigation."
It's one of several billboards rented by the campaign of her Republican opponent, Greg Abbott, according to a June 26, 2014, Abbott press release. A photo of the billboard also appeared in an Abbott campaign tweet.
Davis is "wanted" by the FBI?
Michelle Lee, spokeswoman in the FBI's San Antonio office, told us by phone: "Our policy is that we don't either confirm or deny the existence of an investigation."
Abbott spokesman Matt Hirsch pointed to several April 2014 news stories as the campaign's evidence. The reports said the FBI was investigating an agency with which Davis' law firm has done business. FBI officials had no comment in those news stories, and a Travis County prosecutor cautioned against concluding that Davis was in federal sights.
April 2014 news stories
Let's look at those reports in detail.
A news story posted online by the Dallas Morning News on April 17, 2014, quoted Travis County officials as saying documents related to Davis' work as an outside lawyer for the North Texas Tollway Authority, "are part of an FBI inquiry of the agency." That work, the story said, had related to land condemnations and delinquent toll collections.
The story also touched off an Abbott campaign tweet:
But, the News' story said, it wasn't clear whether Davis' work for the authority "is a focus of the FBI or only part of the material collected in connection with its look into tollway agency operations."
The story said the authority disclosed in 2011 that the FBI was investigating potential conflicts of interest among current and former board members. Davis, it noted, had not served on the board. Also, the story said, no one had been charged.
In 2013, the story said, the Public Integrity Unit of the Travis County district attorney's office built a file while reviewing a complaint filed by the Republican who lost to Davis for her Senate seat in 2012. Elizabeth Winn, a Travis County assistant district attorney, told the newspaper her office had confirmed with the FBI that the material from the county's review of the complaint by Mark Shelton was now part of a federal investigation. "We did confirm by telephone … they still have a pending investigation," Winn said.
The newspaper quoted Gregg Cox, who heads the county's investigatory unit, as saying that in looking into Shelton's complaint about Davis, his office fielded information from the FBI. "They shared information with us, and that information was in our files," Cox said. "We ultimately closed our investigation."
The News said it learned of the FBI link after its request for the investigative file under the Texas Public Information Act was rebuffed by the Public Integrity Unit. The paper quoted Cox as saying: "When the open records request came in, we felt a need to protect the information in our files that we had learned from the FBI."
In a September 2013, letter to Shelton, the News reported, the district attorney's office said it had conducted legal research into his complaint against Davis but had been "unable to accumulate sufficient evidence to support a prosecution" for any offense that might have occurred in Travis County. Much of what the allegations deal with occurred elsewhere, in Tarrant County, home to Fort Worth. "Thus we do not have proper venue to prosecute any criminal conduct that occurred," the letter said.
A day later, on April 18, 2014, the Austin American-Statesman followed up with a news story stating: "There is no evidence that Davis is an object of interest for the FBI, which is mum on even the question of whether there is an investigation."
A Statesman news story posted online earlier that day quoted Cox as saying Shelton's October 2012 complaint concerned the North Texas Tollway Authority hiring Davis' law firm in exchange, Shelton asserted, for her vote on legislation that mattered to the authority. Davis, the newspaper said, had said she voted in the interests of her constituents and it had nothing to do with being given work by the authority.
Cox said that, when the county embarked on looking into the matter, "we came across a bunch of news articles about the FBI investigating the NTTA so we reached out to them and they shared information with us about their investigation."
The Statesman said the disclosure about the sharing of information between the Public Integrity Unit and the FBI was prompted by the Dallas newspaper's March 11, 2014, open-records request for a copy of the case file. Travis County asked the open records division of Attorney General Abbott's office on March 24, 2014, for a ruling, and on April 1, 2014, received an affirmative reply, confirming that it did not have to make the documents available, the Statesman said.
According to the Statesman, Winn's letter seeking the AG's ruling said "the requested information is the subject of an open investigation" by the FBI and "the information's release would interfere with the FBI's prosecution of the crime underlying the information."
Cox told the Statesman it would be wrong to read into the letter that Davis is a subject of the FBI investigation. Cox said the Public Integrity Unit did not provide the FBI any information; it was the FBI that provided the Public Integrity Unit with information about its investigation of the authority.
We called Cox and didn't hear back.
We also asked Hirsch of Abbott's camp how Abbott knows Davis' work is "currently" under investigation. He didn't say, replying by email with a question: "Has the FBI said the investigation is closed?"
Our ruling
Abbott's billboard said: "Wendy Davis' legal work is currently under FBI investigation."
That's largely unsupported. According to news reports, the FBI has looked into an agency that's also relied on Davis for legal work--and her work may or may not be an element of the inquiry. But the FBI has been silent about the inquiry and any Davis element and we see no official confirmation otherwise of a focus on the senator. Notably, a Travis County prosecutor said two months ago it'd be wrong to conclude his office's mention of the FBI inquiry in a letter indicates Davis is under federal scrutiny. Also, Abbott's camp offered no evidence the declared investigation is "currently" happening.
We rate this claim as Mostly False.
---
MOSTLY FALSE – The statement contains an element of truth but ignores critical facts that would give a different impression.
Click here for more on the six PolitiFact ratings and how we select facts to check.
News story and news blog post, "FBI probe of NTTA includes Wendy Davis file, Travis DA's office says," Dallas Morning News, April 17, 2014; "Wendy Davis didn't know when she announced for governor documents part of FBI investigation of tollway agency," the News, April 18, 2014 (accessed June 26, 2014)
News stories, "Public Integrity Unit closed ethics investigation of Wendy Davis for lack of jurisdiction, timeliness," "Is Wendy Davis linked to FBI probe into toll authority?," Austin American-Statesman, April 18, 2014 (accessed June 26-27, 2014)
Telephone interview, Michelle Lee, media coordinator, Federal Bureau of Investigation, San Antonio, June 26, 2014
Press release and emails, Matt Hirsch, communications director, Greg Abbott campaign, June 26-27, 2014
Emails, Zac Petkanas, communications director, Wendy Davis campaign, June 26, 2014
Browse the Truth-O-Meter
More by W. Gardner Selby
Support independent fact-checking.
Become a member!
In a world of wild talk and fake news, help us stand up for the facts.