Stand up for the facts!
Our only agenda is to publish the truth so you can be an informed participant in democracy.
We need your help.
I would like to contribute
President Barack Obama shut down NASA space flights and turned the agency "into a Muslim outreach department."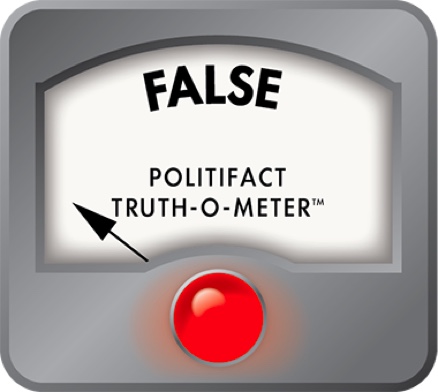 Rush Limbaugh says Barack Obama turned NASA into a 'Muslim outreach department'
During an epic rant about liberal laziness and the events in Ukraine, conservative radio pundit Rush Limbaugh made a striking claim about NASA's new role under President Barack Obama.
How liberal laziness, Ukraine and NASA are related is a bit convoluted, so we'll keep this recap short and sweet. Limbaugh was going off on a Huffington Post blog written by Carolyn Gregoire. In her post, Gregoire criticized a Cadillac commercial as over-materialistic.
Here's what Limbaugh said on his March 6 show:
"Hey, Ms. Gregoire, never mind that Barack Obama made NASA into a Muslim outreach department and it's Barack Obama, your idol and hero, that makes it necessary to pay the Russians $70 million for every astronaut to the space station," Limbaugh said.
"By the way, with this thing in the Ukraine, with the KGB vs. Obama, i.e., ACORN, what happens if Putin says, 'You know what, you really ticked me off and I'm not taking you back to your space station.' How we gonna get there, Ms. Gregoire? 'Cause Obama's shut it down. NASA's a museum for Muslim outreach now."
There's obviously some hyperbole in Limbaugh's comments here. But we did think it worthy to attempt to answer two questions:
What is Limbaugh talking about when he says Obama turned NASA "into a Muslim outreach department?"

Did Obama shut down NASA space flights?
The Muslim museum connection
Limbaugh did not return a request for comment. But we're fairly certain the origin of his "Muslim outreach" claim stems from the summer 2010 news cycle. New NASA chief Charles Bolden made a curious remark about Obama's three-pronged vision for Bolden's job description in an interview with Middle Eastern news channel Al Jazeera.
Obama had made improving relations with the Middle East a priority in his first campaign and traveled to Egypt for an historic address to the Muslim world in July 2009. To commemorate the one-year anniversary of that speech, Bolden told Al Jazeera the following in Cairo (video):
"When I became the NASA administrator, (President Obama) charged me with three things. One, he wanted me to help re-inspire children to want to get into science and math; he wanted me to expand our international relationships; and third, and perhaps foremost, he wanted me to find a way to reach out to the Muslim world and engage much more with dominantly Muslim nations to help them feel good about their historic contribution to science, math and engineering."
Months earlier, Bolden brought up NASA's goal of working with "non-traditional" allies, such as Indonesia, in a talk with engineering students, according to the Orlando Sentinel.
We wanted to know what other ground Bolden covered during the Al Jazeera interview, but we could not find a full-length transcript and video. So we turned to other recaps. A 2010 PolitiFact Texas fact-check on this topic pointed out Bolden also spoke of NASA's focus on international exploration of deep space and using robots to knock human race-threatening asteroids away from Earth. An ABC News synopsis said Bolden said his mission was not about diplomacy but expanding international relationships for "tangible reasons," such as traveling to Mars.
Still, Bolden's comment about reaching out to Muslim nations struck conservative talking heads and politicians as bizarre. Fox News commentator Charles Krauthammer said Bolden's remarks signaled "a new height of fatuousness." Former NASA Administrator Michael Griffin, who served during the George W. Bush administration, called it a "perversion" of NASA's purpose. Limbaugh was mad back then, too.
The White House clarified Bolden's remarks as outrage swelled, with spokesman Robert Gibbs saying, "That was not his task, and that's not the task of NASA."
A NASA spokesman told PolitiFact Texas in a previous fact-check, "NASA's core mission remains one of space exploration, science and aeronautics. Administrator Bolden regrets that a statement he made during a recent interview mischaracterized that core mission. The success of NASA's efforts is increasingly enhanced by mutual cooperation with dozens of other countries around the world that are also committed to these efforts."
In the years since, Bolden has traveled around the world promoting NASA but has not made many public statements.
"He misspoke a bit and has since then had a fairly tight leash put on him by the White House," said John Logsdon, space historian at the Space Policy Institute at George Washington University, in an interview with PunditFact.
Obama did not want Bolden to extend NASA's cooperation to solely Muslim countries, Logsdon said, but also to non-traditional countries in South America, Asia, Africa and the Middle East. The American space program could be "an instrument of political goodwill" and help developing countries get involved with modern space activities, Logsdon said.
We reached out to NASA for examples of collaboration with Middle Eastern countries since Bolden took over, and about Limbaugh's characterization of Bolden's remarks in general, but a spokesman did not answer those questions.
The end of NASA's space shuttle program
The retirement of the 30-year-old space shuttle program may have happened under Obama's watch, but the process was triggered during the administration of President George W. Bush.
In 2004, Bush called for retiring the space shuttle once the International Space Station was complete. (PolitiFact looked at the origins of the phase-out of the American space shuttle program in this fact-check.)
NASA retired its space shuttle fleet after the final flight for the space shuttle Atlantis in July 2011.
The goal after that was to have a commercial spaceship to carry American astronauts by 2015. In the interim, NASA is paying for seats aboard Russia's Soyuz space capsules for missions to the International Space Station. Other countries, like Japan and Canada, have reached the space station via Soyuz capsules, too.
That arrangement will continue for NASA through 2017. Part of the reason for the delay is that Congress has underfunded Obama's recent budget requests to help private companies develop their own space technology, according to Space.com, a space and astronomy news website.
Regardless, one thing is clear: NASA is not closed for business. The agency has a $17 billion budget and is spending it, Logsdon said. There are satellites en route to Pluto and Jupiter, a rover on the surface of Mars, and work being done on the successor to the Hubble space telescope, he said.
NASA spokesman David Weaver said the agency is working on a plan to launch American astronauts to the space station and not rely on Russian transport, but Congress needs to fund Obama's budget requests.
Our ruling
Limbaugh reached into the early flare-ups of the Obama presidency for his quip about NASA's conversion into a "Muslim outreach department."
The notion stems from remarks by Bolden in an interview with an Arabic TV channel in 2010. Bolden identified three priorities from Obama, including finding "a way to reach out to the Muslim world and engage much more with dominantly Muslim nations to help them feel good about their historic contribution to science, math and engineering."
The Obama White House refuted Bolden's remarks once outrage swelled, with spokespeople emphasizing the agency's mission is space exploration and not diplomacy.
Limbaugh also accused Obama of shutting down NASA space flights. Obama certainly played a role (the shuttle flights stopped while he was in office), but the plan to scuttle the space shuttle program started before Obama took office, and Congress has not fully funded budget requests to speed along the creation of a private American space fleet.
Those omissions go beyond the realm of hyperbole. We rate Limbaugh's claim False.
The Rush Limbaugh Show transcript, "Liberals outraged by Cadillac ad," March 6, 2014
Huffington Post's The Third Metric: Redefining Success Beyond Money & Power, "Cadillac Made A Commercial About The American Dream, And It's A Nightmare," Feb. 26, 2014
PolitiFact Texas, "Michael Sullivan says NASA administrator said main mission is Muslim outreach," Aug. 1, 2010
PolitiFact, "Chain e-mail claims Obama is first president to "terminate America's ability to put a man in space," Oct. 28, 2011
Al Jazeera English, "Talk to Jazeera," Charles Bolden interview, aired June 30, 2010
Washington Post Federal Eye blog, White House: No Muslim outreach for NASA
YouTube.com, Cadillac commercial, accessed March 6, 2014
Interview with Allard Beutel, NASA spokesman, March 7, 2014
Interview with John Logsdon, space historian at the Space Policy Institute at George Washington University, March 12, 2014
Interview with Rachel Nelson, Premiere Networks/Limbaugh spokeswoman, March 12, 2014
The New York Times, "Obama vows renewed space program," April 15, 2010
Browse the Truth-O-Meter
More by Katie Sanders
Support independent fact-checking.
Become a member!
In a world of wild talk and fake news, help us stand up for the facts.