Stand up for the facts!
Our only agenda is to publish the truth so you can be an informed participant in democracy.
We need your help.
I would like to contribute
"25,000 businesses have been created since (Scott) Walker took office."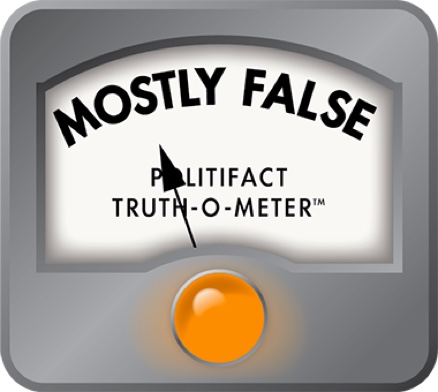 State Republican Party: 25,000 new businesses under Scott Walker
The Republican Party of Wisconsin may have committed a Freudian slip in its Oct. 29, 2014 news release touting Gov. Scott Walker's accomplishments.
"Over 110,000 new jobs and 25,0000 businesses have been created since Walker took office," the release originally said.
We noted the extra zero on that second figure, an echo perhaps of Walker's promise that Wisconsin would create 250,000 private-sector jobs on his watch. (He will fall far short and we have rated it Promise Broken).
But what really got our attention was the corrected version of the release, which says 25,000 new businesses have sprung up since Walker took office in January 2011.
It's a nice round number, and a sharp contrast to what the GOP said in an earlier news release -- that 27,000 businesses "fled the state" due to the policies of former Gov. Jim Doyle and Mary Burke, the former state Commerce secretary trying to unseat Walker in the Nov. 4 governor's race.
We've heard the 25,000 new businesses claim before -- Walker's campaign uses it, pointing to figures published by a state agency, the Department of Financial Institutions.
The agency reports the number of registered "business entities" in Wisconsin, including
filings by newly formed business corporations, non-stock nonprofit corporations, cooperatives, limited partnerships, limited liability companies and partnerships, common law trusts, veterans organizations and certain religious corporations.
The numbers rise and fall as some entities fall away and others are created, giving what economists say is a rough sense of economic activity.
The net gain in the number of active entities during Walker's three-plus years is 24,947, or a 7 percent increase. (There were 389,316 business entities registered as of Sept. 30, 2014).
So that's the 25,000 figure in the GOP claim.
That's far from the end of the story.
That number turns out, in many cases, to have very little to do with actual operating businesses and job creation.
We've closely examined this issue before. In May 2014, we reported that the count of newly registered "business entities" includes not only new ventures that bring new jobs, but thousands with no workers on the payroll at all -- and little if any prospect of hires to come.
That analysis by PolitiFact Wisconsin found that the count includes:
-- Thousands of limited-liability companies set up by real-estate investors solely to hold ownership of property or properties. Even investors as far away as Australia are on the list because they bought Wisconsin rental properties.
-- Out-of-state firms that registered in Wisconsin because they may want to do work here.
-- Hundreds of nonprofit organizations, often volunteer-run, including Scout troops, condo associations, youth sports leagues, volunteer fire departments, historical societies, "friends" fundraising groups, scholarship funds and many more.
-- Startups that are just getting organized and not yet able to pay employees.
As PolitiFact Wisconsin has noted several times in evaluating Walker's promise to create 10,000 new businesses in his term, business experts caution that many LLCs are set up for tax and liability purposes and employ no one.
To judge Walker's final progress on his new business promise, we will also consider a second measure related to business formations -- the number of new locations, or "business establishments," set up by companies. We reported in September that the state had added 6,657 such establishments through March 2014.
To be sure, there are many job-producing startups among the thousands of entities cited by the GOP. But it's impossible to say, without calling every person registering a new firm, exactly how many fit in that category.
It is easy, however, to say the GOP claim, which ignores the thousands of non-operating businesses in the mix, is far off the mark.
At the same time, the party's characterization of a net loss of business entity filings during the Doyle years as firms having "fled the state" is off base. The drop reflected the slowdown in business activity during the Great Recession, but there is no official tally of how many active employers shut down or picked up and left.
Our rating
The Wisconsin GOP claimed that "25,000 businesses have been created since Walker took office."
There's an element of truth: that's the number of business "entities" that were created.
But portraying these registrations as businesses in the context of job creation is a major stretch because many are just corporate shells, non profit organizations, reconstituted versions of existing businesses and out-of-state firms.
We rate the claim Mostly False.
Wis GOP news release Oct. 29, 2014
Milwaukee Journal Sentinel archives
PolitiFact Wisconsin archives
Email exchange with George Althoff, communications director, Wisconsin Department of Financial Institutions, Oct. 31, 2014
Browse the Truth-O-Meter
More by Dave Umhoefer
Support independent fact-checking.
Become a member!
In a world of wild talk and fake news, help us stand up for the facts.