Get PolitiFact in your inbox.
Every new Republican member of the U.S. Senate said they "will vote to repeal and replace Obamacare."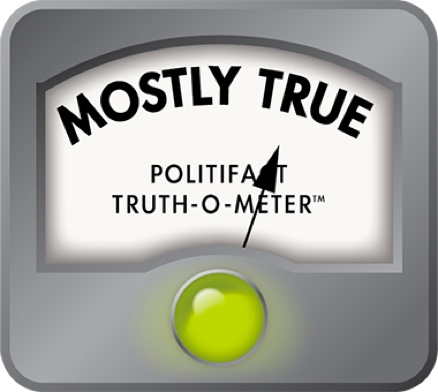 Sean Hannity says every new GOP senator wants to repeal and replace Obamacare
Now that the Republicans have won control in the Senate, one of the biggest questions is what they will do on health care. Fox News host Sean Hannity hammered home one strategy in his post-election analysis Nov. 5.
Talking to Republican Louisiana U.S. Rep. Bill Cassidy, who is in a runoff with incumbent Democratic Sen. Mary Landrieu, Hannity said, "Every single candidate like yourself running for office said you will vote to repeal and replace Obamacare."
Later, in an interview with Republican National Committee chairman Reince Priebus, Hannity said, "Every candidate that won in the Senate promised to repeal and replace Obamacare," Hannity said.
And he made the same point with Cory Gardner, who defeated incumbent Democrat Sen. Mark Udall in Colorado. "Every Republican that won elections last night, including yourself, you said repeal/replace Obamacare."
All within the span of an hour.
Here we're focusing on the 10 new Republicans joining the Senate. (The outcomes of races in Alaska and Louisiana are still pending.)
By and large, Hannity has a point.
The list
But during an October debate, when Daines was asked about repealing Obamacare, he gave a slightly nuanced response, "I did not vote against Obamacare 40 times. Should check my record. I voted against it once, to repeal Obamacare. That's my voting record."
During a June debate, Daines said he supports the law's ban on denying insurance for pre-existing conditions and giving parents the chance to keep kids on their plans until they turn 26.
Our ruling
Hannity said that the new Republican senators campaigned on a platform to repeal and replace Obamacare. All 10 new Republican senators said during their campaigns either that Obamacare should be repealed or that they had voted to repeal it.
The record on replacement is a little more nuanced. Republicans generally either explicitly say they want to replace Obamacare or more generally talk about health policy changes they support or parts of the Affordable Care Act that they'd like to keep.
Bottom line, Hannity is clearly right on the trend line. We rate his claim Mostly True.
UPDATE: After our fact-check published, Sasse's office pointed out additional details Sasse offered in his plan to replace Obamacare. Those comments are now included in this article. The rating remains Mostly True.
Congressional Quarterly, RNC Chairman Reince Priebus Interviewed on Fox News, Nov. 5, 2014
CNSNews.com, 100% of Newly Elected GOP Senators Campaigned on Repealing Obamacare, Nov. 5, 2014
Perdue for U.S. Senate, The Issues
Joni Ernst for U.S. Senate, The issues
Thom Tillis for U.S. Senate, Meet Thom
Sasse for Nebraska, Agenda
Sasse for Nebraska, The anti-Obamacare recovery plan: A conservative blueprint for a healthier America
Rounds for Senate, Putting an End to Obamacare
PolitiFact, Tom Cotton says he wouldn't back changes for those on Medicare, but the ACA repeal he supports would, Oct. 16, 2014
Ontheissues.org, Tom Cotton on Health Care
Lankford for Senate, My stance: Healthcare, May 2, 2014
Lankford for Senate, Health care
Rep. Steve Daines, Daines statement on HHS Secretary Sebelius resignation, April 14, 2014
Tea Party Express, Steve Daines for U.S. Senate,
What the Folly, Election 2014 Montana Senate debate transcript: Question on Obamacare, Oct. 21, 2014
Missoulian, Senate debate: Walsh urges health care for all; Daines wants 'Obamacare' gone, June 14 , 2014
C-Span, West Virginia Senate debate, Oct. 7, 2014
Rep. Shelley Moore Capito, Capito Votes to Repeal President Obama's "Train Wreck", May 16, 2013
Cory Gardner for Senate, Repeal Obamacare
Cory Gardner for Senate, Cory's record
Rep. Cory Gardner, Gardner statement on the "Repeal of Obamacare Act",
PolitiFact, Pro-Democratic group says North Carolina Senate candidate Thom Tillis would let pre-existing condition protections disappear, Feb. 13, 2014
Browse the Truth-O-Meter
More by Jon Greenberg
Support independent fact-checking.
Become a member!
In a world of wild talk and fake news, help us stand up for the facts.