Stand up for the facts!
Our only agenda is to publish the truth so you can be an informed participant in democracy.
We need your help.
I would like to contribute
"The conviction rate is almost exactly the same" for whites and blacks who commit murder.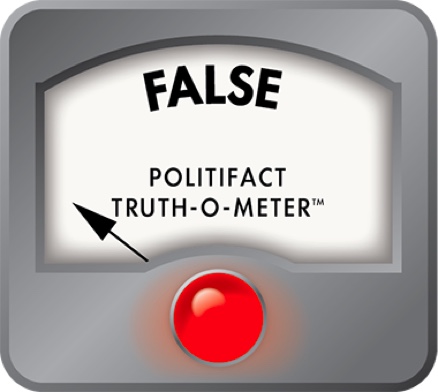 Giuliani: Black and white people who commit murder are convicted at the same rate
In the run-up to a grand jury's decision not to indict Ferguson, Mo., police officer Darren Wilson in the shooting death of African-American teenager Michael Brown, former New York City Mayor Rudy Giuliani stirred controversy with a number of comments about race, crime and law enforcement.
Following his appearance on NBC's Meet the Press on Nov. 23, 2014, Giuliani faced backlash for questioning why the same Americans protesting Brown's fatal shooting are not voicing similar outrage about black-on-black crime.
The following day -- hours before the grand jury decision was announced -- Giuliani stood by his argument during an appearance on Fox and Friends. He reiterated that the vast majority of black murder victims are killed by other black people, not by white police officers. (We rated this Mostly True, noting that the same pattern of intraracial homicide holds for for all races, not just for African-Americans.)
Giuliani also sought to counter the perception that white people don't go to jail for killing black people.
"And the idea that whites do not go to jail for killing blacks," he said. "First of all, only about 3 percent of whites kill blacks. They go to jail at approximately the same percentage as blacks go to jail. The conviction rate is almost exactly the same. The difference is, it's a very rare exception when a white kills a black."
His claim about even conviction rates surprised us, given the widespread perception that black Americans are disadvantaged in the criminal justice system. So we decided to take a closer look at Giuliani's claim that "the conviction rate is almost exactly the same" for whites and blacks who commit murder.
Sentencing statistics
Giuliani's comment in whole is fragmented and difficult to parse, and he didn't get back to us with further explanation. That being said, we scoured available data that might shed light on his claim about conviction rates.
We couldn't find a single report detailing the nationwide percentage of people who are charged with homicide and are ultimately convicted -- let alone a racial breakdown for that question.
The most recent and comprehensive report we could find comes from the the federal Bureau of Justice Statistics. The report, published in 2009, looks at 2006 data on felony sentences in state courts, where the vast majority of murder cases are tried.
It found that of all people convicted of murder or non-negligent manslaughter in 2006, 46 percent were white, and 51 percent were black. But this is not too helpful for checking Giuliani's claim.
For starters, this data does not separate out people who identify as Hispanic or Latino. And this finding means that African-Americans account for a grossly disproportionate percentage of murder convictions, since whites and Hispanics currently make up about 80 percent of the nation's population, compared to just 13 percent for blacks. That undercuts Giuliani's underlying premise of minimizing racial disparities in jurisprudence.
We also found a 2013 Bureau of Justice Statistics report that looked at felony defendants -- that is, people who are charged but not yet convicted -- in the 75 largest counties in the United States in 2009. That report showed that African-Americans also make up a disproportionate number of murder defendants. Of all people charged with murder, 12 percent were white, 30 percent were Hispanic, and 57 percent were black.
Either way, these statistics don't back up Giuliani's claim, because they do not show the likelihood that someone of either race will be convicted if they are charged with murder.
We also reached out to criminal justice experts, and they weren't familiar with a statistic that matched the specific claim.
The big picture
It's important to remember a few bits of context.
The conviction rate for homicide represents only a sliver of criminal justice cases and are not necessarily representative of the deep disparity between black and white defendants.
For example, the Justice Department has estimated that one in three black males will go to prison at some point in their lifetime, compared to 1 in 17 for a white male.
And out of all 1.5 million sentenced prisoners in the United States in 2013, black people made up the largest racial demographic, at about 36 percent -- well above their share of the population as a whole.
"I do not know why (Giuliani) would limit his comments to murder," said Delores Jones-Brown, a professor at the John Jay College of Criminal Justice. "When all offenses are taken into consideration, especially drug crimes, the black incarceration rate is substantially higher than that of whites."
Nearly half of all people charged with felonies in 2009 were non-Hispanic blacks. They made up more than half of all people charged with murder, robbery, drug trafficking and weapons-related offenses.
And Nazgol Ghandnoosh, a researcher at the Sentencing Project, an advocacy group, pointed us to several additional studies that show racial disparities, such as a 1998 study that found that offenders who are young, black, and male are subject to the harshest sentences, after controlling for factors such as the nature of the crime.
Our ruling
Giuliani said, "the conviction rate is almost exactly the same" for whites and blacks who commit murder.
We couldn't find any statistical evidence to support Giuliani's claim, and experts said they weren't aware of any, either. We found some related data, but that data only serves to highlight some of the racial disproportion in the justice system.
And when you take a step back, Giuliani's comment -- even if supported by statistical evidence -- would amount to cherry-picking data to shed the most benign light on racial disparities of the American justice system. Jurisprudence in general does not reflect this pattern.
Without statistical data to back up his claim, we rate it False.
Update, Nov. 26, 2014, 2:00 p.m.: Soon after we published this item, the Bureau of Justice Statistics officially confirmed to PolitiFact that they do not have nationally representative data on conviction rates by race.
NBC, "Giuliani and Dyson Argue Over Violence in Black Communities," Nov. 23, 2014
Fox, "Rudy Giuliani defends himself against racism charges," Nov. 24, 2014
Bureau of Justice Statistics, Felony Sentences in State Courts, 2006 – Statistical Tables, Dec. 2009
Bureau of Justice Statistics, Prevalence of Imprisonment in the U.S. Population, 1974-2001, Aug. 2003
Bureau of Justice Statistics, Prisoners in 2013, Sept. 30, 2014
Bureau of Justice Statistics, Felony Defendants in Large Urban Counties, 2009, Dec. 2013
FBI, Arrests by race 2006, accessed Nov. 25, 2014
U.S. Census, Quick Facts, July 8, 2014
Interview, Nazgol Ghandnoosh, a researcher at the Sentencing Project, Nov. 25, 2014
Email interview, Delores Jones-Brown, professor at the John Jay College of Criminal Justice, Nov. 25
Email interview, James Forman, professor at Yale Law School, Nov. 25, 2014
Browse the Truth-O-Meter
More by Lauren Carroll
Support independent fact-checking.
Become a member!
In a world of wild talk and fake news, help us stand up for the facts.