Stand up for the facts!
Misinformation isn't going away just because it's a new year. Support trusted, factual information with a tax deductible contribution to PolitiFact.
I would like to contribute
The Ninth Circuit has an overturned record "close to 80%."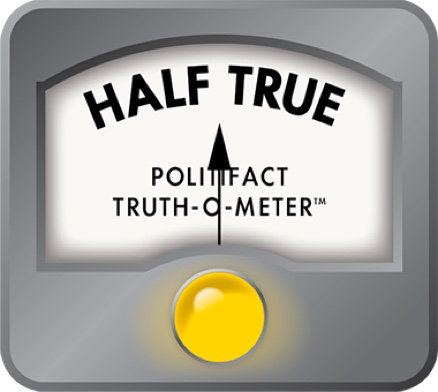 Does the Ninth Circuit have an overturn record 'close to 80%'?
President Donald Trump, upset by a district judge's decision to temporarily block one of his immigration orders, went on Twitter to criticize the court.
"First the Ninth Circuit rules against the ban & now it hits again on sanctuary cities-both ridiculous rulings. See you in the Supreme Court!
Out of our very big country, with many choices, does everyone notice that both the 'ban' case and now the 'sanctuary' case is brought in ...
...the Ninth Circuit, which has a terrible record of being overturned (close to 80%). They used to call this 'judge shopping!' Messy system."
District judges within the 9th Circuit have halted two versions of executive orders signed by Trump seeking to temporarily halt the U.S. entry of refugees and nationals from several countries in the Middle East and Africa. On April 25, another judge within the 9th Circuit granted a nationwide preliminary injunction against a different Trump order, one aiming to cut federal funding to so-called sanctuary cities.
Given Trump's record in the 9th Circuit, we wondered if his tweet was accurate – does the circuit have an overturn rate close to 80 percent? There are at least two ways to calculate that record, and by one metric the answer is yes. By another, it's far less than 1 percent.
The 9th Circuit
Broadly speaking, the 9th Circuit includes the 9th Circuit Court of Appeals and district and bankruptcy courts in 15 federal judicial districts (among them Hawaii, and districts in Washington, California).
It was a district judge in Hawaii who on March 15 blocked Trump's revised travel ban.
On Feb. 3, a district judge in Seattle granted a nationwide temporary restraining order on the first version of Trump's travel ban. Trump's Justice Department filed a motion appealing that district court's decision – the 9th Circuit Court of Appeals denied the motion but asked for more information. On Feb. 9, in a 3-0 decision the 9th Circuit Court of Appeals affirmed the Seattle judge's decision.
An overturned record is a reflection of cases in which the Supreme Court ruled contrary to a lower court. The 80 percent Trump tweeted about was in reference to the 9th Circuit Court of Appeals' record, and does not exactly apply to the district courts.
The Supreme Court typically only hears 100 to 150 of the estimated 7,000 cases it's asked to review per year. At least four of the nine Supreme Court judges must agree to hear a case, which come from the 50 state courts and 13 federal appeals courts, known as circuit courts.
The cases that the Supreme Court chooses to take on are often disputed among the lower courts, complex, and problematic, so there's a reasonable chance that the Supreme Court will decide that the lower court's decision was wrong.
We previously looked at the 9th Circuit's record when Fox News' Sean Hannity falsely claimed it was the most overturned in the country.
Here's what we found then, using data from SCOTUSBlog's Supreme Court statistics archive on circuit scorecards.
The Supreme Court reversed about 70 percent of cases it took between 2010-15. Among cases it reviewed from the 9th Circuit Court of Appeals, it reversed about 79 percent.
The 9th Circuit's reversal rate is higher than average, but it's not the absolute highest among the circuit courts. That distinction goes to the 6th Circuit, which serves Ohio, Michigan, Kentucky and Tennessee, with an 87 percent average between 2010-15. The 9th Circuit placed third.
6th Circuit - 87 percent;
11th Circuit - 85 percent;
9th Circuit - 79 percent;
3rd Circuit - 78 percent;
2nd Circuit and Federal Circuit - 68 percent;
8th Circuit - 67 percent;
5th Circuit - 66 percent;
7th Circuit - 48 percent;
DC Circuit - 45 percent;
1st Circuit and 4th Circuit - 43 percent;
10th Circuit - 42 percent.
The 9th Circuit overturned rate is similar to the findings of a 2010 analysis by Roy E. Hofer, a former president of the Federal Circuit Bar Association and the Chicago Bar Association.
Hofer found that from 1999 to 2008, the Supreme Court reversed or vacated (ruled null or void) 80 percent of the cases it reviewed from the 9th Circuit.
But he pointed out that the percentage of reversed or vacated cases for each circuit would be significantly lower if calculated in a different way.
"Reversal rates for each court of appeals would be very small, in the range of a tenth of a percent, if calculated as the total number of cases reversed over the total number of appeals terminated by that court," Hofer wrote in his article published by the American Bar Association. "Conversely, if the reversal rate is calculated as the total number of cases reversed over the total number of cases reviewed by the Supreme Court, the ratio increases dramatically."
In comparing courts' "performance," it makes more sense to compare reversal rate in terms of the ratio of cases reversed over cases reviewed by the Supreme Court, Hofer said.
Over the 10-year period analyzed by Hofer, the 9th Circuit terminated 114,199 cases, in comparison, the 1st Circuit had 16,620, he found.
It's possible that the sheer size of the 9th Circuit, as well as some of its procedures, cause it to produce more "outlier decisions," which are cases the Supreme Court always reverses, than other circuits — leading to a higher reversal rate, University of Pennsylvania law professor Kermit Roosevelt previously told us.
Our ruling
Trump tweeted, the 9th Circuit has an overturned record "close to 80%."
An overturned record can be calculated in at least two ways. By one measure, Trump's tweet is correct if examining only cases reviewed by the Supreme Court. But by factoring in cases reversed over the total number of cases ruled by the circuit court, then the percentage is significantly smaller, far less than 1 percent.
We rate Trump's claim Half True.
Browse the Truth-O-Meter
More by Lauren Carroll
Support independent fact-checking.
Become a member!
In a world of wild talk and fake news, help us stand up for the facts.