Stand up for the facts!
Our only agenda is to publish the truth so you can be an informed participant in democracy.
We need your help.
I would like to contribute
"General Flynn got his clearance from the Obama administration."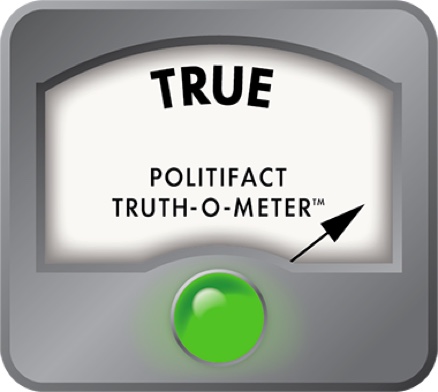 Donald Trump says Michael Flynn got security clearance from Obama administration
President Donald Trump says that when Michael Flynn joined his campaign, President Barack Obama's administration had already given him a once-over.
In an April 30 interview on CBS, Trump framed this detail as an inconvenient fact that the media is ignoring in order to prop up their "phony" storyline about Trump associates' ties to Russia.
"In fact, I just heard where General Flynn got his clearance from the Obama administration," he said. "And when he went to Russia, I didn't realize this, when he went to Russia, it was 2015, and he was on the Obama clearance."
Flynn, a former head of the Defense Intelligence Agency under Obama, was ousted from his Trump administration role as national security adviser after it came to light that Flynn had lied about the nature of his conversations with the Russian ambassador. Now he's the focus of a tangential controversy, complete with an investigation by the Pentagon's watchdog, over payments he received from foreign governments, including Russia.
We were interested in Trump's statement that the Obama administration approved Flynn for security clearance, especially given that he was forced out of his Obama-era role in 2014.
We found that Trump has it right.
But that doesn't affect the main allegation against Flynn: that he didn't properly disclose payments he received from Russia, as required by law and Pentagon policy. Nor does it excuse any oversights the Trump team made while considering Flynn for a White House role.
Flynn's foreign affairs
Flynn, a retired lieutenant general, spent his career as an intelligence officer in the Army, serving in both Iraq and Afghanistan and as director of intelligence for U.S. Central Command, among other posts. Obama promoted him to director of the Defense Intelligence Agency (DIA) in April 2012.
Flynn retired from the agency in August 2014; news reports at the time said Flynn was forced out because he ruffled feathers with his management style. Since his departure, he has said he was fired for "calling our enemies radical jihadis." 
In 2015, Flynn received more than $56,000 from three Russian entities — $33,750 from state-backed media outlet RT, $11,250 from an air cargo company, and $11,250 from a cybersecurity firm — according to documents released by Rep. Elijah Cummings, D-Md., the top Democrat on the House Oversight Committee.
In 2016, during the election, Flynn's consulting firm earned more than $500,000 to work on projects that benefited the Turkish government. This became public knowledge in March 2017, when the firm filed papers to the Justice Department to retroactively register as a foreign agent.
Several months after Flynn left the DIA in 2014, he received a letter from the agency providing guidance on what he can and can't do as an Army retiree. The letter, which Flynn himself requested, says "foreign compensation requires advance approval," per the Constitution's emoluments clause.
Despite the letter, Flynn did not disclose to the government the payments he received from the Russian entities, according to Cummings and his Republican counterpart on the oversight committee, Rep. Jason Chaffetz of Utah.
An April 7 letter from the DIA to Cummings and Chaffetz said the agency "did not locate any records referring or relating to LTG Flynn's receipt of money from a foreign source" nor "any records of LTG Flynn seeking permission or approval for the receipt of money from a foreign source."
Flynn's lawyer responded, saying Flynn briefed the Defense Department on his RT speaking event. But the lawyer did not specifically say whether Flynn disclosed the payments.
Here's how Trump's claim about Flynn's security clearances fits in.
Retired military officials can keep their security clearances, with periodic background checks. Flynn's last two background checks to retain his security clearance took place during the Obama administration, in June 2010 and January 2016, according to the April 7 DIA letter.
Cummings and Chaffetz said Flynn didn't report his 2015 earnings from Russian entities on his 2016 application. (The DIA provided Cummings and Chaffetz with portions of Flynn's completed form, but the pages haven't been made public.)
The security clearance application asks extensively about applicants' foreign contacts, activities, business and travel. The penalty for knowingly falsifying or concealing information on the form is a fine or up to five years in prison.
The evaluating agency may also deny the person a security clearance. Even if an applicant is candid about their foreign dealings, the evaluating agency could deny security clearance if it seems like those activities could compromise the applicant's judgment or loyalty to the United States, said Andrew Kent, a national security expert and law professor at Fordham University.
White House press secretary Sean Spicer has used the fact that Flynn got through security clearance under the Obama administration to deflect blame for not properly vetting Flynn before Trump named him national security adviser.
Democrats, like Cummings and Obama-era National Security Adviser Susan Rice, have said Spicer's critique is unfair. They said Flynn's security clearance re-evaluation was a routine process that took place several rungs below the White House, and besides, Trump is obligated to vet his advisers himself.
Kent said that if those evaluating Flynn's 2016 application had some knowledge of his Russian activities, they might deserve some blame for not pressing Flynn for more details. Because Flynn's relationship with RT was public knowledge months before Trump was putting his White House team together, the transition team was "in a different position than the security clearance investigators."
Our ruling
Trump said, "General Flynn got his clearance from the Obama administration."
The last two times Flynn applied for a security clearance, in 2010 and 2016, Obama was president.
Lawmakers allege Flynn omitted important information about payments received from Russia on his 2016 application to renew his clearance. But that doesn't change the fact that Trump's statement is literally accurate.
We rate Trump's claim True.
CQ transcripts, "John Dickerson Hosts CBS's 'Face the Nation,'" April 30, 2017
CQ transcripts, "Reps. Chaffetz and Cummings Hold News Conference," April 25, 2017
CQ transcripts, "White House Holds Regular News Briefing," April 27, 2017
DIA, letter to Chaffetz and Cummings, April 7, 2017
DIA, letter to Chaffetz and Cummings, April 11, 2017
DIA, letter to Flynn, Oct. 8, 2014
Lawfare, "#RealNews on Trump et L'Affaire Russe: A Resource Page," May 2, 2017
Office of Personnel Management, SF-86, last revised Dec. 2010
Government Printing Office, "Guidelines for determining eligibility for access to classified information," July 1, 2012
U.S. Army, "Security Clearance: frequently asked questions," accessed May 2, 2017
New York Times, "Flynn May Have Broken Law by Not Disclosing Russia Dealings, Lawmakers Say," April 25, 2017
New York Times, "Michael Flynn Was Paid to Represent Turkey's Interests During Trump Campaign," March 10, 2017
Washington Post, "Documents give details on Russia-related payments to Michael Flynn," March 16, 2017
Washington Post, "Trump adviser Flynn paid by multiple Russia-related entities, new records show," March 16, 2017
Washington Post, "Head of Pentagon intelligence agency forced out, officials say," April 30, 2014
Washington Post, "Top Pentagon watchdog launches investigation into money that Michael Flynn received from foreign groups," April 27, 2017
Email interview, Fordham Law professor Andrew Kent, May 1, 2017
Browse the Truth-O-Meter
More by Lauren Carroll
Support independent fact-checking.
Become a member!
In a world of wild talk and fake news, help us stand up for the facts.