Stand up for the facts!
Our only agenda is to publish the truth so you can be an informed participant in democracy.
We need your help.
I would like to contribute
Says Michelle Nunn is "for amnesty."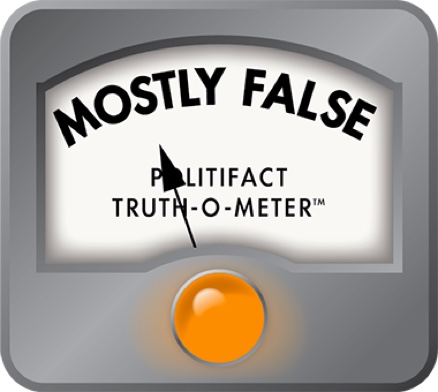 Perdue misses mark on amnesty allegation
Political discourse often relies on shorthand to make a point.
Opponents of health care reform raised the specter of euthanasia with "death panels, a widely mocked term that earned PolitiFact's inaugural Lie of the Year in 2009.
The bill that created health care reform is now known as Obamacare by both those who support and those who deride it.
Then, there is amnesty. Technically referring to blanket forgiveness for a crime, in political circles the word refers to President Ronald Reagan's 1986 immigration reform that granted illegal immigrants legal status if they could prove they were in the United States by Jan. 1, 1982 and meet other minimum requirements.
The measure's failure to slow illegal immigration has made it a charged political term, like the one Republican Senate hopeful David Perdue has lobbed against his Democratic rival, Michelle Nunn.
"She's for amnesty, while terrorism experts say our border breakdown could provide an entry for groups like Isis," Perdue says in his ad, Secure Our Borders.
With the nationally prominent race between Perdue and Nunn tight, we decided to take the amnesty claim for a spin on the Truth-O-Meter.
Perdue spokesman Derrick Dickey said the claim is based on statements Nunn made during a Chamber of Commerce forum in August.
Speaking at the event, Nunn said she did not support President Obama taking any executive action on immigration. Nunn said she would have voted for the Senate immigration bill that passed last year.
Republican Senator Marco Rubio of Florida spearheaded that bipartisan bill, which was co-sponsored by Democratic Senator Charles Schumer of New York and supported by 13 other GOP Senators, including former Republican presidential candidate John McCain.
At the same forum, Perdue told the crowd that immigration should first focus on securing the border. That is the same point the ad is trying to make, Dickey said.
"Nothing has gotten done because we can't come to consensus, and in the meantime, our borders are left unsecured," Dickey said. "Only when we are done with securing our border can you talk about what comes next."
That brings us back to the bill, which stalled in the GOP-controlled House.  
Similar to the previous amnesty bill, it would allow illegal immigrants to seek "provisional immigration status" by proving they were in the United States by Dec. 31, 2011.
The new bill also would require those applicants to have no felony convictions, no more than two misdemeanors and to pay a $500 penalty plus back taxes. Another $500 penalty would be due in six years and, after 10 years, applicants could pay $1,000 to seek a green card.
It would be a 13-year process for most of the 11.5 million undocumented immigrants to achieve permanent residency or pursue citizenship (children brought as minors and agricultural workers qualify for shorter waits).
Before that process could begin, though, the bill would have required the federal government to double the number of U.S. border patrol agents, build 700 miles of fencing along the 2,000-mile U.S. border with Mexico and further fortify security with radar and unmanned drones and biometric tracking at 30 of the nation's biggest airports.
The requirements to spend billions on border control, before allowing for a pathway to citizenship, has muddied the water even for fact checkers.
At times, PolitiFact has ruled claims of amnesty as Half True and Mostly False.
Our friends at FactCheck.org, meanwhile, have come down to say the Senate bill is not amnesty.
Nunn's camp cites much of the same reasons as Factcheck.org, saying the term amnesty mischaracterizes the depth of the bill and requirements placed on both the government and undocumented immigrants before citizenship is even on the table.
Support of the bill also means Nunn supports increased border control and security, said spokesman Nathan Click.
"The ad lies about Michelle's position on immigration, one that is widely shared by Republicans and the Chamber of Commerce," Click said, noting the right-leaning group supported the bill but has repeatedly said it does not support amnesty.
"David Perdue's ad is a dishonest political smear, plain and simple," Click added.
Very little in the immigration debate has been simple. Last year's proposed immigration overhaul drew bipartisan support in the Senate but a conservative backlash in the House.
Technically, the proposal includes an amnesty provision by erasing the illegal status of undocumented workers over a 13-year-period that includes payment of fines and other requirements.
But it also mandates the border control improvements that Perdue said should be a priority – before any path to citizenship can take place.
There is some truth in calling the Senate bill an amnesty measure, but just a grain. The bill also calls for much stiffer border control, and investment, first.
Ignoring  those mandates pushes the claim down the the Truth-O-Meter.
We rate the claim Mostly False.
PolitiFact, "Lie of the Year: Death panels," Dec. 18, 2009
David Perdue, "Secure Our Border," Sept. 17, 2014
Politico, "Nunn whacks Perdue in Georgia forum," Aug. 21, 2014
Washington Post, "Senate approves comprehensive immigration bill," June 27, 2013
Sen Charles Schumer's website, text of the legislation, accessed Oct. 6, 2014
PolitiFact, "Sen. Marco Rubio says immigration bill is not amnesty," April 17, 2013
PolitiFact, "Eric Cantor says Senate immigration reform efforts are the Obama-Reid amnesty plan," May 28, 2013
FactCheck.org, "Is Senate immigration plan 'amnesty,'" Jan. 30, 2013
U.S. Chamber of Commerce, "Rush, Here's What Tom Donohue Really Said About Immigration Reform," July 16, 2014
Interview with Derrick Dickey, spokesman for Republican U.S. Senate candidate David Perdue, Sept. 24 and Sept. 25, 2014
Phone and email Interview with Nathan Click, spokesman for Democratic U.S. Senate candidate Michelle Nunn, Sept. 25 and Sept. 29, 2014
Browse the Truth-O-Meter
More by April Hunt
Support independent fact-checking.
Become a member!
In a world of wild talk and fake news, help us stand up for the facts.