Stand up for the facts!
Our only agenda is to publish the truth so you can be an informed participant in democracy.
We need your help.
I would like to contribute
Jason Carter never passed a bill in his tenure in the state Senate.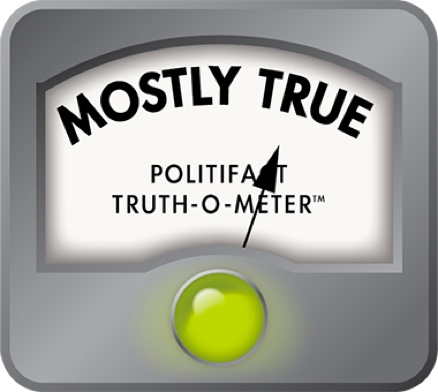 Deal correct: Carter hasn't passed a bill
Republican Gov. Nathan Deal has accused Democratic challenger Jason Carter of lacking the political chops for the job.
During two recent debates, Deal asked Carter why he never assumed even minor leadership roles as a state senator or sponsored a successful bill in his tenure under the Gold Dome.
"You've been in the (state) Senate since I've been governor, and you've never passed a bill," Deal said in the Oct. 7 debate at the Georgia National Fair. "Why would anybody decide you have the leadership skills needed to lead this state?"
PolitiFact decided to delve deeper into Deal's claim that Carter never passed a bill.
Carter, an attorney and a grandson of former President Jimmy Carter, was elected in May 2010 to replace state Sen. David Adelman of Atlanta, who resigned to become the U.S. ambassador to Singapore.
A few months later, Deal, a longtime congressman, was elected to succeed Sonny Perdue, Georgia's first Republican governor since Reconstruction.
Now, Carter, 39, is hoping to unseat Deal, 72, in the Nov. 4 general election. A loss for Deal would be a major upset for Republicans who have been solidly in control at the Capitol for about a decade.
But what about the governor's claim?
A search of the Georgia General Assembly's records shows Deal is correct.
In four years in the state Senate, Carter was primary sponsor of 11 bills, more than half dealing with the popular HOPE scholarship or other education issues. None of the bills became law and only one cleared the state Senate.
But is it a sign that he was an ineffective lawmaker?
There's no proof of that.
Democrats are in the minority in the General Assembly and so are rarely able to pass legislation. (The same was true for Republicans until, starting with Perdue, the state took a 180-degree turn politically.)
Steve Anthony, a lecturer in the political science department at Georgia State University, said it's "common" that the party with an absolute majority banishes the minority to near irrelevance.
He should know. He was the longtime chief of staff to Tom Murphy, a Democrat who at the time was the nation's longest-serving state House speaker.
"Many Republicans would say they are doing just what Tom Murphy used to do to them," Anthony said. "It's a game. It's what's done in politics, at least on the state level."
There's one more point to consider: getting a bill passed and signed is not all that easy, regardless of party.
In the 2011 and 2012 legislative sessions, members of the House and Senate introduced 2,514 bills. Of those, only 774 passed, and 757 became law.
Most of the successful bills emerge from the leadership, Anthony said.
That leaves the bulk of rank-and-file lawmakers, including Carter, to end up as co-sponsors to legislation.
Co-sponsoring is the act of a lawmaker attaching his or her name to a pending proposal to show support or backing.
And in that capacity, Carter found some success. The Atlanta Democrat co-sponsored 21 bills that became law, records show.
In some cases, members of the minority party co-sponsor bills that are their idea but require a member from the party in charge to be the official sponsor to get the measure passed.
Whether a lawmaker has been a bill's co-sponsor can be a serious question for voters.
But, to Deal's point, snagging co-sponsors often has little to no impact on whether a bill gets passed.
Case in point: State Rep. Mark Hatfield got 93 of the 180 members in the House to co-sponsor his 2011 proposal that would force presidential and vice presidential candidates to prove their citizenship before landing on the Georgia ballot.
The bill, inspired by the "birther" movement, which believes President Barack Obama was not born in the United States, ultimately lost more than 25 of those backers and failed to move to a floor vote.
There have recently been high-profile exceptions to the significance of co-sponsors, such as Deal's effort to revamp the HOPE scholarship program with House Minority Leader Stacey Abrams, an Atlanta Democrat.
Few Democrats are able to earn that sort of recognition.
More common, Anthony said, would be a tactic long used when a good idea surfaces.
If the proposal is from the opposition, the majority hijacks the idea and makes some changes to qualify it as a new bill – and takes the credit.
Carter, a staunch critic of changes Deal made to the HOPE scholarship program, says that happened to him in 2013. He was concerned that tech school students were being hurt by a decision to raise the GPA requirement for HOPE recipients from a 2.0 to a 3.0.
He and a House Democrat introduced separate bills to return to the lower GPA requirement. Their bills went nowhere. But their idea caught on and emerged in an almost identical and successful bill with a Republican as chief sponsor.
"It's definitely harder to pass a bill in the minority. It takes time and it takes working with the opposition -- something that younger legislators probably haven't accomplished yet," said Kerwin Swint, chairman of the political science department at Kennesaw State University.
Deal, he said, is trying to say something about Carter's relative youth and inexperience."You just got here, and already you want to be governor?"
Our conclusion: Deal is right. Jason Carter hasn't been the chief author of a bill that's made it through the General Assembly. But that's a fate most out-of-power Democrats face, as did Republicans in the decades they were in the same boat. That's context the reader needs.
We rate the statement as Mostly True.
Interview with Steve Anthony, political science lecturer at Georgia State University, Oct. 22, 2014
The Atlanta Journal-Constitution,
The Atlanta Journal-Constitution ," March 15, 2011
Email with Kerwin Swint, professor and chairman, Department of Political Science & International Affairs, Kennesaw State University, on Oct. 13, 2014
Georgia Legislative Counsel website
Jason Carter, legislative record, Georgia General Assembly website
Interview with Bryan Thomas, Carter spokesman
Browse the Truth-O-Meter
More by Nancy Badertscher
Support independent fact-checking.
Become a member!
In a world of wild talk and fake news, help us stand up for the facts.