Stand up for the facts!
Our only agenda is to publish the truth so you can be an informed participant in democracy.
We need your help.
I would like to contribute
Says his promise of 250,000 new private sector jobs was a "big goal."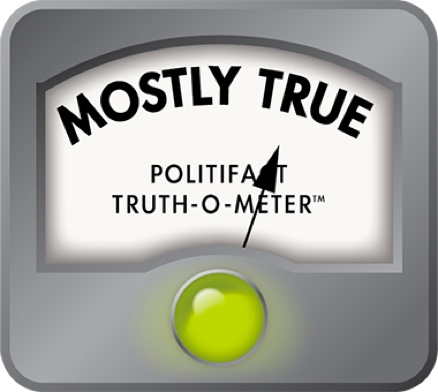 Scott Walker says his 250,000 jobs promise was a "big goal"
In a TV ad that sounds like a closing argument for the Nov. 4, 2014 election, a hoarse Gov. Scott Walker takes on Mary Burke's criticism over private-sector job growth that has lagged behind the national average on his watch.
"Before we took office, the policies my opponent supports cost Wisconsin 133,000 jobs," Walker says in the TV ad, which debuted Oct. 22, 2014. "We set a big goal of creating 250,000 jobs because I know Wisconsin can do great things."
With just a couple months left in his term, private-sector employment has increased by 111,000, or about 44 percent of the 250,000 figure the Republican governor promised.
The "big goal" statement is part of an effort Walker has made in recent weeks to cast his 250,000-job promise as bold and aggressive, while contrasting it with the dark days of the Great Recession.
We've previously checked a Walker claim that the policies of his predecessor Jim Doyle (who appointed Burke as his Commerce secretary) caused the loss of 133,000 jobs in the Democratic governor's second term from 2007 through 2010.
We rated that Mostly False. The number is accurate, but the national recession was mainly to blame, not any particular governor. Wisconsin, in fact, fared somewhat better than the rest of the country during that major downturn. And, in any event, Burke left state government before the recession began.
But what about Walker's claim of the 250,000 promise being a "big goal"?
"Big," of course, is an imprecise word.
But what Walker is talking about has a clear statistical underpinning. That is, we can compare his goal -- and the growth it would have required to meet it -- with job growth in past four-year periods, both in raw numbers and as a share of the private-sector job base at the various times.
The goal and the 2010 race
In the 2010 race, Walker's opponents made more modest promises.
Republican Mark Neumann, who Walker defeated in the primary, pledged  300,000 jobs in 10 years. Milwaukee Mayor Tom Barrett, whom Walker defeated in the general election, promised 180,000 in three years -- a slightly slower pace than Walker's pledge.
Shortly after Walker's November 2010 election, Milwaukee Journal Sentinel reporter Rick Romell found that "most recoveries since World War II have produced the rate of job growth needed to achieve Walker's goal."
But "most" is not all, and that November 2010 story pointed out that unusually slow job growth has marked the last two recessions -- the one in the early 1990s and the Great Recession, which officially ran from 2007 to 2009.
The recovery after the 2001 recession earned the label "jobless recovery."
"But this one," economist John Heywood said at the time, referring to the Great Recession, "is putting that one to shame."
A somewhat dissenting view came from retired chief state labor economist Terry Ludeman, who said a standard recovery should restore the recession's job losses naturally.
A closer look
We decided to check the recent history ourselves, starting with Republican Gov. Tommy Thompson's first term in 1986. After all, during the 2010 campaign, Walker cited that term as inspiration for his 250,000 goal.
We relied on the quarterly employment data reported by the U.S. Bureau of Labor Statistics and found that private-sector employment grew by 233,000 in Thompson's first term.
And, significantly, that was the high-water mark in any administration since then -- or in any four-year period since 1986 regardless of whether it corresponded with a governor's term in office. The next closest was 1991-'95 (232,000).
So Walker's goal topped actual performance over the previous quarter century, at least in raw number of jobs added. For perspective, in only six of the 24 periods we examined since 1990 did job growth top 200,000 over a four-year stretch.
Notably, when Walker made his promise in 2010, the previous two periods were in the negative for growth, starting with 2004-2008 (-6,800) and 2005-2009 (-146,000).
When he made promise in early 2010, the Great Recession officially was over and massive job losses had stopped, but Wisconsin was still losing jobs on a monthly basis.
So reaching the 250,000 goal was far from a lock.
But there's another way to look at the numbers.
Economies grow over time, and the employment base was one-third smaller in the 1980s than it was when Walker made his promise.
That means that when 233,000 jobs were added in Thompson's first term, that actually was better growth in percentage terms than what Walker assumed when making his pledge.
The liberal Center on Wisconsin Strategy summed up its view this way: "Well, it is certainly a lot of jobs. But let's keep it in perspective. Population has grown by about 2 percent since the beginning of the recession. To get employment back to its pre-recession level, we would need to create more than 270,000 jobs."
Our rating
Walker portrayed his 250,000 jobs promise as a "big" goal. The growth rates needed in a post-recessionary period to make that number happen were not uncommon after World War II.
But that was not the case during the two most recent recoveries, and at the time Walker made the promise it had been nearly 15 years since the state had seen sustained growth at that pace.
In raw terms, the 250,000 hoped-for gain was a bigger figure than the actual gains over any four-year period since at least the mid-1980s.
We rate his claim Mostly True.
Scott Walker campaign, "Continuing Wisconsin's Comeback," (60-second version), Oct. 22, 2014
Bureau of Labor Statistics, Quarterly Census of Employment and Wages, QCEW data files, accessed Oct. 28, 2014
Milwaukee Journal Sentinel, "Working on job creation," Nov. 6, 2010
Browse the Truth-O-Meter
More by Dave Umhoefer
Support independent fact-checking.
Become a member!
In a world of wild talk and fake news, help us stand up for the facts.