Stand up for facts and support PolitiFact.
Now is your chance to go on the record as supporting trusted, factual information by joining PolitiFact's Truth Squad. Contributions or gifts to PolitiFact, which is part of the 501(c)(3) nonprofit Poynter Institute, are tax deductible.
I would like to contribute
Says Ted Cruz supports "legalizing people who are in this country illegally."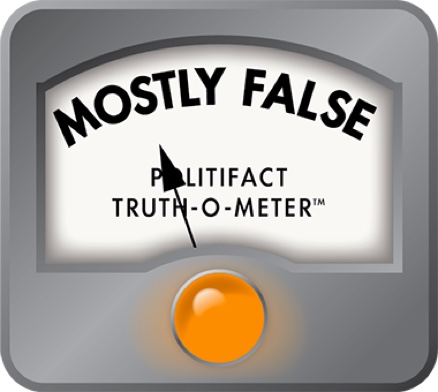 Marco Rubio wrongly says Ted Cruz supports 'legalizing people who are in this country illegally'
During the Republican debate in Las Vegas, Sen. Marco Rubio of Florida accused one of his rivals, Sen. Ted Cruz of Texas, of being soft on immigration policy.
"Ted, you support legalizing people who are in this country illegally," Rubio said. "Ted Cruz supported a 500 percent increase in the number of H1B visas, the guest workers that are allowed in this country. And Ted supports doubling the number of green cards."
Cruz responded, "I understand that Marco wants to raise confusion. It is not accurate what he just said that I supported legalization. Indeed, I led the fight against his legalization and amnesty bill."
When pressed by Rubio about whether he had ruled out legalization, Cruz said, "I have never supported legalization, and I do not intend to support legalization."
That was a more clearly worded statement then many of Cruz's past comments about legalization. Cruz's immigration plan released in November called for increasing deportations of criminals but didn't address how he would handle all 11 million illegally here and whether they would get legal status.
However, Rubio's statement that Cruz supports "legalizing people who are in this country illegally" is a head-snapper, since Cruz holds himself out as tougher than the rest of his rivals on giving ground to people living in the United States without legal authorization. Rubio was one of the eight senators who co-authored a bill in 2013 that created a path to citizenship. The bill passed the Senate but died in the House.
We've noted before that Cruz was the only one among the GOP presidential field who never plainly supported something like a path to citizenship or another form of legal status. In September 2015, PolitiFact rated Mostly True Cruz's claim that he alone among 10 candidates -- including Rubio -- never backed "amnesty" for immigrants.
We'll focus on whether Cruz supported legalization for illegal immigrants. (Rubio also said that Cruz supported more visas and green cards, but that's not the same thing as legalizing people who are in the country illegally. We'll leave the visa issue aside for now.)
Much of the debate between Rubio and Cruz on this point revolves around an amendment Cruz offered to the 2013 bill to change immigration law -- and whether he truly intended that to provide legal status or proposed it as a legislative strategy without ever intending to support the bill anyway.
Cruz's statements about 2013 bill
Let's start by walking through what Cruz has proposed over the years about legal status for immigrants living in the United States without legal authorization.
Cruz was a vocal critic of the 2013 bill to change immigration laws written by Rubio and seven other senators. Cruz spoke out often against the bill and proposed amendments to triple border security, among changes.
On May 21, 2013, Cruz issued a press release saying that he'd offered amendments to the Senate measure that day to "ensure that illegal immigrants are not given a path to citizenship, and modernize, streamline and expand legal immigration by reforming the green card program."
Cruz told the Senate Judiciary Committee that if the path to citizenship were eliminated from the Senate plan, as he proposed, some 11 million residents living "in the shadows" would "still be eligible for RPI status." (RPI stands for Registered Provisional Immigrant program, which gives a work permit to a successful applicant to travel outside the United States and return.) The Senate plan included RPI status for 10 years and then immigrants would be eligible to apply for permanent residency, as in a green card.
In June 2013, Cruz told NPR News that if senators embraced his proposal stripping out the path to citizenship option, the "11 million who are here illegally would be granted legal status once the border was secured — not before — but after the border was secured, they would be granted legal status. And indeed, they would be eligible for permanent legal residency. But they would not be eligible for citizenship."
That amendment and comments Cruz made related it to it are the crux of Rubio's argument about why he says Cruz supports legislation.
The Texas Tribune/New York Times wrote in September 2013 that Cruz -- who tries to appeal to tea party conservatives and represents a state with a large Latino population -- was trying to "claim the middle ground on immigration."
Asked about what to do with the people here illegally, however, he (Cruz) stressed that he had never tried to undo the goal of allowing them to stay.
"The amendment that I introduced removed the path to citizenship, but it did not change the underlying work permit from the Gang of Eight," he said in 2013 in El Paso.
After the Las Vegas debate, Rubio's campaign cited comments Cruz made in November 2015. But we found that Cruz's statements were vague because they left open the possibility of legalization. But he didn't come out and support it outright.
For example, at an event in Iowa Cruz said: "Let's demonstrate we can stop illegal immigration, we can protect our national security interests, we can protect our law enforcement interests," Cruz said. "Then once that's done, we can have a conversation at that point about whatever people remain here illegally."
Cruz's amendment appeared to be a tactic
Cruz campaign spokesman Brian Phillips said that each example of Cruz mentioning work permits in the Senate plan amounted to Cruz simply explaining what would remain in the Senate plan if the path to citizenship element were yanked -- and, Phillips said, Cruz never said he would vote for the plan, regardless.
Cruz has changed his mind on some aspects of immigration laws. In 2013, he supported expanding H1B visas but this year called for a suspension due to abuse. He also called for increasing the number of green cards but now says we should not increase the level of immigration as long as unemployment remains high.
Mark Krikorian, who advocated against the 2013 bill, told Bloomberg News in November that Cruz's amendment to remove the path to citizenship element was a legislative tactic. "You often introduce measures you hope will be poison pills if you're trying to kill a piece of legislation," said Krikorian who works for the Center for Immigration Studies, a think tank that focuses on lessening immigration.
Stephen Miller, a spokesman for U.S. Sen. Jeff Sessions, R-Ala., told Bloomberg News that "numerous conservatives offered amendments to the progressive Gang of Eight bill that were designed to improve enforcement or combat amnesty." He continued, "That does not mean these senators supported the bill with those changes. That would be an extremely untenable interpretation." (Sessions also fought against the bill.)
Chris Chmielenski of NumbersUSA, an advocacy group that promotes reduced immigration, previously told PolitiFact he doesn't think Cruz "was ever willing to support legalization" of immigrants living here "before enforcement" of border security. Chmielenski said that there also was no Cruz amendment proposing to give work permits to people living here without legal authorization.
Cruz voted against the overall bill, which passed the Senate 68 to 32 in June 2013 and then died in the House.
Our ruling
Rubio said Cruz "is a supporter of legalizing people that are in this country illegally." 
Cruz proposed an amendment in 2013 to the immigration bill that would have stripped the citizenship provision. But it would have kept intact the language in the Senate bill that allowed illegal immigrants to still apply for the Registered Provisional Immigrant program in the overall bill, which would have resulted in a work permit and 10 years later application for permanent residency.
But it's a stretch for Rubio to label Cruz as a supporter of legalization when he was an ardent critic of the overall bill for months and voted against it. Cruz's amendment appeared to be a legislative tactic.
We rate this statement Mostly False.
U.S. Sen. Ted Cruz campaign, Immigration plan, 2016
Time Magazine, "Ted Cruz Won't Rule Out Legalization for 11 Million in U.S. Illegally," Nov. 20, 2015
MSNBC, "Ted Cruz refocuses talk of shooting to 'vicious rhetoric on the left,'" Nov. 29, 2015
Bloomberg News, "Did Ted Cruz Actually Support Legal Status for Undocumented Immigrants?" Nov. 13, 2015
CNN, "Ted Cruz closes door on legal status for undocumented immigrants," Dec. 16, 2015
Washington Post, "Ted Cruz finally says what he'd do about undocumented immigrants," Dec. 16, 2015
PolitiFact Texas, "Marco Rubio says Ted Cruz supports legal status and work permits for 'illegal' immigrants," Nov. 18, 2015
PolitiFact Florida, "PAC supporting Ted Cruz says when Marco Rubio tried to 'push amnesty,' Cruz stopped him," Nov. 13, 2015
Interview, Joe Pounder, U.S. Sen. Marco Rubio campaign spokesman, Dec. 15, 2015
Interview, Brian Phillips, U.S. Sen. Ted Cruz campaign spokesman, Dec. 16, 2015
Browse the Truth-O-Meter
More by W. Gardner Selby
Support independent fact-checking.
Become a member!
In a world of wild talk and fake news, help us stand up for the facts.