Stand up for the facts!
Our only agenda is to publish the truth so you can be an informed participant in democracy.
We need your help.
I would like to contribute
Democrats have "lost more than 900 state legislators" since Barack Obama has been president.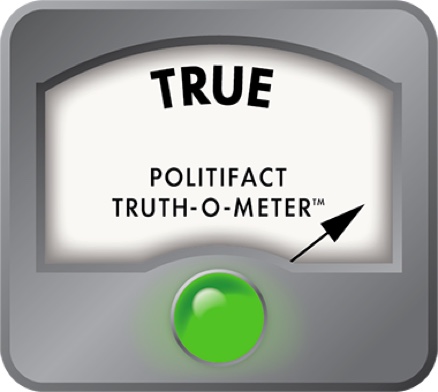 Have Democrats lost 900 seats in state legislatures since Obama has been president?
If President Barack Obama's plan to raise taxes on the wealthy to pay for middle-class tax cuts and programs won't go anywhere in the new Republican Congress, why did Obama even spend time discussing it during last week's State of the Union?
"Because it's something for people to run on," said Cokie Roberts as part of a Sunday pundit analysis on ABC's This Week.
"He's lost almost 70 Democrats since he's been president," Roberts said of Congress, "and more than 900 state legislators. So he needs to give Democrats something to run on."
We had heard iterations of Democratic losses on the congressional level, but never such a large number of losses for Democrats in legislatures across the country.
Turns out, Roberts is correct.
Our analysis shows Democrats have lost 910 seats since Obama took office. (You can see the changes in every state here.)
We took a state-by-state look of lost seats from the best source available, the National Conference of State Legislatures. Using the group's data, we compared the number of Democratic seats in early 2009, when Obama took office, to the number of seats after the 2014 midterms.
The bottom line: Republicans now control about 56 percent of the country's 7,383 state legislative seats, up 12 percentage points since 2009.
Thirty-five states posted double-digit seat losses for the Democrats in state legislatures, including more than 50 seats each in Arkansas, New Hampshire and West Virginia.
Democrats actually gained a few seats over the course of Obama's presidency in New Jersey (one) and Illinois (three), and the number of Democratic seats stayed the same in California.
The GOP's national and local resurgence under the Democratic-controlled White House is not surprising, in part, because of the historical trend for two-term presidencies. Political analysts say it's a sure thing that a political party prospers when it wins the White House but loses its influence across the country soon after. Remember that before the 2010 and 2012 elections, Democrats made positive gains in the 2006 and 2008 elections, said Larry Sabato, a political expert at the University of Virginia Center for Politics.
"You have a pretty consistent pattern of surge and decline, and you can trace it throughout the two-party era in American politics," Sabato said.
What is notable about losses under Obama is, with two years to go, they are worse than usual.
Sabato and his colleague Geoffrey Skelley recently chronicled the trend of two-term presidents' sour effect on their parties for Politico Magazine. Their analysis looked at the down-ballot effects of eight two-term presidents, which includes leaders who served two full terms (Dwight D. Eisenhower, Ronald Reagan, Bill Clinton, George W. Bush and Obama) as well as the terms of leaders who died or resigned and their successors (Franklin Roosevelt-Harry Truman, John F. Kennedy-Lyndon B. Johnson and Richard Nixon-Gerald Ford).
Obama's record for losses, at least through the 2014 midterms, is historically bad having overseen two horrible midterm elections for Democrats. Overall, Sabato wrote, Democrats during Obama's presidency lost 11 governorships, 13 U.S. Senate seats, 69 House seats, and 913 state legislative seats and 30 state legislative chambers. (Our analysis of legislative seats is off from Sabato's by three. The small discrepancy is likely due to run-offs and recounts.)
The shedding of U.S. House seats, state legislative seats and statehouse control is at least twice the average two-term losses from Truman through George W. Bush, Sabato said.
The Democrats' "presidential penalty" is rougher than usual for a few reasons, Sabato explains.
First, voters in midterm elections tend to be older and whiter, thus more conservative. Groups that are overwhelmingly Democratic, such as young people and minorities, are more likely to turn out in stronger numbers for presidential elections.
Also, Democratic losses in 2010 could not have come at a worse time given redistricting across the country. With more Republicans in control of statehouses, they have authority over the lines that delineate seats for U.S. Senate, House and legislative races. "There is a heavy amount of gerrymandering," Sabato said.
Finally, voters and candidates are moving away from centrist voting habits that dominated the 1970s through '90s, when voters would deviate from party lines after making their presidential pick. In recent years, Sabato said, "more and more people will stay in the same column from the White House to the courthouse, voting for either Democrats or Republicans."
Sabato is not alone in documenting this trend. Looking at how parties performed in down-ballot races just under the last three presidents, PolitiFact's Louis Jacobson also found that losses under Obama were more severe for a column in Governing. Jacobson said the Democratic losses reached 36 percent in governorships and "a stunning 59 percent in fully controlled state legislatures."
Our ruling
Roberts said Obama sought to inspire Democrats across the country in his State of the Union address in part because the party lost "more than 900 state legislators" since he took office.
We ran the numbers, and Roberts' claim checks out. Using data from the National Conference of State Legislatures, Democrats have lost 910 seats in statehouses across the country since 2009.
We rate her claim True.
National Conference of State Legislatures state and legislative partisan compositions
Politico Magazine article by Larry Sabato, "What a drag," Dec. 1, 2014
Governing, "How Down-Ballot Democrats Can Win Back Seats," Dec. 14, 2014
Cook Political Report, "Democrats' Down-ballot troubles," Dec. 3, 2014
Interview with Larry Sabato, political expert at the University of Virginia Center for Politics, Jan. 25, 2015
Browse the Truth-O-Meter
More by Katie Sanders
Support independent fact-checking.
Become a member!
In a world of wild talk and fake news, help us stand up for the facts.