Get PolitiFact in your inbox.
"Hundreds of thousands of (illegal immigrants are) going to state and federal penitentiaries."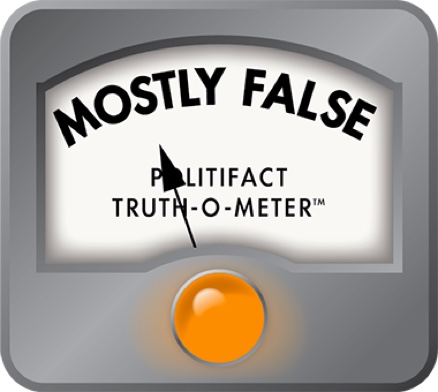 Trump immigration claim has no data to back it up
Despite the backlash, Donald Trump has remained steadfast in his position that illegal immigrants from Mexico bring rampant crime to the United States.
"You have illegal immigrants pouring through the country," the ultra-wealthy businessman and Republican presidential candidate said on Fox Business Network July 1. "They're incarcerated. Many of them are in jails. You have hundreds of thousands of people going to state and federal penitentiaries. That just came out in a Homeland Security Report."
We wondered if Trump was right that there are "hundreds of thousands" of illegal immigrants in the nation's state and federal prisons. We polled experts and asked government agencies and found no data that speaks to this claim conclusively.  
"The basic claim is at best unsustainable or more likely pure fiction. A fact created out of thin air," said Ramiro Martinez, a criminal justice professor at Northeastern University. "There is no substance to the Donald Trump assertion since the data do not exist."
We reached out to Trump's staff multiple times and didn't hear back, though he did cite a recent Department of Homeland Security report.
However, it doesn't seem like such a report exists. Turns out Homeland Security doesn't regularly track the number of incarcerated illegal immigrants, according to Immigration and Customs Enforcement Press Secretary Gillian Christensen.
The most recent comprehensive number we could find comes from the Bureau of Justice Statistics. In total, there were around 90,000 noncitizens incarcerated in federal and state prison systems at year end in 2013.
But this doesn't tell us much; the noncitizen group includes both legal and illegal immigrants, and the report does not separate the two. But in any case, we know that there are definitely not "hundreds of thousands" of illegal immigrants in state and federal penitentiaries.
The Bureau of Justice Statistics report also does not talk about immigrants among local jail population, which Trump mentioned.
A 2011 Government Accountability Office report gets us a tiny bit closer. In 2009, state prisons reported about 90,000 incarcerated individuals of illegal or unknown immigration status, and local jails reported about 204,000.
While this might seem to add credence to Trump's claim, the GAO data does not represent the number of unique individuals because a person could be incarcerated multiple times within one or more districts. Additionally, the report admits there are no fully reliable sources for state and local incarcerated populations.
It's also worth noting that in fiscal year 2014, Immigration and Customs Enforcement deported just under 178,000 illegal immigrants convicted of a crime, about 56 percent of all deportations. This is similar to previous years. So in Trump's defense is the fact that there might be, at any given point, more than 100,000 immigrants in the United States convicted of a crime.
The fact that many immigrants are detained for immigration violations awaiting deportation -- as opposed to committing some other type of crime -- makes incarceration statistics hard to evaluate, said Mary Waters, a sociology professor at Harvard University. The GAO study found that immigration violations were the most frequent offense leading to detention, followed by drug and traffic violations.
We also wanted to note that every expert we polled said there is a consensus among scholars that undocumented immigrants are not more likely to commit crimes than U.S. citizens. They sent quite a few studies our way. (If you're curious, the May 2014 issue of Criminology and Public Policy has a good roundup of the latest research.)
The near certainty that an undocumented immigrant will be removed if convicted of a crime has been found to be a strong crime deterrent among immigrants, according to a paper co-authored by Waters.
One 2007 study out of the Immigration Policy Center, a pro-immigration think tank, found that American men of Mexican descent ages 18 to 39 had an incarceration rate of 5.9 percent, while foreign-born Mexicans living in the United States had an incarceration rate of 0.7 percent. The overall incarceration rate for American-born men ages 18 to 39 is 3.5 percent.
In 2009, the Center for Immigration Studies, which advocates for low levels of immigration, published a report analyzing government and academic data that found higher rates of criminality among immigrants, though noting, "The overall picture of immigrants and crime remains confused due to a lack of good data and contrary information."
But the bottom line on Trump's specific claim is that there's no definitive number, or even a good ballpark figure, of how many illegal immigrants are currently incarcerated.
Our ruling
Trump said "Hundreds of thousands of (illegal immigrants are) going to state and federal penitentiaries."  
In 2013, there were fewer than 100,000 noncitizens -- legal and undocumented -- in federal and state prisons. If you add in local jails, it's quite possible but uncertain that the total number of incarcerated illegal immigrants is above 100,000, though it's also possible that many of these individuals are held for immigration violations as opposed to other crimes. We just don't have solid data on this point.
Without any good information to back it up, Trump's claim falls flat. We rate it Mostly False.
Bureau of Justice Statistics, "Prisoners in 2013," Sept. 30, 2014
GAO, "Criminal Alien Statistics: Information on Incarcerations, Arrests, and Costs," March 2011
ICE, "ICE Enforcement and Removal Operations Report," Dec. 19, 2014
Office of Immigration Statistics, "2013 Yearbook of Immigration Statistics," August 2014
Congressional Research Service, Secure Communities report, July 2012
Criminology and Public Policy, "Immigration Enforcement, Policing and Crime," May 2014
Center for Immigration Studies, "Immigration and Crime: Assessing a Conflicted Issue," Nov. 2009
Email interview, Portland State University professor Laura Hickman, July 2, 2015
Email interview, Arizona State University professor Charles Katz, July 2, 2015
Email interview, Harvard professor Mary Waters, July 2, 2015
Email interview, Northeastern professor Ramiro Martinez, July 2, 2015
Email interview, ICE press secretary Gillian Christensen, July 2, 2015
Email interview, Stephen Fischer, FBI Criminal Justice Information Services spokesman, July 6, 2015
Browse the Truth-O-Meter
More by Lauren Carroll
Support independent fact-checking.
Become a member!
In a world of wild talk and fake news, help us stand up for the facts.