Stand up for the facts!
Our only agenda is to publish the truth so you can be an informed participant in democracy.
We need your help.
I would like to contribute
If women seeking an abortion see their ultrasound, "the odds are pretty high they're going to keep the baby."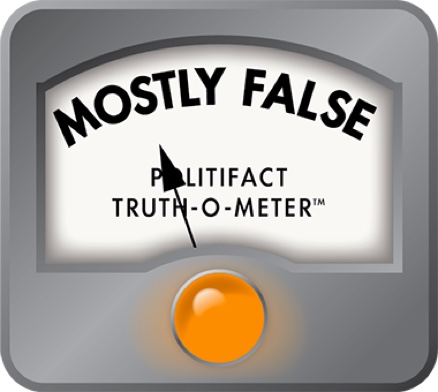 Walker: If women seeking an abortion see their ultrasound, odds are pretty high they will keep baby
Two days after Gov. Scott Walker announced for president, conservative commentator Laura Ingraham wanted to know if the Wisconsin Republican planned to mislead voters.
Interviewing the governor July 15, 2015 on her nationally syndicated radio show, Ingraham referred to a National Journal article that was published on the eve of Walker's announcement. An anonymous longtime Walker adviser had said Walker would run as a conservative early in the campaign, then position himself as more moderate.
"Is that what you're going to do?" Ingraham asked. "Move to the middle after arguing that you're the real conservative in this race?"
Walker said no, and then went on to list a number of his accomplishments as governor that are important to conservatives. One is a law that requires women seeking an abortion to first get an ultrasound -- although they are not required to view it.
"We know if people can see that unborn child, particularly with the latest technology, the odds are pretty high they're going to keep the baby," Walker said.
Do most women seeking an abortion change their mind after seeing their ultrasound scan?
Previous fact check
We've previously reviewed a claim similar to Walker's.
A couple of weeks before Walker signed the ultrasound requirement law in July 2013, conservative pundit Rachel Campos-Duffy, the wife of U.S. Rep. Sean Duffy, R-Wis., said "upwards of 90 percent" of women seeking an abortion decide not to have an abortion after seeing an ultrasound.
We rated her statement False. One anti-abortion organization claimed a figure of nearly 90 percent for its ultrasound program among a certain group of women. But there was no solid evidence to back Campos-Duffy's claim, which was more sweeping than Walker's.
Evidence backing Walker
Walker's campaign cited two pieces of evidence that have surfaced since our Campos-Duffy fact check.
1. Anti-abortion group
The first is a short news release issued in March 2015 by the National Institute of Family and Life Advocates, which describes itself as a "national legal network of prolife pregnancy centers." The release described a survey that the group said it did of some of its centers.
According to the release, 410 of the group's 1,050 centers that offer ultrasounds responded to the survey. And in 75,318 cases in 2013 in which ultrasounds were given -- to what the group labeled as "abortion-minded" or "abortion-vulnerable" women -- 78 percent of the women decided against having an abortion.
The release did not say whether there was follow-up to see if the women gave birth, which is what Walker claims. And like much of the evidence we reviewed in the Campos-Duffy fact check this evidence is self-reported by a group that actively advocates against abortion.
2. Academic study
Walker's campaign also cited an academic study published in January 2014 in the journal Obstetrics & Gynecology.
The researchers reviewed medical records for 15,575 visits by women seeking abortion care at Planned Parenthood clinics in Los Angeles in 2011. Among women who viewed their ultrasound images, over 98.4 percent of the pregnancies were terminated. But Walker's campaign highlighted a narrower finding of the study.
Some 93 percent of the women had entered the clinic expressing what the researchers characterized as a high degree of certainty that they wanted an abortion. Among the 7 percent who expressed medium or low certainty about their decision, viewing the ultrasound "was significantly associated with deciding to continue the pregnancy."
But, clearly, that involves a small percentage of the women in the study.
Two experts
We spoke with one of the authors of the study, University of California at San Francisco School of Medicine professor Katrina Kimport; and with Michele Chadwick, executive director of the anti-abortion ICU Mobile, which is based in Akron, Ohio. They agreed on two points:
1. Neither had seen any peer-reviewed academic research to back Walker's claim.
2. For some women, particularly those less sure about having an abortion, viewing an ultrasound can be one factor in deciding to continue a pregnancy. And often that decision to continue is not made simply as a result of viewing the ultrasound, but because counseling and other services are provided in addition to the scan.
Kimport added that research shows the most common reason women state for getting an abortion is not being able to afford caring for a child, and viewing an ultrasound wouldn't change that circumstance.  
Our rating
Walker said that if women seeking an abortion see their ultrasound, "the odds are pretty high they're going to keep the baby."
There is some evidence that some women considering an abortion opt to continue the pregnancy after seeing their ultrasound, although experts said that decision is typically based on counseling or other services that are offered along with the ultrasound.
Meanwhile, the latest academic study we found shows that nearly all women who are more certain about their decision proceed with an abortion even after seeing the ultrasound. And we found no independent studies to back Walker's statement.
For a claim that has an element of truth but ignores critical facts that would give a different impression, our rating is Mostly False.
LauraIngraham.com, interview, July 15, 2015
Email exchange, Gov. Scott Walker campaign spokeswoman AshLee Strong, July 17, 2015
PolitiFact Wisconsin, "More than 90% of women change their minds about having an abortion after seeing an ultrasound, Rachel Campos-Duffy says," (False) July 12, 2013
Reuters, "Seeing ultrasound rarely changes abortion plans, study shows," Jan. 31, 2014
PubMed.gov, "Relationship between ultrasoundviewing and proceeding to abortion," January 2014
National Institute of Family and Life Advocates, news release, March 3, 2015
Interview, ICU Mobile executive director Michele Chadwick, July 17, 2015
Interview, University of California, San Francisco School of Medicine professor Katrina Kimport, July 20, 2015
Browse the Truth-O-Meter
More by Tom Kertscher
Support independent fact-checking.
Become a member!
In a world of wild talk and fake news, help us stand up for the facts.