Stand up for the facts!
Our only agenda is to publish the truth so you can be an informed participant in democracy.
We need your help.
I would like to contribute
A Texas law "will repatriate $1 billion of gold bullion from the Federal Reserve in New York to Texas."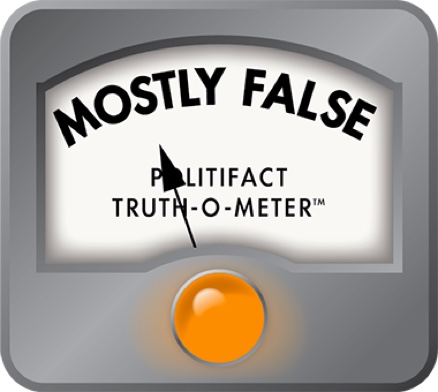 Greg Abbott says $1 billion in gold bullion headed to Texas from Federal Reserve
Uncle Sam's loss will be Texas's golden gain, Texas Gov. Greg Abbott declared after signing a proposal into law creating the Texas Bullion Depository.
"The law," Abbott's office said in a June 2015 press release, "will repatriate $1 billion of gold bullion from the Federal Reserve in New York to Texas." Repatriate, per Merriam-Webster, means to send money back to your country.
"The bullion depository will serve as the custodian, guardian and administrator of bullion that may be transferred to or otherwise acquired by the State of Texas," the governor's office said.
A reader asked us to check Abbott's description of the about-to-travel bullion, which generally can refer to bars made of gold or another precious metal.
In his announcement, Abbott said he signed House Bill 483 into law "to provide a secure facility for the State of Texas, state agencies and Texas citizens to store gold bullion and other precious metals. With the passage of this bill, the Texas Bullion Depository will become the first state-level facility of its kind in the nation, increasing the security and stability of our gold reserves and keeping taxpayer funds from leaving Texas to pay for fees to store gold in facilities outside our state."
We emailed Abbott aides per his Federal Reserve claim and didn't hear back. Similarly, the author of the legislation, state Rep. Giovanni Capriglione, R-Southlake, did not engage.
News stories on $1 billion in bullion
But we spotted news stories characterizing the possible boon to Texas once the depository is set up.
Early in 2015, Austin American-Statesman commentator Ken Herman wrote that not long ago, a University of Texas unit had a billion dollars in bullion stowed in New York, though Herman made no mention of the Federal Reserve Bank of New York. The reserve bank in New York has a vault in Manhattan, it says online, where it secures bullion for the U.S. government, foreign governments, other central banks and official international organizations--though evidently not U.S. state agencies.
Herman wrote:
"The bullion storage business is centered in New York City and Delaware. And that gets us to the second part of the profit deal here. Texas now pays to store its gold in NYC. When Capriglione checked in 2013,  the University of Texas Investment Management Company paid to store its 6,643 gold bars--worth around $1 billion--in what he calls the Hong Kong Shanghai Bank in New York.
"Says UTIMCO CEO Bruce Zimmerman: The gold holdings now are down to about $725 million. He was not immediately sure how many gold bars that is. They're stored in Manhattan at HSBC Bank,  which charges an annual fee of less than one-tenth of 1 percent per year.
"HSBC is a British multinational bank that started as the Hong Kong and Shanghai Banking Corp."
Later, a May 2015 Houston Chronicle news story on Capriglione's proposal quoted the Senate sponsor, Lois Kolkhorst, R-Brenham, specifying UTIMCO in March 2015 had 5,610 gold bars in its portfolio, an investment worth $645 million, and was being charged a storage fee of $108 per bar by a bullion depository in New York, a total storage cost of more than $605,000 a year. "New York will hate this," Kolkhorst said of the proposal. "To me, that and the fact that it will save Texas money makes it a golden idea."
A May 30, 2015, Fort Worth Star-Telegram news story noted the intended change in law would allow, rather than require, bullion deposits. That story and news accounts published the same week by the Associated Press and the Dallas Morning News each aired the billion-dollar figure. In fact, the AP and Star-Telegram accounts said the state had more than $1 billion in gold stored elsewhere.
Fiscal analysis of legislation
We didn't confirm a billion-plus figure. And a state financial projection did not mention the potential value of any bullion likely to shift to Texas--from any location. The May 30, 2015, fiscal note by the staff of the advisory Legislative Budget Board said: "Depending upon the number of depository transactions and the amount of fees that could be assessed to depository agents, there could be an indeterminate fiscal impact to the state." The analysis concluded that at this time, how much money the state makes from "depository activities" could not be estimated.
Generally, the fiscal note said, the Texas Bullion Depository, directed by an appointee of the state comptroller, Glenn Hegar, "would hold certain bullion and specie acquired by the state or a political subdivision of the state; could receive and hold such deposits for private entities; and would use depository agents, as described in the bill, to conduct retail transactions on behalf of the depository with current and prospective depository account holders," the fiscal note said, with deposits and related assets not available for legislators to spend.
UT: $650 million in bullion in a New York bank
About that billion: To our inquiry, a UT System spokeswoman, Jenny LaCoste-Caputo, emailed us a statement from UTIMCO's Zimmerman: "At one time over the past few years, UTIMCO did in fact have an investment of approximately $1 billion in gold bullion. As of today, the investment is closer to $650 million in gold bullion.
"UTIMCO also has investments in gold financial futures," Zimmerman said. "We do not know what any other Texas-related investment fund may or may not own. Also, UTIMCO may buy or sell gold bullion or gold futures at any time so future ownership cannot be predicted."
Currently, he said, the gold is held in storage in a vault located in New York "and is part of a bank, and therefore under the auspices of the Federal Reserve System, but it is not owned or controlled directly by the Federal Reserve."
Zimmerman said UTIMCO will "seriously consider" moving its bullion to the Texas depository if it's created and is a "robust member of the COMEX (Chicago Mercantile Exchange) which facilitates and eases buying and selling of gold bullion by having it fully integrated with the gold financial futures marketplace" and if, he said, UTIMCO's "costs are equal to or less than what is now being paid."
LaCoste-Caputo, by email, said the precise value of the gold bars, as of June 24, 2015, was $661,424,610. Potentially of note, she said, the UT System Board of Regents would need to approve moving the gold. She said the likely scenario is that UTIMCO would make a recommendation for the board to consider.
Next, we checked with other agencies including retirement systems and the comptroller's office and did not identify additional state-owned bullion that might could be shifted to the Texas depository.
Our ruling
Abbott said the new law "will repatriate $1 billion of gold bullion from the Federal Reserve in New York to Texas."
We see a thread of truth here in the law creating a Texas depository that could field bullion deposits.
But the statute doesn't repatriate any bullion. In addition, UTIMCO has around $660 million in gold bullion (not $1 billion) and it's stored in a New York bank, not the Federal Reserve.
We rate Abbott's statement Mostly False.
---
MOSTLY FALSE – The statement contains an element of truth but ignores critical facts that would give a different impression.
Click here for more on the six PolitiFact ratings and how we select facts to check.
Press release, "Governor Abbott Signs Legislation To Establish State Bullion Depository," Gov. Greg Abbott, June 12, 2015
Legislation, House Bill 483, 2015 regular session. Texas Legislative Council
Web page, "Gold Vault," Federal Reserve Bank of New York (accessed June 23, 2015)
Commentary, "Legislator has plan to bring Texas bullion home," Ken Herman, Austin American-Statesman, posted online Jan. 22, 2015
News story, "Texas could create its own 'Fort Knox' to store gold," Houston Chronicle, May 26, 2015
News story, "A gold rush in Texas?" Fort Worth Star-Telegram, May 30, 2015
News story, "Texas Legislature OKs creating depository for state gold," the Associated Press, May 31, 2015 (American-Statesman website)
News blog post, "Texas set to create a gold depository," Trailblazers blog, Dallas Morning News, May 31, 2015
Emails, Jenny LaCoste-Caputo, executive director of public affairs, University of Texas System, June 23, 2015
Browse the Truth-O-Meter
More by W. Gardner Selby
Support independent fact-checking.
Become a member!
In a world of wild talk and fake news, help us stand up for the facts.