Stand up for the facts!
Our only agenda is to publish the truth so you can be an informed participant in democracy.
We need your help.
I would like to contribute
Says Israel Prime Minister Benjamin Netanyahu "didn't change his position" on a two-state solution.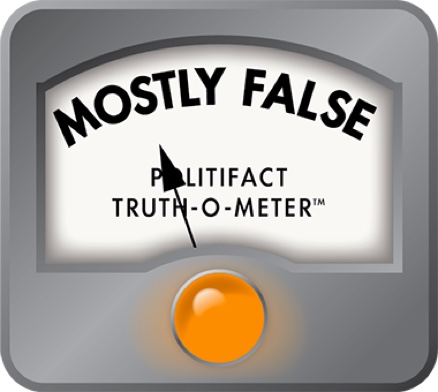 Israeli ambassador tells U.S. audience Netanyahu didn't change position on two-state solution
Sunday shows fixed their spotlight on newly re-elected Israeli Prime Minister Benjamin Netanyahu, whose campaign-season remarks shutting down a two-state solution for the Israeli-Palestinian conflict inflamed tensions with the White House.
Now Netanyahu and his delegates are saying the comments were misunderstood.
The international uproar started when Netanyahu said a Palestinian state would not happen during his tenure if he won re-election to a fourth term, which widely sounded like a departure from his previously stated support for a two-state solution. After Netanyahu's Likud Party won enough seats to maintain coalition control of the government, Netanyahu tried to temper his position in interviews with American journalists, but President Barack Obama said he is taking Netanyahu "at his word" when Netanyahu said a two-state solution "wouldn't happen during his prime ministership."
Israel's ambassador to the United States, Ron Dermer, appeared on NBC's Meet the Press on Sunday to defend the Israeli leader. Host Chuck Todd asked, "So the president is wrong that he takes the prime minister at his word at what he said before the election?"
"He didn't say what the president and others seem to suggest that he's saying," Dermer said. "And he was very clear about it in his interview with Andrea Mitchell. He didn't change his position. He didn't run around giving interviews saying he's now against the Palestinian state."
Dermer's claim seems contrary to widespread analysis of Netanyahu's record, so we wanted to find out if Netanyahu's position had changed.
What has Netanyahu said
Netanyahu is on track to be the longest-serving prime minister in Israel's statehood, elected to a fourth term in office with last week's close election. Netanyahu had already miffed the Obama administration by accepting an invitation from congressional Republicans to denounce a possible Iranian nuclear deal in a Washington address.
The water between them turned even hotter after a video interview published the day before Israel's March 17 general election on NRG, a right-leaning Israeli news website. Netanyahu said in Hebrew, according to a New York Times translation:
"I think that anyone who is going to establish a Palestinian state today and evacuate lands is giving attack grounds to the radical Islam against the state of Israel. This is the genuine reality that has been created here in the past few years. Those who do not understand that bury their heads in the sand. The left-wing parties do it, bury their heads in the sand, time and again."
The reporter asked, "But if you are the prime minister, a Palestinian state will not arise?"
"Indeed," Netanyahu said. He went on:
"An international initiative will be presented to us, to return to 1967 borders, to divide Jerusalem. Those are real things. It is going to happen. We need to form a strong, firm national government, headed by Likud (his party), to push those pressures away."
Reports from the New York Times, Washington Post and others cast these comments as a departure from his 2009 speech at Bar-Ilan University, when Netanyahu endorsed a two-state solution -- with caveats -- to the conflict. Secretary of State John Kerry had been working on peace talks, of which the agreement of two states is the desired result, but those fell through last year.
For supporters of a Palestinian state, Netanyahu's present-day comments saying the two-state solution would not happen affirmed fears that he was never serious about pursuing that.
But was it a true reversal?
The backtracking
Victory in hand, Netanyahu sought to clarify his comments about his support for a two-state solution in interviews with American media.
On MSNBC, he told Andrea Mitchell, "I haven't changed my policy. I never retracted my speech at Bar-Ilan University six years ago calling for a demilitarized Palestinian state that recognizes the Jewish state. What has changed is the reality.
"Mahmoud Abbas, the Palestinian leader, refuses to recognize the Jewish state, has made a pact with Hamas that calls for the destruction of the Jewish state, and every territory that is vacated today in the Middle East is taken up by Islamist forces, so we want that to change so we can realize a vision of real, sustained peace," he said.
His rhetoric had been consistent in the closing weeks of the election, as a Likud Party press release, according to the Post, quoted Netanyahu as saying "there will be no withdrawals and no concessions" because evacuated territory would fall to radical Iran-supported terror groups.
A similar newsletter distributed by a Likud leader said Netanyahu had dismissed his Bar-Ilan speech as "null and void," according to this New York Times timeline of Netanyahu's position on this issue. But when the party followed up by saying the support voiced at Bar-Ilan was "irrelevant," his office countered he had "never stated such a thing."
Netanyahu doubled down that he did not change his position in an interview with NPR Morning Edition host Steve Inskeep, who pointed out that the comments were awkward because presidents before Obama had also pressed for the two-state solution. Inskeep asked if it was still Netanyahu's position to be against a Palestinian state.
"What I said was that under the present circumstances, today, it is unachievable," he said, citing the Palestinian Authority's government with Hamas. "I said that the conditions have to change."
Expert analysis
What to make of Netanyahu's words -- is he a flip-flopper or being taken out of context?
Ultimately, it's hard to know his true position. Jonathan Schanzer, Foundation for Defense of Democracies vice president for research and author of books on the conflict, offered several notes of context.
First, and perhaps most importantly, Netanyahu's support for the two-state solution has always been tepid, Schanzer said. In his first term that started in 1997, he opposed Palestinian statehood. The switch came at the university speech in 2009, and he reaffirmed in October 2014 his support for "a vision of peace of two states for two peoples based on mutual recognition and rock solid security arrangements on the ground" during a visit with Obama at the White House.
For him to say now, unequivocally, that there would be no Palestinian state during his time in office may seem to indicate that he is against it on principle, Schanzer said, "but he didn't say there would never be a two-state solution."
To Schanzer, that is a fine distinction. Netanyahu always seemed reluctant to be part of the peace talks brokered by the United States, but he showed up anyway, Schanzer said. For him to acknowledge how poorly the talks have gone, and how unlikely they are to improve given the dwindling tenures of all leaders involved, "is actually a moment of honesty," he said.
Still, the potentially candid assessment had convenient timing, as Netanyahu spent his final days of campaigning trying to consolidate Israel's right-wing voters, who have several political party options unlike the United States. It was also in the election's final days when Netanyahu warned in a video that Arab-Israelis were voting "in droves" and could threaten conservative rule, which critics saw as steeped in race-mongering.
"The point is to say this was certainly done in the heat of the campaign," Schanzer said. "But I also believe that this does not discount the idea of a two-state solution moving forward permanently."
Our ruling
Dermer pushed back against widespread reports that Netanyahu changed his position on a two-state solution for the Israeli-Palestinian conflict during the general elections. Dermer said, "He didn't change his position. He didn't run around giving interviews saying he's now against the Palestinian state."
His position on this issue is much more complicated than Dermer lets on. Netanyahu has been all over the place.
While he originally opposed Palestinian statehood, he has voiced support for a two-state peacemaking strategy as recently as October.
Fast forward to this month: Netanyahu told a reporter for a right-leaning website that a Palestinian state wouldn't happen under his watch. While he didn't literally say he was "against the Palestinian state," his comments certainly signalled he would not be working toward that anytime soon."
He has since clarified his position again, to say he supports the prospect of a Palestinian state, with caveats.
We rate this claim Mostly False.
Interview with Jonathan Schanzer, Foundation for Defense of Democracies vice president for research, March 22, 2015
New York Times, "Netanyahu Says No to Statehood for Palestinians," March 16, 2015
Washington Post, "Netanyahu says no Palestinian statehood if he wins," March 16, 2015
New York Times, "Israel's Netanyahu Reopens Door to Palestinian State, but White House Is Unimpressed," March 19, 2015
NPR, "Prime minister Netanyahu backtracks on Palestinian state comments," March 19, 2015
MSNBC, "Netanyahu: U.S. has no greater ally than Israel," March 19, 2015
The Huffington Post, "Obama details his disappointment with Netanyahu in first post-election comments," March 21, 2015
New York Times, "Netanyahu's history on Palestinian statehood," March 20, 2015
Browse the Truth-O-Meter
More by Katie Sanders
Support independent fact-checking.
Become a member!
In a world of wild talk and fake news, help us stand up for the facts.