Stand up for the facts!
Our only agenda is to publish the truth so you can be an informed participant in democracy.
We need your help.
I would like to contribute
"The average faculty member at UW-Madison brings in close to a quarter million dollars a year" in grant money.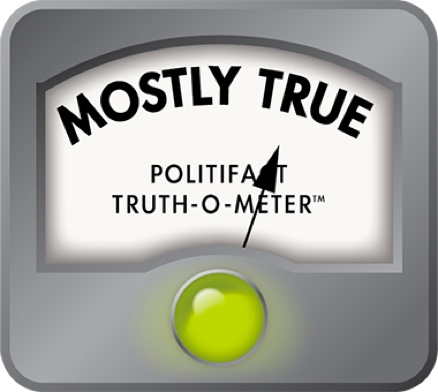 Does average UW-Madison faculty member bring in "close to a quarter million" a year in grant money?
A leading Democrat predicts devastation if Gov. Scott Walker's proposed $300 million cut over two years to the University of Wisconsin System is adopted.
"For UW-Madison it's a major issue," Assembly Minority Leader Peter Barca, D-Kenosha, said in a March 12, 2015 Wisconsin Eye interview. "It's penny wise and pound foolish there."
Barca added: "The average faculty member at UW-Madison brings in close to a quarter million dollars a year. So you cut them and they're leaving. They have plenty of opportunities to go to Harvard or Princeton or Stanford."
Barca was joined on the Wisconsin Eye program by Assembly Speaker Robin Vos, R-Rochester. He thinks the university cut is too large, but says Democrats are overreacting.
"Let's remember that the cut that's happening under Gov. Walker is about the size of the one that happened under (former Gov. Jim Doyle, a Democrat), and I didn't hear Democrats complaining about the loss of the university and how the world was going to come to an end."
We'll test Vos' claim soon.
For now, let's examine Barca's statement about the prowess of the Madison faculty in attracting research grants.
Researching the research
When we asked Barca to back up the claim, spokeswoman Laura Smith pointed to a page on the UW-Madison website that answers frequently asked questions about the 2015-'17 budget -- at least from the UW System's perspective.
The page asserts that asking professors to teach more classes -- as Walker suggested -- would cut into critical functions of the university:
"Research is central to their jobs. According to university statistics, each faculty member is bringing in approximately $242,000 on average to support their research in a highly competitive national environment. Faculty and staff brought in more than $500 million in federal research awards in 2012-13, money that would not otherwise come to Wisconsin."
So there's Barca's "close to a quarter million" figure.
We asked UW-Madison about the numbers.
They are from 2012-13, and were published in March 2014 in the university's "Data Digest". The document provides a detailed look at various aspects of the campus and is put together by three offices: Academic Planning & Institutional Research, Office of the Provost and the Office of the Vice Chancellor for Finance & Administration.
UW-Madison is one of the leading research institutions in the country as measured by total grants from outside sources, mostly the federal government.
Out of its 2,173 faculty members, 1,275 (or 59 percent) secured research grants in 2012-13, the latest year available.
So there's a point of clarification:
Barca frames his claim around the idea that any cuts will hurt the university's ability to bring in research money. But in the year examined, 41 percent did not bring in grants.
The university says it uses the total number of faculty when calculating the per-professor grant haul because all faculty members are expected to do research.
In all, professors pulled in a total of $525.7 million in grants from outside sources. The grants are in these areas: biological sciences, humanities, physical sciences, social sciences.
Spread over 2,173 faculty, that's the $242,000 figure. If you spread it out over just the faculty receiving grants, the average is $412,000.
Jocelyn Milner, a UW official who helps prepare the "Data Digest," told us that grant productivity is calculated in another way as well.
There's another $355 million in grants that are not awarded to individual professors, but to a dean or other official even though professors end up doing the research. When you add those in the per-faculty grant figure rises to $399,000 per year, Milner said.
UW prefers the more conservative methodology that is behind the $241,935 figure, Milner said.
We found that ranking universities on research prowess often turns on how much money they pull in. There are other factors that can help judge research prominence, such as journal articles published, endowment assets, faculty awards, and so on.
Our rating
Barca said, "The average faculty member at UW-Madison brings in close to a quarter million dollars a year."
He referred to research grants won. UW-Madison figures back up the claim, but there's one point of clarification, in that not all faculty get grants.
We rate Barca's statement Mostly True.
Wisconsin Eye interview, Civil Dialogue show, March 12, 2015
Emails with Laura Smith, spokeswoman for Rep. Barca, March 18, 2015
Emails with Greg Bump and John Lucas, UW-Madison spokespersons, March 19, 2015
Interview with Jocelyn Milner, Associate Provost and Director of Academic Planning and Institutional Research, March 19, 2015
UW Madison Data Digest, page 74, Extramural Research Awards, March 2014
UW-Madison Budget FAQs
Browse the Truth-O-Meter
More by Dave Umhoefer
Support independent fact-checking.
Become a member!
In a world of wild talk and fake news, help us stand up for the facts.