Stand up for the facts!
Our only agenda is to publish the truth so you can be an informed participant in democracy.
We need your help.
I would like to contribute
Says according to recent polls, no Republican candidate "is doing better against Hillary Clinton than myself."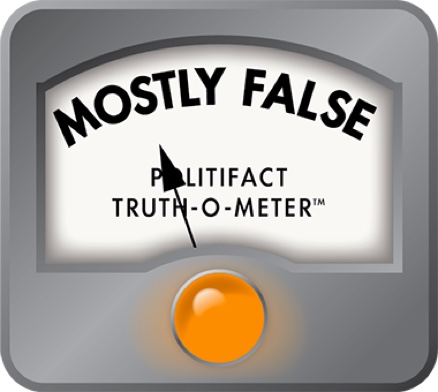 Rand Paul says polls show he has the best shot at beating Hillary Clinton
Among the potential Republican contenders, Sen. Rand Paul, R-Ky., says he is best-positioned to take on likely Democratic candidate Hillary Clinton in the 2016 presidential race.
In an interview with Fox News host Megyn Kelly, who asked about his chances at a win, Paul said, "I think when you see my polling, the polling that's out there so far, nobody is doing better against Hillary Clinton than myself."
"Also though, when you poll people not just against each other, but against the other side, that shows which candidate has the best chance of picking up the independent vote," he added. "And right now I'm the only one that beats Hillary Clinton in certain purple states. I'm the only one that also scores above all the other Republicans in whether or not I can beat her."
We wondered if Paul really is doing the best in polls against Clinton in a hypothetical 2016 general election match-up.
Paul's office directed us to a recent CNN/ORC poll that asked participants whether they would vote for Clinton or various Republican candidates in the general election. Indeed, more people said they would vote for Paul over Clinton than they would vote for other Republican candidates over Clinton.
In a Paul-Clinton race, 43 percent said they would pick Paul, while 54 percent said they would pick Clinton, according to the CNN/ORC poll. Sen. Marco Rubio, R-Fla., came in second place behind Paul, with 42 percent of the vote to Clinton's 55 percent.
However, there are a few contextual issues we'd like to point out.
First, the margin of error in the CNN poll is plus or minus three percentage points. Every Republican candidate in this poll came in between 40 percent and 43 percent against Clinton. So taking into account that three-point margin of error, the Republican candidates had more or less the same results, meaning there isn't a clear winner.
Additionally, the CNN poll is only one of several polls. Of the seven polls collected by PollingReport.com, a nonpartisan public opinion site, that pit Paul against Clinton, this CNN/ORC is the only one where Paul has a lead among Republicans.
This table shows results of the CNN poll and three other recent polls. The percentage that would vote for the Republican candidate is on the left, and the percentage that would vote for Clinton is on the right. The Republican with the best chance against Clinton is bolded in each column. The polls did not ask about every candidate.
| | | | | |
| --- | --- | --- | --- | --- |
| Candidate (vs. Clinton) | CNN 3/13-15 | Marist 3/1-4 | Quinnipiac 2/26-3/2 | Fox 1/25-27 |
| Rand Paul | 43% to 54% | 40% to 51% | 41% to 47% | 44% to 47% |
| Jeb Bush | 40% to 55% | 42% to 49% | 42% to 45% | 43% to 48% |
| Chris Christie | 40% to 55% | n/a | 39% to 46% | 42% to 48% |
| Ted Cruz | n/a | 39% to 53% | 38% to 48% | n/a |
| Scott Walker | 40% to 55% | 44% to 48% | 39% to 48% | n/a |
| Ben Carson | 40% to 56% | n/a | n/a | n/a |
| Mike Huckabee | 41% to 55% | n/a | 40% to 47% | n/a |
| Marco Rubio | 42% to 55% | 42% to 49% | 41% to 46% | n/a |
| Rick Perry | n/a | 42% to 51% | n/a | n/a |
| Mitt Romney | n/a | n/a | n/a | 46% to 46% |
As you can see, each poll has a different winner in the match-up against Clinton. So there's no obvious frontrunner in this regard, with the possible exception of failed 2012 presidential candidate Mitt Romney in the Fox News poll, where he received the highest percentage of the vote against Clinton among all the poll results (46 percent to 46 percent). But Romney has decided not to run this cycle.
Additionally, all of the Republicans are coming within a couple points of each other when compared to Clinton, such as Paul with 43 percent and Rubio with 42 percent in the CNN poll. This downplays Paul's assertion that "nobody's doing better" than him.
"I doubt any respectable pollsters would say a single percentage point lead suggests that he is 'doing better' " than other candidates against Clinton, said Karlyn Bowman, a polling expert at the conservative American Enterprise Foundation.
Bowman added the Republicans' results hover around 40 percent in each of these polls because that's about the percentage of Americans who are Republican or lean right, and it's fair to assume that any Republican candidate will get core party support.
"So, any Republican will probably get around 40 percent of the vote to start," she said, noting that it is still too early to tell which specific candidate would do best against Clinton 18 months from now. "It is probably easier at this point to see if someone is just a non-starter, if he or she is significantly below that threshold."
We posed Bowman's analysis to Paul spokeswoman Eleanor May, and she said, "We all recognize that polling data can be collected a number of different ways and can produce various outcomes. The specific poll Sen. Paul was citing, along with the outlet that conducted the poll publicly declared that Sen. Paul comes closest to beating Hillary Clinton."
It's also worth noting that in every single one of these match-ups, Clinton wins. (The one exception is the tied Romney-Clinton results in the Fox poll.)
In the CNN/ORC poll that Paul cites as showing he's got the best chance at beating Clinton, she is still ahead by 11 percentage points. Wisconsin Gov. Scott Walker, who has the best chance against Clinton in the Marist poll, is behind Clinton by 4 percentage points in that poll.
Our ruling
Paul said that according to recent polls, no Republican candidate "is doing better against Hillary Clinton than myself."
The big picture shows nearly any Republican candidate getting approximately 40 percent of the vote when matched up against Clinton, so it's hard to argue that any particular candidate is in the lead in this regard. One poll shows Paul with the highest support among Republicans against Clinton. But the size of the margin of error allows for the possibility that Paul might, in reality, be behind other Republican candidates. Additionally that is the only poll that shows Paul with a lead.
Because it's hard to say if any candidate, so far out from the 2016 election, is the clear frontrunner in a hypothetical race against Clinton, we rate Paul's claim Mostly False.
Fox News, transcript, March 24, 2015
CNN, "Poll: Hillary Clinton still tops in 2016," March 18, 2015
PollingReport.com, "White House 2016: General Election," March 15, 2015
Email interview, AEI senior fellow Karlyn Bowman, March 24, 2015
Email interview, Paul spokeswoman Eleanor May, March 24, 2015
Browse the Truth-O-Meter
More by Lauren Carroll
Support independent fact-checking.
Become a member!
In a world of wild talk and fake news, help us stand up for the facts.