Stand up for the facts!
Our only agenda is to publish the truth so you can be an informed participant in democracy.
We need your help.
I would like to contribute
"Hate speech is excluded from protection" under the First Amendment.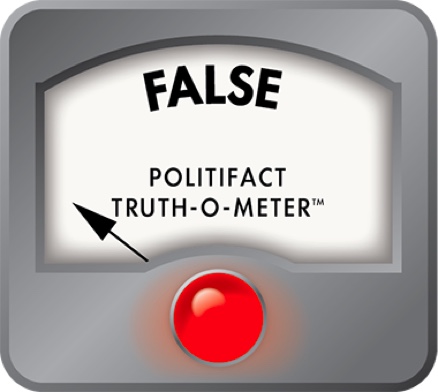 CNN's Chris Cuomo: First Amendment doesn't cover hate speech
Hate speech is not the same thing as free speech, wrote CNN anchor Chris Cuomo on the ultimate forum for public discourse: Twitter.
Amid debate about free speech after a shooting at an anti-Muslim protest in Texas , a user tweeted at Cuomo: "Too many people are trying to say hate speech (doesn't equal) free speech."
In response, Cuomo, who has a law degree, said, "It doesn't. Hate speech is excluded from protection. Don't just say you love the Constitution … read it."
The claim that the Constitution doesn't protect hate speech incited heavy backlash, so we decided to flesh it out and see if there's any truth to Cuomo's statement.
Them's fightin' words
First let's get the obvious out of the way: The concept of "hate speech" -- speech that negatively targets people based on personal traits like religion or race -- is not addressed in the Constitution. The First Amendment of the Constitution, included in the Bill of Rights, says:
"Congress shall make no law respecting an establishment of religion, or prohibiting the free exercise thereof; or abridging the freedom of speech, or of the press; or the right of the people peaceably to assemble, and to petition the government for a redress of grievances."
That may seem cut and dried, but as with the rest of the Constitution, there are nuances to the concept of free speech. In the course of interpreting the amendment, courts have decided that certain speech does not fall under protections offered by the First Amendment.
Unprotected speech includes things such as threats, child pornography and "fighting words" (speech that would likely draw someone into a fight, such as personal insults). But hate speech is not included in that list.
However, sometimes hate speech can also be considered "fighting words" or a threat. In those cases, hate speech would be excluded from protections offered by the First Amendment, said James Weinstein, an expert in free speech at Arizona State University's Sandra Day O'Connor Law School.
For example, if someone hurled racial epithets during a heated argument with another individual, that could be considered both fighting words and hate speech, in which case it would not have First Amendment protection. But it would be unconstitutional to ban someone from putting those same words on a picket sign at a protest -- it would still be hate speech, but it wouldn't fall under one of the unprotected categories.
"With that caveat, the overwhelming understanding is that 'hate speech' is constitutionally protected in the United States," said Michael Herz, co-director of the Floersheimer Center for Constitutional Democracy at Cardozo Law. "Indeed, that protection makes this country different from most other countries in the world."
To his credit, Cuomo later clarified his position and said he was referring to the type of hate speech that falls under unprotected categories -- specifically citing the 1941 Supreme Court ruling in Chaplinsky vs. New Hampshire, which excluded fighting words from the First Amendment. (In the Chaplinsky case, the fighting words were not hate speech; rather they were "God damned racketeer" and "damned fascist.")
"Of course the First Amendment does not expressly mention hate speech among its six protections in its text," Cuomo said. "I meant to refer to the relevant case law about the (First Amendment) to see what is protected. There you quickly find that hate speech is almost always protected. The keyword is 'almost.' Hate speech can be prohibited; that is why I keep citing the Chaplinsky case and the fighting words doctrine." (Read his full response on Facebook.)
Even with this clarification, Weinstein said Cuomo's argument isn't without holes. If a statute bans hate speech, it has to be because it counts as a threat or fighting words -- not simply because it is hate speech. This may seem like a slight nuance, but it's important.
In 2002, the Supreme Court ruled that it's constitutional for a state to have a statute that bans cross-burning -- but only if prosecutors can prove criminal intent to threaten. They cannot, for example, ban a burning cross used only to demonstrate political ideology. In another cross-burning case, the Supreme Court ruled in 1991 that it's unconstitutional to up the penalty or charge people with a crime solely because their actions constitute hate speech.
"The fact that something is hate speech or not is irrelevant for First Amendment analysis," Weinstein said.
Herz, of Cardozo, added that there hasn't been a fighting words case in the Supreme Court since Chaplinsky in 1941, and he believes it likely would have a different outcome today.
Of course, reasonable legal minds can disagree on these nuances. Alexander Tsesis, a First Amendment law professor at Loyola University Chicago, said he believes it can be constitutional to prohibit hate speech, and the 2002 cross-burning ruling is a good example of that.
Tsesis said the jury's still out on whether or not there's potential for the Supreme Court to ban hate speech more broadly, noting that there's some potential for laws that prohibit speech that defames an entire group, such as causing a group injury by saying a false stereotype. Although Tsesis believes that would be constitutional, he acknowledged that most scholars disagree.
"In the United States, the only two types of hate speech laws likely to survive are those that are likely to elicit an imminent fight and those that are truly threatening," he said.
Our ruling
Cuomo said, "Hate speech is excluded from protection" under the First Amendment.
The Supreme Court has ruled that certain categories of speech are excluded from constitutional protection, such as a threat or "fighting words." Sometimes, speech can be both a threat and hate speech, in which case it would not necessarily have First Amendment protection.
But hate speech on its own -- such as on a picket sign or a blog -- is not excluded from protection. It may only be incidentally excluded.
Cuomo tried to clarify his point after the fact, giving an explanation similar to the examples we hashed out here.
But on his specific claim, the jurisprudence works against him. We rate his statement False.
Chris Cuomo tweet, May 6, 2015
Chris Cuomo Facebook post, May 6, 2015
Oyez project, Chaplinsky vs. State of New Hampshire, 1941
Oyez project, Beauharnais vs. Illinois, 1951
Oyez project, RAV vs. St. Paul, 1991
Oyez project, Virginia vs. Black, 2002
New York Times, "Hate speech or free speech? What much of West bans is protected in U.S." June 11, 2008
University of Chicago Law School, "Hate Speech and the U.S. Constitution," 1994
Emails, CNN anchor Chris Cuomo, May 7, 2015
Email interview, Alexander Tsesis, Loyola University Chicago law professor, May 6, 2015
Email interview, Michael Herz, Cardozo law professor, May 6, 2015
Phone interview, James Weinstein, Arizona State University law professor, May 6, 2015
Browse the Truth-O-Meter
More by Lauren Carroll
Support independent fact-checking.
Become a member!
In a world of wild talk and fake news, help us stand up for the facts.