Facts are under assault in 2020.
We can't fight back misinformation about the election and COVID-19 without you. Support trusted, factual information with a tax deductible contribution to PolitiFact
I would like to contribute
"Ron Johnson said specifically that he hopes the first steps occur to privatize the" Veterans Administration.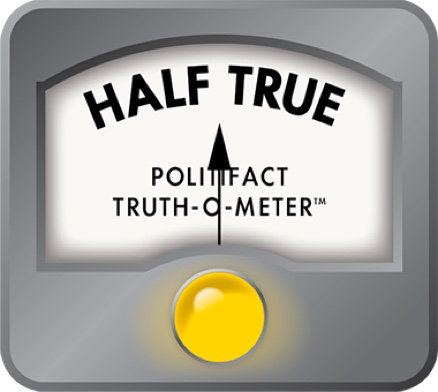 U.S. Sen. Ron Johnson wants to take first steps to privatize the VA, challenger Russ Feingold says
In an interview on a liberal talk show on Madison radio, Russ Feingold answered a question about the Veterans Administration -- hit by scandals nationally and in Wisconsin -- by contrasting himself and U.S. Sen. Ron Johnson, the man who took his Senate seat in 2010.
Mike Crute, co-host of the "The Devil's Advocates," asked Feingold on Nov. 12, 2015: "Do you think we have a problem with the Veterans Administration, does it need major reform, or does it simply need more financial resource?"
Feingold, a Democrat who was in the Senate for 18 years, began his reply by saying: "Well, this is an area of enormous difference between me and the incumbent senator."
Then he made an attack on Johnson, saying of his Republican opponent in the 2016 Senate race:
"Look, we have to show a genuine commitment to make sure that veterans, when they come home, are able to get a job and that they have timely and adequate health care. The answer is not to privatize the VA. And Ron Johnson said specifically that he hopes the first steps occur to privatize the VA."
As we'll see, Johnson has advocated for privatizing elements of the VA -- such as allowing veterans to get medical care outside the VA system. But he has not gone so far to call for replacing a public system with an entirely private one.
VA scandals
The Veterans Administration's medical care of veterans, both nationally and in Wisconsin, has been under fire for more than a year and a half.
In May 2014, Veterans Affairs Secretary Eric Shinseki resigned from President Barack Obama's cabinet. There had been intense scrutiny of the VA during the previous month, following allegations that 40 patients died while awaiting care at a Phoenix VA hospital where employees kept a secret waiting list to cover up delays.
It turned out to be a system-wide problem in which VA employees lied about how quickly they saw patients to take advantage of a program that incentivized VA hospitals if they scheduled a primary care appointment within 14 days.
In January 2015, the California-based Center for Investigative Reporting revealed that doctors at the VA medical center in Tomah, Wis., handed out so many narcotic painkillers that some veterans took to calling the place "Candy Land."
That led to scrutiny from the VA and state regulators, as well as the arrests of three people on charges of illegal drug sales at the facility.
Also in January 2015, Milwaukee Journal Sentinel columnist Daniel Bice reported that Democratic U.S. Sen. Tammy Baldwin -- under fire for her office's inaction over alleged overmedication at Tomah -- abruptly ousted one of her top state staffers. And in March 2015, Bice reported that Johnson aides had sat on whistleblower tips about the facility.
Johnson on the VA
As for Johnson's position on the VA, there's no question he has pressed for turning to the private sector for some aspects of care.
A couple of weeks after the VA secretary's resignation, the Senate passed legislation aimed at easing scheduling problems at Veterans Affairs facilities by allowing the VA to contract with private medical facilities -- enabling veterans facing long waits to get quicker treatment. The bill also enabled the VA to use $500 million from its current budget to hire more medical staff.
Johnson was one of only three senators to vote no, indicating he wanted to go further, in terms of private options.
He said at the time that he preferred another bill, which he co-sponsored, that would have given veterans the ability to receive treatment outside the VA system -- not just from private facilities the VA might contract with.
"I want to fix the problem and I think the best way to fix it is that we give veterans the ability to exit the system if they're not given quality care in a timely manner or if they're too far from a VA (facility)," Johnson said.
The Feingold campaign cited that statement among others as evidence to back Feingold's claim. These two statements were from March 2015 were the strongest:
According to to VoteVets.org, which has produced material criticizing Johnson, Johnson said at a campaign event: "I'll tell you from my standpoint, I believe the long-term solution on VA hospitals is, start moving it more toward a private system."
In an interview with a Wausau, Wis., TV station, Johnson was asked if veterans should be treated in private health care. He said: "We're moving toward that model. The veterans' health care bill that we did pass, the Choice Act, starts a pilot program. And we need to assess that, we need to look at that very carefully. I don't want to throw everybody under the bus. I think the vast majority of people who work in the VA system are doing it because they really want to provide good, quality care. But, again, it's a bureaucratic, government-run system, and that's just a problem."
Again, Johnson was advocating a move toward more privatization. But he left the door open to making changes that would stop short of turning to a completely private system.
For example, in an October 2015 statement cited by Feingold's campaign, Johnson said:
"I really do think that is probably the long-term solution for the VA healthcare system is move more towards veterans' choice. Accessing the private care system as opposed to building new centers that we're not able to staff. There's a better way of doing this. And I think it really is relying more on a private healthcare system."
Our rating
Feingold said "Johnson said specifically that he hopes the first steps occur to privatize the" Veterans Administration.
Johnson has advocated for privatizing at least parts of the VA system, but not for moving to a completely private system.
We rate Feingold's claim Half True.
More on Feingold-Johnson
National Republican Senatorial Commitee: Says Russ Feingold cast the "deciding vote" for the "largest tax increase" in history. Mostly False.
Feingold: Says Johnson "opposes entirely a federal minimum wage," except perhaps for "guest workers." True.
Johnson: Some 8.1 million of the estimated 11 million to 12 million people "in this country illegally are working." Mostly True.
Devil's Advocates Radio Network, interview with Russ Feingold (quote at 10:30), Nov. 12, 2015
Email exchange, Russ Feingold campaign spokesman Max Croes, Nov. 20, 2015
Interview, U.S. Ron Johnson campaign spokesman Brian Reisinger, Nov. 24, 2015
Milwaukee Journal Sentinel, "Ron Johnson defends vote against VA funding," June 12, 2014
VoteVets.org, memo on U.S. Ron Johnson, Oct. 23, 2015
WSAW-TV, "Senator Ron Johnson speaks about Tomah VA scandal," updated April 20, 2015
Browse the Truth-O-Meter
More by Tom Kertscher
Support independent fact-checking.
Become a member!
In a world of wild talk and fake news, help us stand up for the facts.