Get PolitiFact in your inbox.
Missouri is "#1 in the nation for holding down tuition increases at public universities."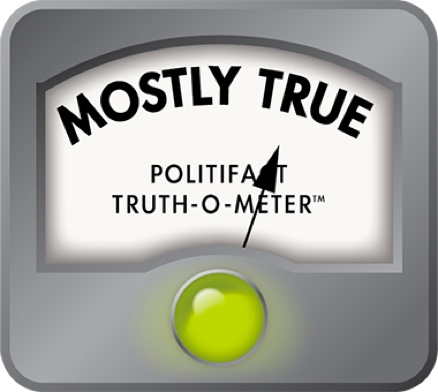 Jay Nixon says Missouri is No. 1 in nation for 'holding down tuition increases'
In August, Gov. Jay Nixon visited colleges throughout the state to announce that the schools would be receiving funding for renovations and improvements to their campuses, as part of Missouri's Building Affordability initiative. The initiative aims to invest $200 million in higher education in the state as a means of reducing tuition hikes.  
As part of the promotion for this initiative, Nixon tweeted on Aug. 12 "#BuildingAffordability will help ensure #MO remains #1 in the nation for holding down tuition increases at public universities"
Nixon made a similar statement during an Aug. 24 appearance at Southeast Missouri State University. Samantha Rinehart of the Southeast Missourian reported that Nixon said "Missouri has held down tuition costs in its public four-year institutions to the lowest level in the nation."
Missouri is the nation's leader in holding back tuition increases? We were curious to see if this was the case.
We contacted the governor's press secretary, Scott Holste, to find out where Nixon was getting his information. Holste cited a study called Trends in College Pricing published by the College Board, a not-for-profit organization that, among other things, conducts research on college institutions.
Holste also provided us with a spreadsheet of data from the study supporting the governor's assertion. The percentile change of the average in-state tuition and fees for public four-year institutions between the 2008-09 school year and the 2014-15 school year was only 7.08 percent. That's indeed best in the nation. Maine was in second place.
We pulled our own copy of the College Board's data from their website to verify the governor's information. It checks out.
Here's the top 10, by percentage.
| | | |
| --- | --- | --- |
| Rank | State | Tuition increase between 2008-09 and 2014-15 school years (by pct.) |
| 10 | Nebraska | 14.77% |
| 9 | North Dakota | 13.59% |
| 8 | Oklahoma | 12.84% |
| 7 | Iowa | 12.76% |
| 6 | New Jersey | 11.69% |
| 5 | Ohio | 10.04% |
| 4 | Maryland | 8.96% |
| 3 | Montana | 8.64% |
| 2 | Maine | 7.69% |
| 1 | Missouri | 7.08% |
Source: The College Board
There are a few caveats worth noting.
1. The College Board data for the six years cited by the governor show that among states, districts and territories included in the data, Puerto Rico has kept tuition increases in check more than Missouri, with a change of 4.7 percent. However, among the 50 states, Missouri is the leader.
2. Judging purely by tuition hikes fails to show the complete picture. For the 2014-15 semester, College Board reported that in-state tuition and fees at public four-year institutions in Missouri averaged $8,383. If we were ranking the states from lowest average tuition to highest, Missouri would rank 22nd in the country. Louisiana, for instance, has had sharper tuition increases than many of its peers in recent years. But it still has a lower average tuition than Missouri. Looking at the average cost of tuition puts Missouri in a different light.
Sandy Baum, co-author of the College Board study and professor at George Washington University, noted that while the scale of time may be arbitrary, Missouri is still doing quite well as far as tuition hikes are concerned. Over the last 10 years, the tuition average for Missouri has only increased 12.31 percent, while the national average for tuition increases over the last 10 years is nearly 42 percent.
Our ruling
Nixon tweeted that Missouri is "#1 in the nation for holding down tuition increases at public universities."
When looking at the period between 2008-09 and today, Nixon is accurate, College Board information shows.
But that doesn't mean tuition is cheap in Missouri. The state ranks 22nd in its tuition rate.
Nixon's statement lacks that caveat. We rate it Mostly True.
Jay Nixon's tweet, Aug. 12, 2015
Office of Missouri Governor, Gov. Nixon announces more than $10 million in renovations at Southeast Missouri State University, Aug. 24, 2015
Email, Scott Holste, press secretary for Gov. Nixon, Aug. 25, 2015
Email, Sandy Baum, co-author of Trends in College Pricing study for College Board, professor of the Higher Education Administration program at George Washington University, Sept. 5, 2015
Study, Trends in College Pricing, The College Board, accessed Aug. 25, 2015
News Story, "Nixon touts Southeast campus improvements during visit," Southeast Missourian, posted online Aug. 25, 2015
Data Tables, "Tuition and Fees by Sector and State over Time", "Tuition and Fees and Room and Board over Time, 2004-05 to 2014-15", "2014-15 In-State Tuition and Fees at Public Four-Year Institutions by State and Five-Year Percentage Change", The College Board, accessed Sept. 11, 2015.
Browse the Truth-O-Meter
More by Arthur Cook
Support independent fact-checking.
Become a member!
In a world of wild talk and fake news, help us stand up for the facts.