Stand up for the facts!
Our only agenda is to publish the truth so you can be an informed participant in democracy.
We need your help.
I would like to contribute
Through the Clinton Foundation, "the Clintons are now worth in excess of $100 million."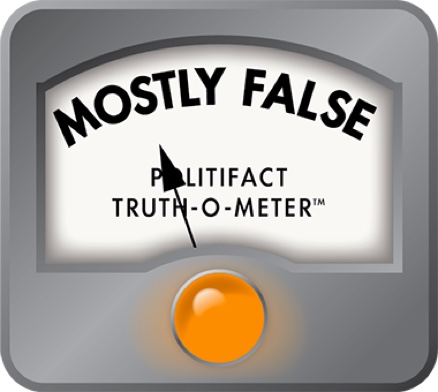 Pro-Trump super PAC ad misleads on Clintons' wealth, foundation cash link
A super PAC backing Donald Trump, Rebuilding America Now, released a new ad attacking Hillary Clinton. It's running in the battleground states of Ohio, North Carolina and Florida, and it hits both Hillary and Bill Clinton on their personal finances.
The ad, which PAC chairman and Florida Gov. Rick Scott unveiled on NBC's Meet the Press, opens with a clip of Hillary Clinton saying that when she and Bill left the White House, they were dead broke (a claim we rated Mostly False). As the logo of the Clinton Foundation appears on the screen, the narration begins.
"A foundation was created, and money started to roll. Speeches, connections and donations. Misogynistic regimes, Wall Street insiders, corrupt dictators. They all had one thing in common: Their check cleared. The Clintons are now worth in excess of $100 million."
Anyone watching the ad would get the sense that somehow through the Clinton Foundation, the Clintons amassed a net worth of over $100 million in about 15 years.
That's misleading, for a few reasons.
Let's start with the $100 million-plus in net worth.
We reached out to the super PAC, through its website and with an email to one of the Republican strategists behind it, to get its sources and did not hear back. The ad itself points to something published in Fortune on Feb. 2, 2015. We couldn't find a matching article.
We did find a later article from September 2015 in Fortune that estimated Hillary Clinton's net worth at about $30 million.
In October 2015, Forbes wrote, "After layering years of disclosures on top of annual tax returns, Forbes estimates their combined net worth at $45 million."
The most current estimate comes from Hillary Clinton's federal financial disclosure filing, something she had to provide as a presidential candidate. That form states explicitly that the assets of both the candidate and his or her spouse must be included.
The values are reported in ranges. On the low end, the Clintons reported assets of $11.3 million. On the high end, they might have as much as $52.7 million. The couple listed no liabilities.
Kathleen Clark, a specialist in government ethics law at Washington University in St. Louis, said the only significant item those forms don't include is real estate.
"You don't need to report the value of the home you live in," Clark said. "And that goes for a second home, too. So long as you don't rent it out for income."
The Clinton's own two homes, one in New York and one in Washington, D.C. Together they are worth about $9 million.
When we add it up, the highest amount we could find is about $62 million.
The Clintons have done very well. Between multi-million dollar book contracts and speaking fees of $225,000 or more, they have earned an estimated $230 million in the 15 years since they left the White House.
But income is not wealth. As high as those earnings are, that still doesn't bring them close to the $100 million mark, much less take them beyond it.
We found several articles that said Bill Clinton has a net worth of $80 million, but none said how they got that number. By law, his assets must also be disclosed on his wife's federal filing.
The ad's claim about the role of the Clinton Foundation is suggestive but unclear. The foundation has grown rapidly, raising over $2 billion to fight AIDS, reduce hunger and poverty, and rein in climate change. It has received millions from several Middle Eastern kingdoms, mega-wealthy businessmen and major corporations.
The ad doesn't say how that money translates into cash for the Clintons.
In point of fact, according to the foundation's tax filings and its website, none of the Clintons are paid by the foundation.
Our ruling
The super PAC Rebuilding America Now, a pro-Trump entity, said that the Clintons built a net worth of over $100 million after creating the Clinton Foundation.
While some unsourced articles have used that number, official documents and the assessments of other, more rigorous reports show a net worth between $11 million and about $53 million. Even after accounting for the value of their two homes, the highest figure we found was $62 million.
There is no evidence that money given to the Clinton Foundation has made its way into the Clintons' pockets. The Clintons have become wealthy since its creation, but the ad hints darkly at shady dealings without proof.
The statement twists a grain of truth to paint a misleading picture. We rate this statement Mostly False.
Editor's note: After we published, the Super PAC Rebuildng America Now sent us their supporting material on wealthy donors to the Clinton Foundation, speaking fees, and a corrected link to an article citing the Clintons' net worth. That article stated the amount as an estimate without any source provided.
The fact-check and rating remain unchanged.
https://www.sharethefacts.co/share/9b3c130e-a1a9-4ec6-b341-3af704b071d7
Rebuilding America Now, Dead broke, Aug. 7, 2016
Hillary Clinton, Public financial disclosure report, June 19, 2015
Fortune, How much are the presidential candidates worth?, Sept. 25, 2015
Forbes, How The Clintons Have Made $230 Million Since Leaving The White House, Oct. 13, 2015
Washington Post, Inside the Clinton donor network, Nov. 19, 2016
Forbes, The Mystery Of Hillary's Missing Millions, Oct. 19, 2015
Market Watch, These are the houses the 2016 presidential candidates own, July 12, 2015
Washington Times, Bill Clinton's foundation cashed in as Sweden lobbied Hillary on sanctions, June 2, 2016
USA Today, Report: The 10 richest U.S. presidents, Feb. 17, 2014
Money Nation, Hillary Clinton's net worth, July 26, 2016
Interview, Kathleen Clark, law professor, Washington University in St. Louis, Aug. 7, 2016
Browse the Truth-O-Meter
More by Jon Greenberg
Support independent fact-checking.
Become a member!
In a world of wild talk and fake news, help us stand up for the facts.