Stand up for the facts!
Our only agenda is to publish the truth so you can be an informed participant in democracy.
We need your help.
I would like to contribute
"California is growing a hell of a lot faster than Texas."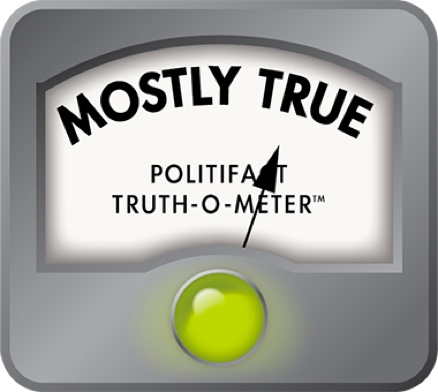 Is California's economy 'growing a hell of a lot faster' than Texas?
Stoking their long-running feud, California Gov. Jerry Brown recently jabbed at former Texas Gov. Rick Perry, saying Golden State is "growing a hell of a lot faster than Texas."
Brown made this claim in the middle of an impassioned defense of climate change science at the American Geophysical Union conference on Dec. 14, 2016, in San Francisco.
"We've proved in California that the economy grows. And it grows in part because of the climate rules that we've adopted," Brown said.
Perry, a climate change skeptic, was recently selected U.S. energy secretary by President-elect Trump. While Texas governor, he repeatedly visited California in an attempt to lure jobs to the Lone Star State, with the promise of less regulation and lower costs.
In his speech, Brown said Perry's critiques about California's job-killing red tape don't hold up.
"Now remember our new secretary of energy, he was coming to California to say: 'Come to Texas because we have all the jobs in Texas."
"Well, Rick: I got some news for you, California is growing a hell of a lot faster than Texas, and we have more sun than you have oil!"
Gov. Jerry Brown makes his claim about California "growing a hell of a lot faster than Texas" at about the 13:00 minute mark in the video above. 
With Brown's reference of Perry, we took his "faster than Texas" claim to mean faster economic growth with a focus on jobs. We decided to zero-in on job growth rates in California and Texas, while also weighing GDP and unemployment trends in the states.
We'll leave the fun comparison of sunshine to oil for Brown and Perry to wrestle with another day.
Our research
We concede there's no definition for what "a hell of a lot faster" growth looks like. Still, we'll do our best to sort out the governor's claim.
Brown's spokeswoman pointed us to several news articles detailing California's recent economic improvements.
Looking solely at 2015 job growth rates, Brown's claim appears to hold up.
In that year, California added 483,000 jobs, posting a jobs growth rate of 3 percent, based on data we crunched from the U.S. Bureau of Labor Statistics. That pace was twice as fast as Texas' 1.5 percent job growth rate.
California's rapid employment gains have slowed somewhat to about 2 percent this year through November. That may not qualify as "a hell of a lot faster," but it's still greater than Texas' roughly 1.6 percent job growth rate so far this year.
The business website Kiplinger.com forecast California would rank 10th in the nation among states for fastest job growth in 2016. It noted that Texas was not on its Top 10 list.
It wasn't long ago, however, that Texas outpaced California.
In 2014, Texas recorded a 3.7 percent job growth rate, ahead of California's 2.9 percent pace.
Looking to the future, California's job gains may slow. The closely watched UCLA Anderson Forecast predicts jobs to grow by only 1.5 percent in the state during 2017 and just 0.8 percent in 2018.
Because Brown used the phrase "is growing," we'll judge him on the most recent figures, not future forecasts.
Overall economy
While the pace of job growth is important, it's not the only measurement of a state's economic health. And Brown's claim could be interpreted as California's overall economy, not just jobs, is growing much faster than the economy in Texas.
In August, PolitiFact Texas took a deep look at the economies of both California and Texas to evaluate a June claim by Julián Castro, the U.S. secretary of Housing and Urban Development, that "Today, California is kicking our butt, creating more jobs and more economic growth than Texas."
It rated the claim True, citing greater jobs, per capita income and GDP growth rates in California. It noted Texas had a lower jobless rate.
Building on that fact check, we looked at the most recent economic figures for both states to see if the assessment still holds.
We found that California's GDP grew faster than Texas' in the first two quarters of this year, at rates of 2 percent and most recently 2.2 percent compared with Texas' 1.3 percent and its most recent quarter, a negative 0.8 percent, according to a news release in December by the U.S. Bureau of Economic Analysis.
It was a different story in 2015 when Texas' GDP expanded by 4.8 percent (a figure that was recently revised upward) compared with California's 3.8 percent GDP expansion.
Comparing unemployment rates, Texas, at 4.6 percent in November, has consistently fared better than California, where the rate was 5.3 percent in November, and has hovered well above 5 percent this year.
California had one more economic bright spot in 2015: Per capita personal income grew at twice the rate as in Texas, 5.4 percent to 2.6 percent, according to federal data.
Our ruling
Gov. Jerry Brown recently claimed "California is growing a hell of a lot faster than Texas."
We took this to mean economic growth with a focus on the pace of job creation. California's 3 percent job growth rate in 2015, which doubled Texas' pace, definitely fits into Brown's colorful claim.
But California's rate has slowed to about 2 percent so far this year, closer to Texas' 1.6 job growth rate.
Other economic metrics show California faring better than Texas in several, though not all, categories: California's GDP expanded faster than Texas' GDP in the first two quarters of this year, though Texas had a faster GDP growth rate in 2015. Also, per capita income grew twice as fast in California as Texas in 2015, also backing Brown's statement.
Texas, however, has consistently held a lower jobless rate than California in recent years.  
Brown, like the state's economy in recent years, is on the right track. Although California has expanded jobs and its economy faster than Texas in many cases, there are a few cases where that growth has been strong but not necessarily "a hell of a lot faster."
We rate Brown's statement Mostly True.
---
MOSTLY TRUE – The statement is accurate but needs clarification or additional information.
https://www.sharethefacts.co/share/158c502a-4b3e-463d-906f-529da13e2451
Jerry Brown, speech at American Geophysical Union conference, Dec. 14, 2016
Interview, Deborah Hoffman, spokeswoman for Gov. Jerry Brown, Dec. 15, 2016
PolitiFact Texas, Julián Castro says California besting Texas in creating jobs, economic growth, August 17, 2016
Kiplinger.com, 10 States With the Fastest Job Growth in 2016, accessed December 2016
Bloomberg.com, California Makes America's Economy Great, June 6, 2016
The Mercury News, Job growth to slow in California, but no recession on horizon: forecast, Aug. 12, 2016
U.S. Bureau of Labor Statistics, California Economy at a Glance; Southwest Information Office; Unemployment Rates for States, Seasonally Adjusted, accessed December 2016
U.S. Department of Commerce, Bureau of Economic Analysis, Gross Domestic Product by State: Second Quarter 2016, news release, Dec. 7, 2016
UCLA Anderson Forecast, June 2016
Browse the Truth-O-Meter
More by Chris Nichols
Support independent fact-checking.
Become a member!
In a world of wild talk and fake news, help us stand up for the facts.