Stand up for the facts!
Our only agenda is to publish the truth so you can be an informed participant in democracy.
We need your help.
I would like to contribute
With Obamacare, "You have no options .. you can't get competitive bidding."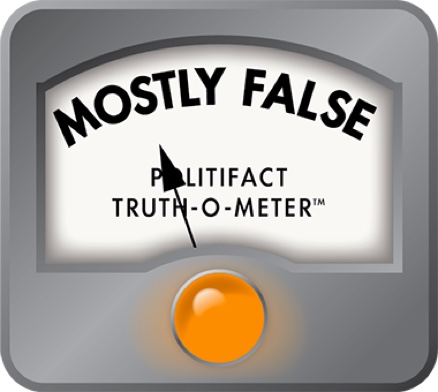 Trump wrongly says Obamacare has 'no options,' competitive bidding
Donald Trump vows he'll do away with Obamacare. He calls it a "disaster" and says "it's going to be repealed. It's going to be replaced." But beyond that, it can be hard to tell what Trump would actually do.
"We're going to have great plans, they're going to be a lot less expensive than Obamacare," Trump said on NBC's Meet the Press. "They're going to be private. And there are going to be lots of ... We're going to have a lot of different options. Right now, you have no options. You know why? Because the insurance company controls (President Barack) Obama, because they gave him a lot of money. That's why you have lines around the states. And you can't get competitive bidding."
Trump was referring to the Republican idea of allowing insurance companies to sell in multiple states in one fell swoop, rather than through the state-by-state permitting process that happens today. Trump also believes in health savings accounts and some sort of program for the very poor.
When NBC host Chuck Todd asked him about his view on mandates, Trump said no one would be forced to buy health insurance, unlike the law says today.
But we were struck by his statement that "right now, you have no options."
We reached out to the Trump campaign to learn what he specifically meant and did not hear back. Trump's comments seemed misleading because a major part of the health care law is set up to encourage competition and give people options.
Does the law achieve that? The short answer is, for most people it does. However, in more rural counties, residents might have to choose between only one or perhaps two insurance companies. Those people have few options.
The exchanges
The new health care law sets up exchanges or marketplaces, primarily online but also accessible through various government offices, where people can pick from roughly comparable insurance plans for which the main difference is price. The law puts each plan into one of four tiers -- bronze, silver, gold and platinum. The more generous, and costly, the plan, the higher the tier.
The government's Centers for Medicare and Medicaid Services reported that for 2016, about two-thirds of the counties have three or more insurers offering plans at the silver level. (This only has to do with plans on the exchanges, and primarily the exchange run by Washington. Employer-provided insurance is altogether separate.)
A more detailed analysis for 2016 by the Kaiser Family Foundation, a research center widely seen as a source of objective data, found wide variation across the country. In Indiana, for example, residents in every county have at least four carriers to choose from. In contrast, in Oklahoma, no county has more than two companies competing with each other.
Out of about 2,600 counties in the Kaiser study, 10 percent, or about 260, have just one insurance company offering any policies.
As the table above shows, while people in most counties can choose from among three or more insurers, the change from 2015 to 2016 is toward less competition, not more.
"There are a lot of things to criticize about the Affordable Care Act -- too rigid and regulated in terms of the benefits that must be offered, etc. -- but most exchanges have several options available and some have many options," said Gail Wilensky, who headed the Medicare program during the George H.W. Bush administration and now is a health care analyst with Project Hope.
The Centers for Medicare and Medicaid Services reported that 9 out of 10 returning customers using the national exchange, healthcare.gov, were able to choose from among at least three companies.
The Kaiser Family Foundation noted that the lack of competition is greatest in rural communities. The higher the percentage of rural residents, the lower the number of insurers. "There are fewer potential enrollees to attract insurers and also fewer health care providers with whom they can contract," the report said.
Robert Laszewski, a private analyst with Health Policy and Strategy Associates, offered a different interpretation of Trump's words. Laszewski said Trump could have meant that for lower-middle income people, none of the plans are actually affordable.
"These policies have come to be very expensive both in terms of premiums and deductibles," Laszewski said. "In that sense the choices are very limited."
It is also worth noting that because rural counties have fewer people, the fraction of the population that faces no real choice is less than than the fraction of counties where that is a problem. Most Americans live in urban areas where insurance competition is more robust.
Our ruling
Trump said that under Obamacare, "you have no options," for health insurance plans. That is true in about 10 percent of the counties where individuals buy their coverage on the government's insurance exchange. In another 30 percent of counties, people have only two companies to choose between.
But the people living in about 60 percent of the rest of the counties have at least three insurance providers to compare.
There's an element of truth in Trump's words, but his statement leaves out a lot of information that would leave a different impression. We rate this assertion Mostly False.
NBC News, Meet the Press, Feb. 21, 2016
Kaiser Family Foundation, Analysis of Insurer Participation in 2016 Marketplaces, Nov. 3, 2015
McKinsey, The emerging story on new entrants to the individual health insurance exchanges, September 2015
Centers for Medicare and Medicaid Services, 2016 Marketplace Affordability Snapshot,Oct. 26, 2015
Centers for Medicare and Medicaid Services, Health Insurance Marketplace Open Enrollment Snapshot - Week 13, Feb. 4, 2016
CNN, Town hall: Donald Trump, Feb. 18, 2016
Health Care Policy and Marketplace Review, Why the Obamacare 2016 Open Enrollment Stalled,Feb.1, 2016
Email interview, Gail Wilensky, senior fellow, Project Hope, Feb. 21, 2016
Email interview, Robert Laszewski, analyst, Health Policy and Strategy Associates,Feb. 21, 2016
Browse the Truth-O-Meter
More by Jon Greenberg
Support independent fact-checking.
Become a member!
In a world of wild talk and fake news, help us stand up for the facts.