Stand up for the facts!
Our only agenda is to publish the truth so you can be an informed participant in democracy.
We need your help.
I would like to contribute
When Mitt Romney chose Paul Ryan as his vice-presidential running mate, "that was the end" of Romney's chances to win.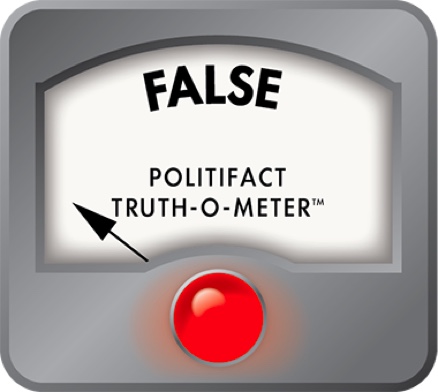 Picking Paul Ryan ended Mitt Romney's chances of winning the White House in 2012, Donald Trump says
Reflecting on the 2012 presidential campaign, Donald Trump blamed Mitt Romney's loss on his choice of a running mate: Paul Ryan.
"That was the end of that campaign, by the way, when they chose Ryan," Trump said Feb. 17, 2016 on the campaign trail in South Carolina. "And I like him. He's a nice person, but that was the end of the campaign."
In some quarters, Romney's choice of the Republican congressman from Janesville, who is now speaker of the House, was seen as boosting the GOP nominee's chances. Democrat Barack Obama, of course, defeated the former Massachusetts governor to win a second term.
But did Romney's fortunes plummet as soon as he chose Ryan?
Not according to the polls.
Importance of the veep pick
Let's note at the top that a vice-presidential pick is only one of an innumerable number of factors that bear on the outcome of a presidential campaign. And it's not typically regarded as a pivotal one.
"For the most part, voters look almost exclusively at the presidential candidate and there's little evidence that very many of them base their choice on the vice-presidential selection," said longtime political reporter Peter Brown, who is now assistant director of the Quinnipiac University Poll, which does national polling in presidential races.  
Indeed, the vice-presidential selection might make a big splash in the news briefly, but it occurs long before voters cast their ballots. In the meantime, the campaign is quickly overtaken by other events.
Gallup has found, though, that there typically is a temporary bump in the polls for presidential contenders shortly after they announce their running mate.
That's essentially what happened with Romney.
Polls after the pick
Romney announced his selection on Aug. 11, 2012. In Ryan, wrote Milwaukee Journal Sentinel Washington bureau chief Craig Gilbert, Romney was tapping "perhaps his party's most influential politician on economic and budget policy, a huge favorite of pro-business and free-market conservatives, a personable policy wonk and energetic campaigner, and the architect of two deeply controversial federal budget plans that sharply scale back social spending and health care entitlements."
The controversial budget plans were what Trump cited when he made his statement about Ryan. Answering a question at a retirement community about Social Security, Trump said Romney was hurt by what he described as Ryan's calls to cut Social Security and other entitlement programs for the elderly.
As the Washington Post noted in reporting Trump's comments, shortly after Romney picked Ryan there was an ad attacking Ryan's stance on Medicare that showed an elderly woman in a wheelchair being thrown off a cliff by a man in a dark suit. The message on the screen: "Mitt Romney made his choice. ... Now you have to make yours."
Trump's campaign did not respond to our requests for information to back his claim.
But Romney did not tank in the polls after choosing Ryan.
Pollster Charles Franklin of Marquette University Law School in Milwaukee told us that in the trend estimates he did of all national polls during 2012, Romney's support was declining immediately before Ryan was picked, and rose immediately after.
And in the polling completed just before the Ryan pick compared to polls begun just after, there was a slightly higher average for Romney after the pick, though it was not statistically significant.
But there was no evidence, Franklin said, that support for Romney declined in the immediate aftermath of the Ryan pick.
Said Kathleen Weldon, communications director at Cornell University's Roper Center: Ryan "neither hurt the ticket nor brought on a substantial bounce."
News stories on polling just before and just after the Ryan pick painted a similar picture.
The pick gave Romney a "micro-bump" in battleground states such as Florida in Wisconsin, even though the ticket's proposal for changing Medicare was wildly unpopular in those states, according to a Quinnipiac poll. A Huffington Post article, meanwhile, found in a handful of national polls that the veep bump was "somewhere between small and non-existent."
In closing, two other notes, even though they reflect results long after Ryan was chosen:
1. The Romney-Ryan ticket did well among senior citizens
As the Post article on Trump's claim pointed out, despite Trump's emphasis on how Ryan hurt the ticket among senior citizens, exit polls showed more voters over the age of 65 voted for Romney and Ryan than for Obama and Vice President Joe Biden, with the Republican candidates winning that age group by 12 percentage points. That was higher than in 2008 when Republican nominee John McCain won that age group by 8 percentage points or in 2004 when George W. Bush won it by 5 percentage points.
2. The ticket did as well or better at the ballot box than in polls prior to Ryan's choice
In polls tracked by Real Clear Politics, Romney's support ranged between 39 percent to 47 percent in six national polls taken in August 2012 in the days before Ryan was selected. Obama's ranged from 44 to 52 percent.
Ultimately, in the election, Romney ended up with 47 percent of the vote, with Obama getting 51 percent.
Our rating
Trump said that when Romney chose Ryan as his vice-presidential running mate, "that was the end of the campaign."
Polls taken in the days after Ryan's selection generally showed that Romney's standing vs Obama was as good or better than in the days before the pick. We couldn't find any evidence that the Ryan pick sunk the ticket.
We rate Trump's statement False.
Washington Post, "Donald Trump blames Mitt Romey's 2012 loss on Paul Ryan," Feb. 17, 2016
Interview, Quinnipiac University Poll assistant director Peter Brown, Feb. 19, 2016
Email, Cornell University Roper Center director of member relations and communications Kathleen Weldon, Feb. 19, 2016
Email, Marquette Law School Poll director Charles Franklin, Feb. 19, 2016
Gallup, "Candidates have gotten small poll bounce after naming VP," Aug. 11, 2008
Real Clear Politics, 2012 polling
Email, Paul Ryan campaign spokesma Zack Roday, Feb. 19, 2016
Browse the Truth-O-Meter
More by Tom Kertscher
Support independent fact-checking.
Become a member!
In a world of wild talk and fake news, help us stand up for the facts.