Get PolitiFact in your inbox.
Says "(Clinton) called President Assad a 'reformer.' She called Assad a 'different kind of leader.' "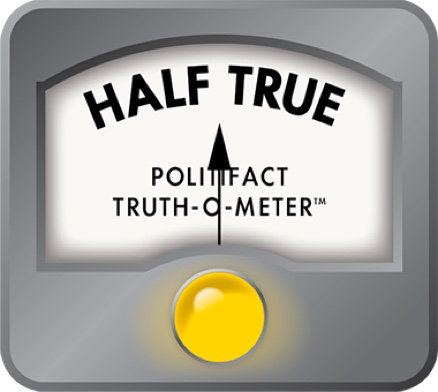 In RNC speech, Chris Christie says Clinton called Assad a 'reformer,' a 'different kind of leader'
The second night of the Republican National Convention turned into the court of political opinion when New Jersey Gov. Chris Christie took the stage.
Christie reached back into his days as a federal prosecutor to do something the Justice Department said it would not do: prosecute Hillary Clinton for her performance as secretary of state.
Christie pulled out criticisms of example after example — the end of the Cuban embargo, the Iran nuclear negotiations, her support for ousting fallen Libya dictator Muammar Gaddafi — before asking the crowd to shout its "guilty" or "not guilty" verdict.
One of his charges included an oft-referenced comment she made about President Bashar al-Assad in Syria.
"In Syria, imagine this, imagine this. (Clinton) called President Assad a 'reformer.' She called Assad a 'different kind of leader,' " Christie said. "There's now 400,000 now dead — think about that. Four hundred thousand dead at the hands of a man that Hillary defended."
PolitiFact has heard this claim before, first from Fox News Sunday host Chris Wallace in June 2014, and again from U.S. Sen. Marco Rubio in October 2015.
The attack has stuck to Clinton but the quote requires more context.
The Arab Spring of 2011 pitted Assad, who assumed the presidency in 2000, and his government against citizens rising up for change.
The starting point for what became a bloody civil war came in the remote city of Daraa, where 15 schoolchildren were arrested for spray-painting anti-government graffiti on their school with messages such as "the people want to topple the regime," according to CNN. The military used brutal force to address sit-ins in Damascus and Daraa over the treatment of the jailed protesters, which spurred thousands more Syrians to turn against Assad.
Clinton talked about the developments Syria on CBS' Face the Nation on March 27, 2011. Host Bob Schieffer pressed her on why the U.S. reaction would be different from its response to Libya with air strikes. Syria, Schieffer noted, is no friend of the United States as an enemy of Israel and ally of Iran, and Assad's father had "killed 25,000 people, at a lick" in 1982.
Clinton's response did include the word "reformer" in regards to Assad, but there was more to it than Christie and others let on. Here's her response to Schieffer on March 27, 2011:
"Well, if there were a coalition of the international community, if there were the passage of a Security Council resolution, if there were a call by the Arab League, if there was a condemnation that was universal, but that is not going to happen because I don't think that it's yet clear what will occur, what will unfold.
"There is a different leader in Syria now. Many of the members of Congress of both parties who have gone to Syria in recent months have said they believe he's a reformer.
"What's been happening there the last few weeks is deeply concerning, but there's a difference between calling out aircraft and indiscriminately strafing and bombing your own cities than police actions which, frankly, have exceeded the use of force that any of us would want to see."
Two days later, Clinton was questioned by a Wall Street Journal reporter over what critics interpreted as her defense of Assad's regime.
"I referenced opinions of others," Clinton said. "That was not speaking either for myself or for the administration."
The video shows she attributed the "reformer" opinion to "members of Congress of both parties who have gone to Syria in recent months."
But there is a problem, as both PolitiFact and the Washington Post reported, with the "both parties" part.
Democrats who visited with Assad around that time included California's Nancy Pelosi, who was the House speaker in 2007, and Sen. John Kerry, then chairman of the Senate Foreign Relations Committee.
Kerry had an optimistic view of Assad's leadership when he said, "Syria will change, as it embraces a legitimate relationship with the United States and the West."
But Republicans? The Washington Post counted 13 Republicans who traveled to Syria, but they expressed skepticism, not hope, for Assad's government.
As the military crackdown on Syrians grew worse, Obama and Clinton called on Assad to go. Clinton was interviewed in November 2011 by Jake Tapper, who noted how she "at one point seemed to have optimism that Assad was a reformer."
Clinton said, "Well, we had hoped so because there was a lot at stake, we wanted to see an agreement, for example, between Syria and Israel. That was something that people have been working on for 30 years. We heard what Assad said about what he wanted to do for reform. But when it came to it, in the Arab Spring and as people actually demanded some freedom and their rights, he responded, as we have seen, very violently."
Christie didn't include this chapter in his prime-time "indictment."
A query to Christie's spokesperson was not returned by deadline.
Our ruling
Christie attacked Clinton for calling Assad a "reformer" and a "different kind of leader."
She did use those words, mostly, but there is more to the story. When she used the word "reformer," Clinton was referencing the opinions of members of Congress who had interacted with the Syrian president and hoped he represented change for the country.
And she said, "There is a different leader in Syria now," and not "a different kind of leader."
Christie is taking quotes by Clinton out of context, and ignoring historical events that followed, when Clinton denounced Assad and called for his exit. We rate this statement Half True.
https://www.sharethefacts.co/share/06c21bfc-2627-4703-8efa-4fd56f844b1c
Browse the Truth-O-Meter
More by Nadia Pflaum
Support independent fact-checking.
Become a member!
In a world of wild talk and fake news, help us stand up for the facts.