Stand up for the facts!
Our only agenda is to publish the truth so you can be an informed participant in democracy.
We need your help.
I would like to contribute
Says Ted Strickland supported giving $150 billion to Iranian regime that persecutes women, Christians and gays.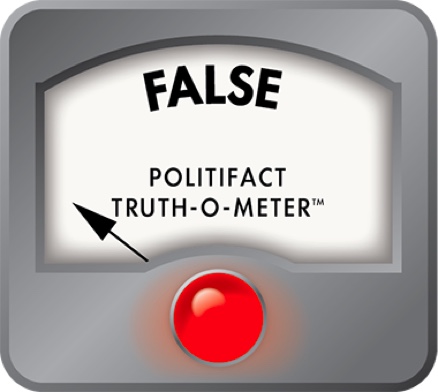 PAC blames Ted Strickland for Iran deal he didn't vote on
A conservative group that supports gay rights accused Democratic Senate candidate Ted Strickland of supporting the Iran deal despite the country's cruelty to women, Christians and gays.
As the video flashes images of women wearing hijabs and children in distress, the words "Ted Strickland: $150 billion for Iran" appear.
The script says, "In Iran, a woman's life is worth half her husband's. Christians, persecuted. It's illegal to be gay. People stoned, beaten and hanged for what they believe, how they were born, and who they love."
Then the ad pivots to Strickland, and says that he "supported giving billions to that regime -- without concessions for human rights violations -- when we had leverage."
The kicker: "Ted Strickland didn't stand up for the vulnerable. That's why we can't trust him to stand up for us."
The digital ad is paid for by American Unity PAC, a group that describes itself as "focused exclusively on protecting and promoting candidates for U.S. Congress who support freedom for all Americans, regardless of their sexual orientation or gender identity."
Considering that Strickland was not in an elected office when Congress voted to approve the Iran nuclear deal in September 2015, it seems like an odd jab.
We took a closer look at Strickland's role. American Unity PAC did not respond to our inquiry.
Strickland favored Iran deal
The purpose of the Iran nuclear agreement was to reduce the likelihood and ability of Iran to develop weapons-grade nuclear material, and to prevent development of nuclear weapons. In exchange, the U.S. agreed to end its freeze on Iranian assets.
What did Strickland have to do with the agreement? He was not in office at the time, having served as governor from 2007 to 2011.
In August 2015, his Senate campaign released a statement in favor of the deal.
"Everyone agrees we must prevent Iran from getting a nuclear weapon, and there is no question that this strong, enforceable agreement with the support of the UN Security Council is a far better way to achieve that goal than war," Strickland said.
But the ad goes further to say Strickland supported $150 billion to Iran.
PolitiFact visited this topic in August 2015, after Republican presidential candidate Donald Trump said Iran gets "$150 billion" in the deal. PolitiFact rated that claim Half True.
Much of the money Iran gets in the deal was Iran's to begin with, but it was inaccessible due to international sanctions, said Tom Sutton, political science professor at Baldwin Wallace University. And the commonly repeated $150-billion figure is too high of an estimate.
Sutton told PolitiFact Ohio, "The U.S. agreed to end the freeze on Iranian assets that was imposed after the 1979 Iranian revolution and hostage crisis. It totals, at most, $100 billion, not $150 billion."
Leverage
The ad says that the Iran nuclear deal gave the country billions "without concessions for human rights violations, when we had leverage."
But there are separate, existing sanctions in place with regard to Iran's human rights abuses. As the White House clarified, after the deal, "U.S. statutory sanctions focused on Iran's support for terrorism, human rights abuses, and missile activities will remain in effect and continue to be enforced."
The National Iranian American Council reported that even after the lifting of sanctions in the nuclear deal, "Iran will remain one of the most sanctioned jurisdictions in the world." The concessions that were made in exchange for constraints on Iran's nuclear program "in no shape or form" diminish the U.S. ability to confront human rights violations in Iran, they said.  
"Supporting this agreement does not imply that Strickland supports all of the egregious, unjust practices of Iran highlighted in the ad," Sutton said. "By comparison, the United States under all presidents has maintained an alliance with Saudi Arabia, including weapons sales, but that does not imply sanctioning or support for gender segregation and the harsh punishments used in Saudi Arabia, like stoning adulterers."
Sutton pointed out that several countries that have political and diplomatic relationships with the United States -- such as like Pakistan, Bangladesh, and Nigeria -- and are places where female genital mutilation has been documented. Maintaining those ties does not equate to a nod in support of female genital mutilation.
Our ruling
An American Unity PAC digital ad claims that Strickland supported giving $150 billion to Iran without a commitment from that regime to stop its harsh treatment of Christians, gays and women.
Strickland said he supported the Iran nuclear deal last year during his campaign, but he didn't hold federal office when the deal was completed and he didn't vote in favor of it.
There are other problems with the ad. For one, the $150 billion estimate is too high, experts say. Also, separate U.S. sanctions for human rights violations remain in place and continue to be enforced. And Strickland's symbolic support of the deal wasn't tacit approval of Iran's persecution of women, non-Muslims, and homosexuality.
We rate this claim False.
https://www.sharethefacts.co/share/86ba6f86-061f-4d6a-aece-53fb53453cc0
Email interview, Ray Takeyh, senior fellow for Middle East Studies at the Council on Foreign Relations, Sept. 14, 2016
Email interview, Tom Sutton, professor of political science at Baldwin Wallace University, Sept. 14, 2016
Interview, David Bergstein, spokesman, Strickland for Senate, Sept. 14, 2016
Politifact, "Donald Trump: Iran gets to keep $150 billion even if U.S. rejects nuclear deal," Aug. 16, 2015
NPR.org, "Implementation day arrives: Sanctions on Iran are lifted," Jan. 16, 2016
Cleveland Plain Dealer, "Ted Strickland agrees with Sherrod Brown: Approve the Iran deal," Aug. 19, 2015
National Iranian American Council, "Iran Sanctions After the JCPOA: Terrorism, Human Rights, Conventional Weapons and Ballistic Missiles Sanctions," Jul. 22, 2015
Browse the Truth-O-Meter
More by Nadia Pflaum
Support independent fact-checking.
Become a member!
In a world of wild talk and fake news, help us stand up for the facts.