Get PolitiFact in your inbox.
"Who would sign up to speak for a (Haitian) dictator? Rob Portman."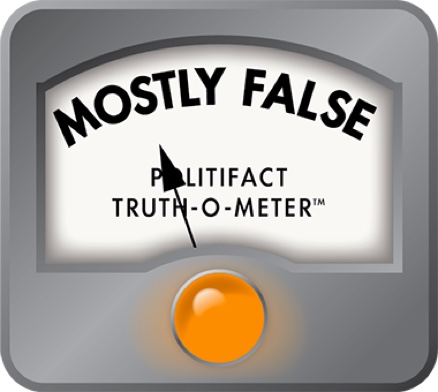 Ohio Democrats' ad ties Sen. Rob Portman to Haitian dictator
As part of their campaign to help Democratic candidate Ted Strickland to the U.S. Senate, the Ohio Democratic Party announced an August onslaught of web videos, ads and editorials called "The Portman Files."
The campaign will highlight Ohio's Sen. Rob Portman's "career as a D.C. lobbyist and lawyer for a series of nefarious clients and interest groups," according to the Ohio Democrats.
First in this launch is a web ad titled, "Baby Doc."
Text scrolling across the screen reads, "In the 1980s, Haiti is ruled by the brutal dictator Jean-Claude 'Baby Doc' Duvalier."
A quick 60 Minutes clip describes Duvalier as having ruled Haiti with "unchecked brutality."
The scrolling text continues over spooky music: "In 1985, Rob Portman joined a D.C. lobbying firm and became a 'registered foreign agent' for the government of Haiti."
An unidentified voice says, "Thousands of Haitians were killed, disappeared, tortured. Those who spoke out against Duvalier were just taken away."
Finally, the scrolling words conclude, "In 1985 Portman's lobbying firm revealed traveling to Haiti to meet with Baby Doc. Who would sign up to speak for a dictator? Rob Portman, decades of fighting for the rich and the powerful."
Linking Portman's first job, post-college, with the regime of a corrupt dictator seemed extraordinarily far-fetched, even for this election season. We looked for the source.
Portman started working with the law firm Patton, Boggs & Blow after graduating from University of Michigan's law school in 1984, according to a 2012 Cleveland.com article.
Responding to our inquiry, the Ohio Democratic Party provided us with a copy of a short-form registration statement signed by Portman on May 5, 1985.
We asked Brett Kappel, a partner at Akerman LLP and an authority on lobbying, campaign finance and government ethics laws, to take a look at the registration form. Kappel confirmed, via email, that it "does show that Senator Portman did register as a foreign agent for Haiti, as well as four other Patton Boggs clients."  
Kappel also said that lobbying regulations would not have required Portman to register for all of Patton Boggs' clients.
The other clients for which Portman registered were the Government of the Sultanate of Oman; the Guatemala Sugar Association; Duty Free Shoppers, Ltd.; and a group of cigar and tobacco makers.
On Portman's campaign website, the Haiti registration is explained as "standard procedure" at the lobbying firm, and required of all of its attorneys.
Portman's staff supplied PolitiFact Ohio with an affidavit from a former managing partner of Patton Boggs & Blow, Stuart Pape, dated April 12, 2005.
In his affidavit, Pape explained how Portman filed the May 5, 1985, registration statement because he was working on the Duty Free Shoppers, Ltd. account, a foreign principal based in Hong Kong.
Pape further said that he reviewed the records and confirmed that Portman did no work for the Republic of Haiti or any foreign government while with the firm.
This affidavit became necessary in 2005, the year President George W. Bush tapped Portman as his United States Trade Representative. Rules dictate that the U.S. trade representative position cannot be held by anyone who has ever lobbied for foreign governments.
Haiti did not come up as an issue during the Senate confirmation process. Sen. Evan Bayh, a Democrat from Indiana, briefly sought to hold up Portman's confirmation until he got a commitment from Portman to get tough on trade with China. Portman was confirmed as trade representative by a unanimous vote.
The ad is careful in its wording. Its claim is that "Portman's firm revealed traveling to Haiti to meet with Baby Doc." That, records show, really happened.
But the shade that the ad attempts to throw on Portman's record is undeserved. Portman did not lobby on behalf of Haiti or its dictator while with Patton Boggs & Blow.
Our ruling
The anti-Portman ad ominously asks, "Who would sign up to speak for a (Haitian) dictator? Rob Portman."
Portman worked for a lobbying firm that required its attorneys to register as foreign agents in case they were assigned to work for overseas clients.
One of the firm's clients was the Republic of Haiti, which was under the power of dictator "Baby Doc" until 1986. Portman was with the firm from October 1984 to October 1986. He did register as a foreign agent for the Republic of Haiti in 1985, and four other foreign-based clients.
But the only work Portman performed directly for a foreign account was on behalf of Hong Kong-based Duty Free Shoppers, Ltd., according to a sworn statement by a managing partner of Patton Boggs LLP in April 2005.
We rate this ad Mostly False.
https://www.sharethefacts.co/share/7f567bb8-3abf-4bc2-8350-48e3a6ac92d8
Email interview, Brett Kappel, Partner, Akerman LLP, Aug. 23, 2016
Interview, Michawn Rich, Communications Director, Portman for US Senate, Aug. 19, 2016
Interview, Daniel van Hoogstraten, Ohio Democratic Party spokesman, Aug. 22, 2016
ABC News, "Did Rob Portman lobby for Haiti? No," Jul. 13, 2012
Washington Post, "Rob Portman, who could be a Vice Presidential contender, is a Washington insider," Jul. 16, 2012
The Intercept, "How Washington mourned Tommy Boggs, friend to the worst people in the world," Jan. 30, 2015
Cleveland Plain Dealer, "Rob Portman, Ted Strickland hit with questionable attacks over their private-sector work," Aug. 11, 2016
OhioDems.org, "Memo: Rob Portman's career as a Washington lobbyist looking out for the wealthy and well-connected," Aug. 8, 2016
FARA.gov, Supplimental Statement, Patton, Boggs & Blow
The Nation, "Terror, oppression, and diaspora: The Baby Doc legacy in Haiti," Oct. 23, 2014
Browse the Truth-O-Meter
More by Nadia Pflaum
Support independent fact-checking.
Become a member!
In a world of wild talk and fake news, help us stand up for the facts.