Stand up for the facts!
Our only agenda is to publish the truth so you can be an informed participant in democracy.
We need your help.
I would like to contribute
Says "Donald Trump is a guy who has called for privatization" of the Veterans Administration.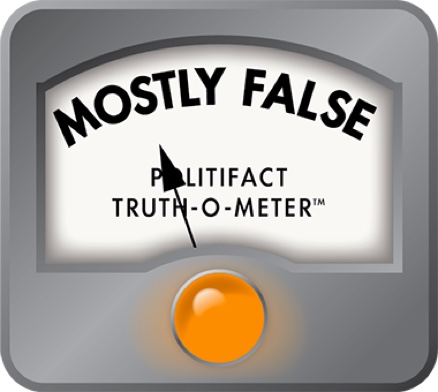 Does Donald Trump want to privatize the VA?
For all of Donald Trump's talk about veterans, Virginia Sen. Tim Kaine said he doesn't have their backs.
Kaine, Hillary Clinton's vice presidential pick, blasted Trump on MSNBC for his "not a war hero" comments about John McCain, his delay in donating to veterans charities, and his ideas for fixing the Veterans Administration.
"Donald Trump is a guy who has called for privatization of the V.A.," Kaine said July 11. "That is something that is overwhelmingly rejected by America's veterans. They do not want to go down that path. Do they want improvement? Sure they do. But they don't want risky or radical."
To back up his claim, the Kaine camp pointed to Trump's campaign page on V.A. reforms and articles suggesting privatization is among them. But the Trump campaign told us Trump's plan simply gives veterans a choice, and that's not the same thing as privatization.
While Trump wants to give veterans access to health providers outside the V.A. system, Kaine is being overly simplistic by suggesting Trump wants to turn over the whole thing to the private sector.
What Trump proposed
Trump's VA plans include some elements of privatization, but it isn't an outright overhaul of the existing system.
At an October 2015 rally in Virginia, Trump said even though some candidates want to get rid of the V.A. (possibly referring to Ben Carson's proposals to give veterans health savings accounts) he wants to "supplement" the existing V.A. system for veterans.
"No, it doesn't have to be privatization," Trump said at a May 2016 press conference. "What it has to be is when somebody is online and they say it's a seven-day wait, that person's going to walk across the street to a private doctor, be taken care of, we're gonna pay the bill."
Nowhere on his position page or in his July 2016 Virginia Beach speech on veterans issues does Trump propose privatizing the V.A. Instead, he seeks to modernize it, crack down on inefficiency and abuse, and provide more care for female vets and those in in rural areas.
He does, however, propose a veterans ID card for use outside of the V.A. system on his campaign website:
"Under a Trump Administration, all veterans eligible for VA health care can bring their veteran's ID card to any doctor or care facility that accepts Medicare to get the care they need immediately. ...The power to choose will stop the wait time backlogs and force the VA to improve and compete if the department wants to keep receiving veterans' health care dollars."
Similarly, Trump floated the idea in his speech in Virginia: "We are going to ensure every veteran in America has the choice to seek care at the V.A., or to seek private medical care paid for by our government."
According to the Trump campaign, this is essentially the recommendation of the bipartisan federal Commission on Care, but with more choice in doctors.
But veterans groups (many of which support the commission's recommendations) told us that's not an entirely accurate comparison. In short, the commission plan folds private health care providers into the V.A. system, while the Trump plan allows veterans to opt out of it.
In its 300-page report, the commission emphasized that the V.A. should have oversight over an integrated health care network by vetting, training and coordinating with private sector doctors and clinics that qualify for participation.
Trump's plan, again, gives veterans access to all Medicare providers, but it doesn't specify that these non-V.A. doctors would have to coordinate or meet the standards of the V.A.
The I.D. card proposal also bears some resemblance to the Veterans Choice program, a law sponsored by John McCain that gives veterans access to community providers if they've been waiting for more than 30 days for V.A. care or if they live more than 40 miles away from a V.A. facility. Trump's plan would essentially get rid of these eligibility requirements.
Trump advisor Sam Clovis did tell the Wall Street Journal the candidate might model V.A. care after Medicare (like an insurance provider), as the Kaine campaign pointed out, but Clovis also said Trump "doesn't want to take away the veterans hospitals and the things that are working out."
Not exactly privatization
Veterans group agreed that Trump's I.D. card plan would lead to more privatized care, but were divided on whether Kaine's characterization of Trump's plan was accurate.
Paralyzed Veterans of America's executive director Sherman Gillums Jr. criticized Trump's proposal for "completely privatizing" the V.A. in a press release, but praised Trump's attention to veterans issues.
AMVETS spokesman John Hoellwarth called the proposal "well-intentioned," but agreed that it was privatization and would be disastrous.
"Encouraging all veterans to seek care in the private sector, which lacks the expertise to treat military and combat injuries and illnesses, and which does not typically provide integrated or coordinated care, would lead to worse health outcomes for many veterans," Hoellwarth said.
Veterans of Foreign Wars, meanwhile, considers the Trump's idea partial privatization.
"Our concern is that a 'go anywhere card' leads to veterans receiving fragmented, uncoordinated, and lower-quality care, which is not what veterans have earned and deserve," said Joe Davis, the group's director of public affairs. "Private sector health care must complement, not compete with or supplant the VA health care system."
On the other end, Dan Caldwell, vice president for political and legislative action at Concerned Veterans for America (which is backed by the anti-Trump Koch brothers) said the group supports both choice and integration and disagreed vehemently with Kaine's characterization.  
"Giving veterans the choice of where to use their VA benefits does not necessitate the sale of VA hospitals to corporations nor does it eliminate government control of veterans' health care," Caldwell said. "Calling expanded health care choice for veterans 'privatization' is simply a poll-tested scare tactic."
Our ruling
Kaine said, "Donald Trump is a guy who has called for privatization of the V.A."
Actually, Trump is a guy who has called for giving veterans access to private providers. That may lead some veterans to seek care outside the V.A., but it's not the same thing as completely privatizing the system.
We rate Kaine's claim Mostly False.
MSNBC, "Senator Kaine on Being Vetted for VP," July 11, 2016
Donald J. Trump, "Veterans Administration Reforms that will Make America Great Again," accessed July 13, 2016
Donald J. Trump, "America First Means Veterans First," July 11, 2916
Commission on Care, Final Report, July 5, 2016
Paralyzed Veterans of America, "Donald Trump: Right Intent, Wrong Plan," accessed July 13, 2016
Email interview with Amy Dudley, spokeswoman for Tim Kaine, July 13, 2016
Email interview with Stephen Cheung, spokesman for Donald Trump, July 13, 2016
Email interview with John Hoellwarth, spokesman for AMVETS, July 15, 2016
Email interview with Dan Caldwell, vice president for political and legislative action at Concerned Veterans for America, July 14, 2016
Email interview with Joe Davis, Veterans of Foreign Wars, July 14, 2016
Email interview with Cynthia Olson, Iraq and Afghanistan Veterans of America, July 14, 2016
Email interview with Ashley Bryant, spokeswoman for Concerned American Veterans, July 14, 2016
Browse the Truth-O-Meter
More by Linda Qiu
Support independent fact-checking.
Become a member!
In a world of wild talk and fake news, help us stand up for the facts.