Stand up for the facts!
Our only agenda is to publish the truth so you can be an informed participant in democracy.
We need your help.
I would like to contribute
In Ohio, "each year an estimated 1,000 children become victims of human trafficking, and over 3,000 more are at risk."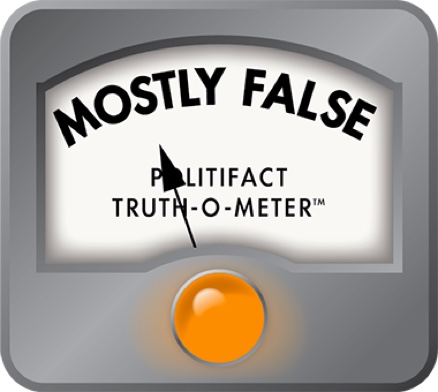 A thousand child sex-trafficking victims yearly in Ohio? Nope
Despite all the divisiveness in politics, Republicans and Democrats have joined hands to draft legislation on a few things everyone can agree on, like fighting the opioid epidemic, the Zika virus and child sex trafficking.
On the latter topic, Democratic U.S. Rep. Joyce Beatty of Ohio held a press conference on May 25, 2016, with Republican co-sponsors of the Justice for Victims of Trafficking Act, calling for its full implementation.
"In my home state of Ohio, for example," Beatty said, "each year an estimated 1,000 children become victims of human trafficking, and over 3,000 more are at risk."
Because child-sex-trafficking is an inherently clandestine crime, we were curious about the source of those numbers.
The "1,000 children" stat appears throughout several Ohio government websites, including the one for the Ohio Human Trafficking Task Force, which Gov. John Kasich first convened in 2012.
The home page links to the task force's most recent report, from 2015, and it does not line up with the annual estimate. The report says "181 potential victims of trafficking were identified" statewide in 2014 after almost 100 stings to bust sex traffickers — and this tally is not limited just to children.
The task force's website also runs a banner that encourages anyone with a tip on a suspected human trafficking case to call the National Human Trafficking Hotline Resource Center, which answers calls 24/7.
The resource center, which is partly funded by the U.S. Health and Human Services Department, keeps state-by-state reports online. According to the statistics for Ohio, between December 2007 and March 2016, there were 753 cases with "high indicators" of human trafficking. That's almost 10 years of data collection that, combined, doesn't come close to the estimate of 1,000 children annually.
What's going on?
The 1,000-victim figure comes from a questionable study commissioned by the Ohio Attorney General's Office and published in 2010. The members of the study included researchers from the University of Ohio and Toledo University, members of law enforcement, and nonprofit advocates.
The commission started with data from an FBI program called "Operation Innocence Lost," which focused on 14 cities with the highest incidences of prostitution, which included Toledo, Ohio. The authorities identified an average of 15 minor victims of sex trafficking in Toledo each year, between 2005 and 2009.
The study's authors took that 15-per-year figure and applied it to all girls ages 12 through 17 in the state of Ohio. That population, 337,961, yields an estimate of 202 girls per year.
Then, the commission multiplied 202 by five, because a University of Toledo study claimed that each sex trafficking victim they interviewed knew an average of five more underaged minors "not known to law enforcement, but who were engaging in the sex trade."
One big problem: The Ohio study did not control for the fact that Toledo's child sex trafficking rates were the highest in the state, which inflates their estimate even before multiplying it by five.
The commission then threw in some boys for good measure, reasoning that being gay, transgender or a runaway are "risk factors" for becoming a child sex trafficking victim. Because 3 to 5 percent of the overall US population identifies as gay, lesbian, bisexual or transgender, the committee added 63 males to the estimated number of child victims.
The attorney general's trafficking study concluded that an annual 1,078 minors in Ohio were potential victims.
The other number Beatty and other state leaders cite repeatedly is that there are 3,000 children "at risk" of being trafficked. For that, the attorney general's commission relied on a study by University of Pennsylvania researchers Richard J. Estes and Neil Alan Weiner, who came up with 14 factors that purportedly increased the chances of a teen being forced into the sex trade.
But the Washington Post and Village Voice are among many sources that have thoroughly debunked the Estes and Weiner study. Estes eventually admitted to reporters, "Kids who are kidnapped and sold into slavery — that number would be very small. …We're talking about a few hundred people."
David Finkelhor, a respected voice in his role with the Crimes Against Children Research Center at the University of New Hampshire, has previously criticized the methodology used in the 2010 Ohio study. He told PolitiFact via email, "Nothing has appeared in the last couple of years to make estimates of the problem any more scientific than they were 10 years ago."  
Through a spokesperson, Beatty agreed that the estimate is bunk. "Congresswoman Beatty was comfortable using the estimates because they were calculated by the Ohio Attorney General's Office, in consultation with the University of Toledo, and based on research and observations from experts in the field," spokesman Dominic Manecke wrote in an email. "However, she has no problem conceding that the estimate may need to be updated, because whether it be one person, 100 or 1,000 people, one trafficking victim is one too many."
Elizabeth Ranade Janis, the head of Kasich's Human Trafficking Task Force, told PolitiFact that the 1,000-child-victim talking point lacks a basis in solid statistics.
"It's definitely an estimate," she said. "There is no question whether human trafficking is a crime that occurs in our state. ... I would gladly welcome more research to help us better understand the prevalence of the crime and strengthen our efforts to assist survivors."
Celia Williamson, who served as the sub-committee chairperson on the 2010 study commission, stood by their estimate, with a caveat. 
"I think you have to look at 2009 and the data we had at the time," Williamson said. "Toledo was the only city in Ohio with a task force on human trafficking at the time. It was the central place to start. Someone has to pioneer and begin."
Our ruling
Beatty said, "Each year an estimated 1,000 children become victims of human trafficking, and over 3,000 more are at risk."
The underlying study behind this widely distributed state talking point lacks scientific footing. Law enforcement totals of cases involving sex trafficking victims did not approach anywhere close to 1,000 child victims.
It's impossible to quantify how many go undiscovered. But artificially inflating that estimate isn't necessary. We rate this statement Mostly False.
https://www.sharethefacts.co/share/a0e109ab-8e1f-4e19-a85c-d5bdbfbee89f
Interview, Celia Williamson, Director of Human Trafficking and Social Justice Institute, Toledo University, June 9, 2016
Interview, Elizabeth Ranade Janis, Anti-Trafficking Coordinator, June 4, 2016
Interview, Dominic Manecke, spokesman for Rep. Joyce Beatty, June 3, 2016
Email interview, David Finkelhor, Crimes Against Children Research Center, June 7, 2016
Report, "Ohio Trafficking in Persons Research Sub-Committee Report," Feb. 8, 2010
Report, "Ohio Human Trafficking Task Force Report," July 2015
Web article, "Sex-trafficking stat check: How 45 Toledo teens become '1,000 child sex-trafficking victims'" Reason.com, May 26, 2016
Website, "Stats for Ohio," National Human Trafficking Hotline Resource Center
Article, "Real men get their facts straight," Village Voice, June 29, 2011
Article, "Are there hundreds of thousands of sex-trafficked runaways in the United States?" Washington Post, July 2, 2015
Browse the Truth-O-Meter
More by Nadia Pflaum
Support independent fact-checking.
Become a member!
In a world of wild talk and fake news, help us stand up for the facts.