Get PolitiFact in your inbox.
The National Park Service has "an annual budget that is less than the city of Austin."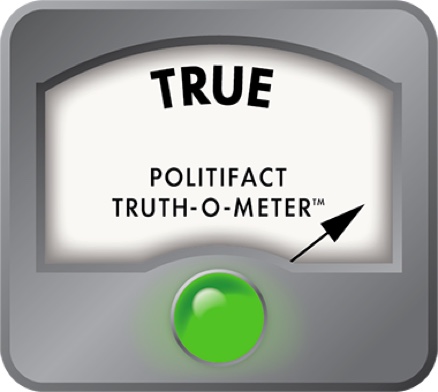 National Park Service director correct that its budget less than budget for Austin's city government
From the mountains to the valleys and to the oceans, the U.S. government spends less money running parks than Austin devotes to city government, a federal honcho told Congress.
Jonathan Jarvis, director of the National Park Service, prefaced his June 14, 2016, mention of Austin with some agency self-celebration, telling the U.S. House Committee on Oversight and Government Reform:
"The NPS manages many of our nation's most iconic and beloved landscapes and historic sites. We are responsible for managing more than 400 individual parks with more than 84 million acres of land, stretching from Acadia National Park in the State of Maine to the National Park of American Samoa in the South Pacific. The NPS also manages numerous wild and scenic rivers and national trails; programs that recognize our nation's historic structures; and programs that help local governments and organizations provide recreational opportunities and protect open space. We are seeing record-breaking visitation -- more than 300 million last year -- and the resulting economic activity created by the parks topped $16 billion."
"We are accomplishing all of this," Jarvis said next, "on an annual budget that is less than the city of Austin, Texas."
Right off, Jarvis seemed right on the numbers.
For the fiscal year that began Oct. 1, 2015, the park service's budget amounts to $3.4 billion, which folds in $2.85 billion appropriated by Congress plus expected fee revenue, a park service spokesman, Jeff Olson, advised by email. The service has 22,000 employees, he said.
Olson, asked how Jarvis came to single out Austin, said that in preparing for the House hearing, Jarvis "was looking for another government entity's budget with which to compare the NPS." Jarvis settled on Austin for his comparison after looking online for the budgets of various cities, Olson said.
For the same fiscal year, the Austin City Council approved a $3.5 billion budget, according to the published city budget.
A city spokesman, David Green, conceded the numerical differences though he indicated that comparing the total budgets obscures vast differences between the federal agency and Austin city government.
"While it is accurate to say Austin's $3.5 billion budget is larger than that of the National Park Service," Green said by email, "it is difficult to make a direct comparison. The City of Austin has over 13,000 employees spread across more than 40 departments – including our own Water and Electric utilities – that provide daily direct service to more than 900,000 residents. The scope and mission of the city is simply too varied to make an apples-to-apples comparison," Green said.
Olson, reacting to Green's analysis, said by email: "It may be difficult to compare Austin to the NPS. While the city serves 900,000 residents, the NPS serves more than 300 million visitors each year, many of them from Austin, no doubt."
A federal wrinkle?
We asked a pro-parks group, the National Parks Conservation Association, about Jarvis' claim.  By email, spokeswoman Kati Schmidt said association experts pegged the service's fiscal 2016 budget at $3.377 billion "after adding appropriated funds plus fees and other mandatory funding."
But Schmidt also illuminated additional money coming to the park service for federal road projects. "Park service roads also benefit from Highway Trust Fund dollars for maintenance totaling $268 million this year," Schmidt wrote.
That $268 million would drive up the agency's total expected 2016 spending to $3.645 billion by our calculation--which would exceed Austin city government's $3.5 billion budget.
But hold on: We ran this thought past the park service's Olson who said by phone it's fair to say the additional roads money is being spent by the agency. Yet Olson said by email the $268 million is part of the U.S. Department of Transportation budget.
The association's Schmidt further told us the park service's "resources/facilities also benefit at times from a variety of other random smaller sources like state grants and private donations (both monetary and in-kind), but we don't have any sum total of all funding sources that benefit the" system.
"These other sources are not technically part of the NPS budget so in terms of Jarvis' reference to an 'annual budget,' indeed the claim appears to be defensible," Schmidt said. Citing insufficient knowledge about the city's budget, Schmidt declined to speculate about whether the director made a fair apples-to-apples comparison.
Some differences beyond budget totals
It's worth noting the park service and Austin's city government draw on divergent revenue sources.
Congress, which spends tax revenue, appropriated 84 percent of the park service's budget. In contrast, just 24 percent of the city's 2015-16 budget, or $818 million, was penciled in to come from tax revenue.
On the other hand, the city budget shows $1.9 billion in revenue from "utility charges," largely meaning income from the sale of electricity, water and wastewater services; that chunk of money covers 54 percent of the city budget.
Notably, too, the city has a capital improvements budget supported by debt, grants and fund transfers. In 2015-16, the Austin City Council appropriated $629.6 million for such projects; that amount is not part of the $3.5 billion total budget, city spokeswoman Alicia Dean told us by phone. So, the city plans to spend more than $4 billion in fiscal 2016, counting the regular and capital improvements budgets.
Olson told us the park service's 2016 budget folds in more than $192 million budgeted by the agency for comparable construction and repair/rehabilitation purposes. Put another way, he said, that money is part of the $3.4 billion total budget.
Our ruling
Jarvis said the National Park Service has an annual budget that is less than the budget for the city of Austin.
For the fiscal year through September 2016, this is so by $100 million--though there are arguably plenty of differences between the agency and Austin city government that keep this comparison from meaning a great deal.
We rate the statement True.
---
TRUE – The statement is accurate and there's nothing significant missing.
Click here for more on the six PolitiFact ratings and how we select facts to check.
Document, "STATEMENT OF JONATHAN B. JARVIS, DIRECTOR, NATIONAL PARK SERVICE, DEPARTMENT OF THE INTERIOR, BEFORE THE HOUSE COMMITTEE ON OVERSIGHT AND GOVERNMENT REFORM, CONCERNING OVERSIGHT OF THE NATIONAL PARK SERVICE," June 14, 2016 (posted on the committee's website)
Emails and telephone interviews, Jeffrey Olson, public affairs officer, National Park Service, June 15-16 and 23-24, 2016
Publications, "Austin Texas Approved Budget, 2015-16, Volume One," "Austin Texas Approved Budget, 2015-16, Volume Two," City of Austin, 2015 (accessed June 15 and 23, 2016)
Email, David Green, media relations manager, City of Austin, June 15, 2016
Email, Kati Schmidt, associate director of media relations, National Parks Conservation Association, June 23, 2016
Telephone interview, Alicia Dean, senior public information specialist, City of Austin, June 24, 2016
Browse the Truth-O-Meter
More by W. Gardner Selby
Support independent fact-checking.
Become a member!
In a world of wild talk and fake news, help us stand up for the facts.