Stand up for the facts!
Our only agenda is to publish the truth so you can be an informed participant in democracy.
We need your help.
I would like to contribute
"There is not a single candidate in the Republican primary that thinks we should do anything about climate change."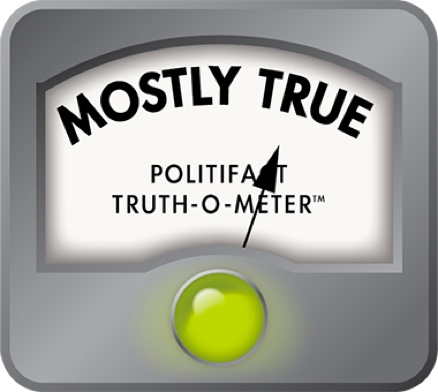 Obama: None of the GOP candidates have climate change plan
Foreign leaders are "troubled" by some of the rhetoric coming out of the Republican presidential primary, and it's not just what they're hearing from Donald Trump, says President Barack Obama.
"But this is not just Mr. Trump. Look at the statements that are being made by the other candidates," Obama said at a Feb. 16 news conference. "There is not a single candidate in the Republican primary that thinks we should do anything about climate change, that thinks it's serious. Well, that's a problem. The rest of the world looks at that and says, how can that be?"
Obama's statement sounded similar to a take from Democratic presidential candidate Sen. Bernie Sanders, who recently said, "Not one Republican has the guts to recognize that climate change is real." We rated that claim False because a couple GOP presidential candidates (including some who are no longer in the running) have acknowledged its existence.
Obama's claim is different: He said none of the Republicans thinks the country should do anything about climate change.
To different degrees, the remaining candidates don't believe man-made climate change is happening, or at least not to the extent that Obama and a vast majority of climate scientists believe it's happening.
All of the Republican candidates — Donald Trump, Marco Rubio, Ted Cruz, John Kasich and Ben Carson — call for scaling back environmental and energy regulations. Some support going through the private sector for renewable energy source development, alongside continued development of fossil fuels, and environmental protection.
But none have a fleshed-out plan to specifically address the issue of climate change.
Here's where the remaining Republican presidential candidates stand on climate change and what they propose to do (or not do) about it.
Donald Trump
Trump has said repeatedly that he does not believe in climate change, even suggesting it's a conspiracy invented by China to make the United States less competitive.
His website doesn't have any information on his plans to combat climate change or how he would approach energy issues. He has said he would abolish the Environmental Protection Agency, and the environment will be "fine."
When MSNBC's Joe Scarborough asked Trump in November what he would do about climate change, Trump did not outline a specific plan, but he said, "We want to have clean air to breathe and we want to have beautiful clean water. That's very important to me."
Sen. Marco Rubio, R-Fla.
Rubio believes the climate is changing, but he questions how much of it is man-made.
"The climate has always changed," Rubio said in January. "There's never been a time when the climate has not been changing."
He has criticized international climate efforts, as well as Obama's regulatory measures, saying they are more damaging to the economy than they are helpful to the environment.
"If you're overly dependent on any one source of fuel, then you become vulnerable to disruption," he said at the same event in January. "I want America to truly have a truly all-of-the-above strategy."
Rubio has not released a plan to quell the effects of climate change.
Sen. Ted Cruz, R-Texas
Cruz believes man-made climate change is not real. He has called it a "pseudoscientific theory" and has criticized Obama for calling it a major security threat.
His website says he would abolish the Energy Department and eliminate at least 10 existing climate change and environmental programs.
Like Rubio, he calls for an "all-of-the-above" approach to energy, meaning he supports development of fossil fuels as well as renewable resources, which he says amounts to an "energy renaissance."
"We must harness our nation's energy resources and remove federal impediments to energy exploration, development and trade," he wrote.
Ben Carson
Carson does not believe in man-made climate change. He has said it's part of a natural cycle and cannot be "an excuse not to develop our own God-given natural resources."
His energy plan calls for reducing government regulations on energy production, including fossil fuels that contribute to climate change, but also developing renewable fuels. He also calls on people to be stewards of the environment, but not at the expense of jobs and the economy.
He did tell Time in October 2015 that if there is "clear-cut evidence" that a certain manufacturing practice is causing significant harm to the environment, President Carson might take some action.
"I would use the EPA to work with business industry and academia to find the cleanest, most environmentally friendly way to do things, rather than just all right, we're coming in here and we're shutting you down," he said.
Ohio Gov. John Kasich
As recently as Feb. 29, Kasich has said he believes there is a climate change problem, acknowledging he is going against the grain of his party.
But he has not proposed a full-fledged strategy to address it, and his fact sheet on energy does not mention climate change. He has, though called for pursuing renewable energy sources as one possible response.
In August, he questioned the extent of man's impact on the environment, calling full-blown climate change "some theory that is not proven." He said he wouldn't want to destroy any jobs in order to address these concerns.
Former Florida Gov. Jeb Bush
Bush has dropped out of the race, but we're including him because he was still in the running when Obama made his statement.
He believes climate change is real and human activity is a contributing factor. He had an energy plan but not a specific environmental protection plan.
He has argued that some of the Obama administration's regulations go too far, such as Obama's Clean Power Plan. Like most of the other Republican candidates, he called for reducing regulations and increasing growth in the energy sector, both fossil fuel and renewable sources.
"Energy resources must be developed in a way that protects human health and the environment," his energy plan said. "Rules play an important role in making sure this is the case. But the Obama administration's excessive rules too often usurp state and tribal authority and go beyond what is necessary."
Our ruling
Obama said, "There is not a single candidate in the Republican primary that thinks we should do anything about climate change."
None of the remaining Republican presidential candidates have laid out a specific plan to address climate change. All of them call for scaling back Obama's environmental regulations, to boot.
Some have called for private-sector development of renewable energy sources. Bush, who was in the race when Obama made his comment, and Kasich both have said they believe human-caused climate change is real and have said pursuing these alternative energy sources could mitigate the problem. But neither has outlined a specific plan.
For some Republican voters, this stance might be a plus. But it doesn't change the veracity of Obama's statement.
We rate it Mostly True.
NPR, "Where Presidential Candidates Stand On Climate Change," Aug. 11, 2015
Des Moines Register, "Marco Rubio opposes climate change measures," Jan. 24, 2016
Trump campaign, "Positions," accessed Feb. 18, 2016
Rubio campaign, "Powering the New American Century," accessed Feb. 18, 2016
Bush campaign, energy plan, accessed Feb. 18, 2016
Kasich campaign, Kasich action plan, accessed Feb. 18, 2016
Carson campaign, "Prescription for an American energy renaissance," accessed Feb. 20, 2016
Carson campaign, "Environment - Climate Change," accessed Feb. 18, 2016
Cruz campaign, "Jobs and opportunity," accessed Feb. 18, 2016
Cruz campaign, "Five for freedom," accessed Feb. 18, 2016
PolitiFact, "What Donald Trump said about the Chinese inventing the 'hoax' of climate change," Jan. 24, 2016
PolitiFact, "Bernie Sanders offers overheated claim on where all Republicans stand on climate change," Feb. 9, 2016
Browse the Truth-O-Meter
More by Lauren Carroll
Support independent fact-checking.
Become a member!
In a world of wild talk and fake news, help us stand up for the facts.