Stand up for the facts!
Our only agenda is to publish the truth so you can be an informed participant in democracy.
We need your help.
I would like to contribute
Illegal "immigration is lower than it's been in 40 years."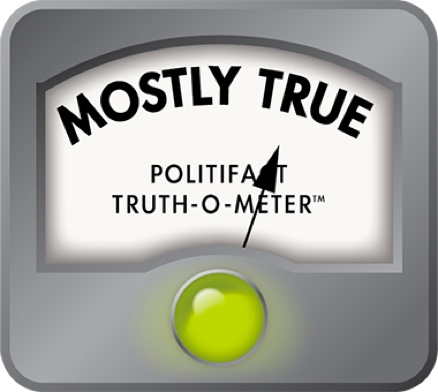 Barack Obama, in Austin, says illegal immigration at 40-year low
Barack Obama fired up supporters at a Democratic National Committee reception in Austin by insisting the country is "pretty darn great" toward the end of his eight years as president -- despite what Republicans say.
According to a White House transcript of Obama's March 11, 2015, remarks, Obama said to applause: "You've got all these candidates on the other side tripping all over themselves to talk down the economy when it is the bright spot in the world economy. You've got folks talking about how weak America is when we're the most powerful nation on Earth."
Those two judgments, you might say, are not-fact-checkable opinions. But next Obama said: "You've got these folks saying immigration is our biggest crisis when illegal immigration is lower than it's been in 40 years."
Republicans including prospective wall-builders Donald Trump and Ted Cruz say illegal immigration adds up to a huge crisis.
So, is Obama right that illegal immigration is at a 40-year low?
Experts agree that some 11 million to 12 million U.S. residents lack legal permission to live here. In July 2015, when PolitiFact Florida looked into such estimates, Steven Camarota, research director at the Center for Immigration Studies, said the total number of illegal immigrants had essentially held constant in recent years, because the number arriving roughly balanced the number going home or getting legal status.
For this story, we took Obama as referring to the flow of immigrants, many of them across the Rio Grande. And while it's impossible for anyone to know the exact level of illegal immigration--most people don't want to get caught--there are ways to gauge changes.
A 2014 fact check of a similar Obama claim identified U.S. Border Patrol border apprehension statistics as the best yet imperfect indicator of changes in illegal immigration.
PolitiFact Florida found Half True this Obama claim: "Overall, the number of people trying to cross our border illegally is the lowest it has been since the 1970s." Obama failed to acknowledge both that in the 1970s, it was easier for people to make multiple border crossings and that the decline in border apprehensions began before his presidency. Generally, the flows of immigrants across the border correlates with economic conditions outside the president's full control.
In his Austin remarks, Obama didn't take credit for changes in illegal immigration. Regardless, he did retread his historical comparison.
PolitiFact Florida, citing Border Patrol data, found that apprehensions of individuals illegally crossing the border annually decreased from 2007 through 2011, when there were 340,252 such apprehensions. Yet the agency also reported upticks in apprehensions in both 2012 and 2013, then the latest year of available data.
The latest figures
After Obama spoke, we spotted Border Patrol counts indicating that in fiscal 2015, which ran through September 2015, the agency reported 337,117 "illegal alien apprehensions" nationally including 331,333 in the Southwest Border sector, which runs east from San Diego through the Rio Grande Valley of Texas.
Another Border Patrol chart lists the agency's total apprehensions nationally since 1925. According to the chart, its 2015 apprehensions were the fewest since the agency reported 302,517 apprehensions in 1971, 44 years earlier.
And what about apprehensions near the southern border? A Border Patrol chart listing Southwest Border apprehensions since 1960 indicates apprehensions in that sector in 2015 were the least since 2011 when there were 327,577 apprehensions. You have to go back to 1972 to find fewer border-zone apprehensions--321,326, the chart says.
Caveats
Obama could have added caveats to his direct comparison of apprehensions 40 years apart. As PolitiFact Florida noted, there were far fewer Border Patrol agents in the 1970s and no barriers like the fencing ordered in place by Congress in recent years.
Jessica Vaughan of the Center for Immigration Studies, which advocates for low levels of immigration, said the lack of barriers helped lead more people to enter or attempt to enter multiple times.
The fine point is that apprehensions don't break out entirely to individuals apprehended.
In this vein, a 2011 Department of Homeland Security report cautioned against presuming that apprehensions relate to a particular number of individuals. "Apprehension data... represent events, not individuals," the report said. "The total number of apprehensions during a specific period will be greater than the total number of unique individuals apprehended because some individuals will have been apprehended more than once. The relationship between the number of border apprehensions to either the number of attempted illegal entries or the number of successful illegal entries is unknown."
A Georgetown University professor, Susan Martin, previously told PolitiFact too that with the addition of fencing and more agents in more recent years, people use smugglers to cross the border, which is more expensive and results in less traffic. In the 1990s, the U.S. strategy changed from trying to apprehend as many people as possible to trying to deter them from entering, Martin said. Federal officials used sensors, cameras and other technology to identify recidivists and get a better sense of the actual numbers.
Administration response
We asked the White House how Obama reached his conclusion.
After we'd looked at government apprehension figures, we heard back from Homeland Security spokesman Peter Boogaard who sent an email stressing Southwest sector apprehensions:
"Over the last 15 years, our Nation – across multiple administrations -- has invested a lot in border security, and this investment has yielded positive results. Apprehensions – which are an indicator of total attempts to cross the border illegally – are a fraction of what they used to be.
"In FY 2014, overall apprehensions increased, as we saw a spike in the number of families and unaccompanied children from Central America during the spring and summer of 2014. That year the overall number of apprehensions was 479,000. Across the government, we responded aggressively to this surge and the numbers fell sharply within a short period of time.
"In FY 2015, the number of those apprehended on the southwest border was 331,000 – with the exception of one year, this was the lowest number since 1972."
Our ruling
Obama said illegal "immigration is lower than it's been in 40 years."
Worth noting: There's no direct indicator of illegal immigration. Folks don't report in.
But the best-available metric, Border Patrol apprehensions, reached a 44-year national low in 2015. Still, apprehensions along the U.S.-Mexico border were even lower four years before. The previous Southwest sector low occurred in 1972.
Significantly too, Obama didn't claim credit for this change.
We rate his Austin statement Mostly True.
---
MOSTLY TRUE – The statement is accurate but needs clarification or additional information.
Click here for more on the six PolitiFact ratings and how we select facts to check.
Truth-O-Meter articles, PolitiFact Florida, "Obama says illegal border crossing attempts are at lowest point since 1970s," Nov. 25, 2014; "Donald Trump wrongly says the number of illegal immigrants is 30 million or higher," July 28, 2015
Documents, U.S. Border Patrol, "BP Total Monthly Apps by Sector and Area, FY2000-FY2015," "Nationwide Illegal Alien Apprehensions Fiscal Years 1925 - 2015," "BP Southwest Border Sector Apps FY1960 - FY2015" all undated (viewed March 15, 2016)
Reports, "Fact Sheet: Apprehensions by the U.S. Border Patrol, 2005-2010,"; "Estimates of the Unauthorized Immigrant Population Residing in the United States: January 2011," Department of Homeland Security, Office of Immigration Statistics, March 2012 (accessed Jan. 28, 2013)
Email, Peter Boogaard, deputy assistant secretary for public affairs, Department of Homeland Security, March 15, 2016
Browse the Truth-O-Meter
More by W. Gardner Selby
Support independent fact-checking.
Become a member!
In a world of wild talk and fake news, help us stand up for the facts.