Stand up for the facts!
Our only agenda is to publish the truth so you can be an informed participant in democracy.
We need your help.
I would like to contribute
Says Paul Ryan backs a proposal that would be a "bailout" of Puerto Rico.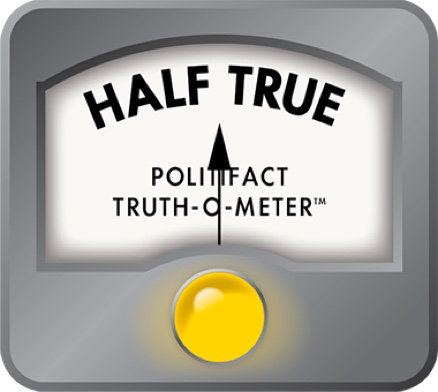 Is legislation backed by Paul Ryan to help debt-ridden Puerto Rico a 'bailout'?
Wracked by a decade-long recession, Puerto Rico started borrowing, to cover budget shortfalls.
Many Americans obliged, by buying Puerto Rican bonds, which are exempt from federal, state and local taxes in all 50 states.
Now Puerto Rico is $72 billion in debt and defaulting on its debt payments.
Don't care much?
Congress does. After all, Puerto Rico is a U.S. territory; 3.5 million of the island's residents are U.S. citizens.
And now the word bailout is being thrown around.
 Puerto Rico's debt problems
Owes $72 billion -- nearly 100% of its annual economic output
Defaulted on most of a $422 million in debt payment in May 2016
Owes a payment of nearly $2 billion due in July 2016
That B word is stated repeatedly by a political action committee in a new
attack ad
 that claims House Speaker 
Paul Ryan
 and other U.S. leaders support a bailout.
Ryan does back a bill for Puerto Rico that is sponsored by a fellow Wisconsin Republican, U.S. Rep. Sean Duffy.
But the bill is not what is commonly understood to be a bailout. That is, unlike American banks and automakers that got bailed out, Puerto Rico would not get any U.S. tax dollars.
At the same time, the ad is careful to say the "bailout" would hurt "savers and seniors," not taxpayers.
And Duffy's bill, experts tell us, almost certainly would mean lower returns for perhaps hundreds of thousands of Americans who invested in what long had been regarded as safe Puerto Rican bonds.
The ad
The sponsor of the nationally televised ad is the Center for Individual Freedom, a conservative non-profit based outside of Washington, D.C. that does not disclose its donors. The center says its mission is to "protect and defend individual freedoms and individual rights guaranteed by the U.S. Constitution."
Here's a full description of the 30-second, narrated ad, which was unveiled April 13, 2016:
Washington is trying to pull a fast one. The Obama administration and leaders in Congress want to bail out Puerto Rico.
The words "Bail out Puerto Rico" appear on the screen over photos of Democratic House leader Nancy Pelosi, President Barack Obama and Ryan.
It's called Super Chapter 9. It grants Puerto Rico unprecedented bankruptcy protections. You pay for it.
Pictures of older men and women appear on the screen.
Retirement accounts crushed. A bailout on the backs of savers and seniors. Washington politicians try to claim otherwise.
The photos of Pelosi, Obama and Ryan reappear.
But we know a bad bailout when we see one. Don't be fooled. No Super 9 bailout of Puerto Rico.
Duffy's bill
The Center for Individual Freedom didn't respond to our call and emails asking for evidence to back its claim. But a news release from the group makes it clear the center is calling Duffy's bill a bailout.
The bill would establish a federal Oversight Board to assist Puerto Rico in managing its public finances. Ultimately, a judge would have the power to reduce the $72 billion in debt, according to the Washington Post.
The experts we consulted agreed with Ryan, who has said the bill is not a taxpayer bailout of Puerto Rico, given that it would not commit any U.S. funds to the island.
But the experts also agreed with U.S. Rep. John Fleming, R-La., a critic who has said the bill would function like a bailout because Congress would be "changing the rules" to benefit Puerto Rico.
The rules would change under the bill in that Puerto Rico could restructure its debt, similar to what is done in a so-called Chapter 9 bankruptcy, and pay less to some creditors than the creditors are owed.
In terms of the impact on American investors, many bond funds have already sold their Puerto Rican debt, and the debt is now mostly owned by hedge funds, according to the Associated Press. But Oppenheimer Funds and Franklin Templeton still own part of the debts.
So, a restructuring almost certainly would mean that Americans who, through brokers or choices they made in their retirement accounts, put some of their savings into Puerto Rican bonds almost certainly will get a lower return on their money, the experts told us.
But there is one more consideration, said Simon Johnson, a professor of global economics at the MIT Sloan School of Management:
Americans who invested in Puerto Rican bonds thinking they were safe overestimated how safe they are, as the island's debt crisis shows.
With an Oversight Board managing a debt restructuring, savers likely will get a lower return than they expected. But without such a board, creditors would be fighting in court and the returns for individuals investors would likely be lower still.
Our rating
The Center for Individual Freedom, a Super PAC, says in a TV ad that Ryan backs a proposal that would be a "bailout" of Puerto Rico.
The ad is misleading in its repeated use of the word bailout, in that legislation supported by Ryan -- unlike past bailout bills -- would not direct any U.S. tax dollars to the debt-ridden island.
But the ad was careful to say the "bailout" would hurt "savers and seniors." And experts told us the bill almost certainly would result in lower returns for Americans who invested money in Puerto Rican bonds.
https://www.sharethefacts.co/share/c527c9ab-63fa-4066-814e-9e36d1c87379
For a statement that is partially accurate but takes things out of context, our rating is Half True.
Political TV Ad Archive, "Fast One" ad
Center for Individual Freedom, "Fast One" news release, April 13, 2016
Sunlight Foundation, "Dark money group spends $200,000 on ads opposing Puerto Rico debt relief bill," April 6, 2016
PunditFact, "Mystery: Strom Thurmond, Puerto Rico and bankruptcy protection," April 27, 2016
GovTrack.us, House Resolution 4900
Morning Consult, "Updated Puerto Rico bill introduced, committee vote pending," April 12, 2016
Bloomberg, "Puerto Rico bill stalls in House amid objections by both parties," April 13, 2016
Associated Press, "Q&A: Puerto Rico's debt crisis explained," May 2, 2016
CNN Money, "Puerto Rico defaults on $422 million," May 2, 2016
Associated Press, "GOP battles bailout perception on Puerto Rico," April 25, 2016
Daily Signal, "GOP fights over whether Puerto Rico rescue plan is a 'bailout,'" April 27, 2016
The Week, "The Puerto Rico crisis, explained," March 27, 2016
Washington Post, "Puerto Rico debt rescue plan engulfed in Great Recession 'bailout' politics," April 30, 2016
Email, Center for a New Economy (Puerto Rico) Public Affairs Director Nydia Suarez, May 4, 2016
Interview, George Mason University Center for State and Local Government Leadership Instructor/Director Frank Shafroth, May 5, 2016
Interview, Heritage Foundation Senior Policy Analyst, Economics and Entitlements Rachel Greszler, May 5, 2016
Interview, MIT Sloan School of Management Professor of Global Economics and Management Simon Johnson, May 5, 2016
Browse the Truth-O-Meter
More by Tom Kertscher
Support independent fact-checking.
Become a member!
In a world of wild talk and fake news, help us stand up for the facts.