Facts are under assault in 2020.
We can't fight back misinformation about the election and COVID-19 without you. Support trusted, factual information with a tax deductible contribution to PolitiFact
I would like to contribute
"You can import as many hemp products into this country as you want...but we can't grow it."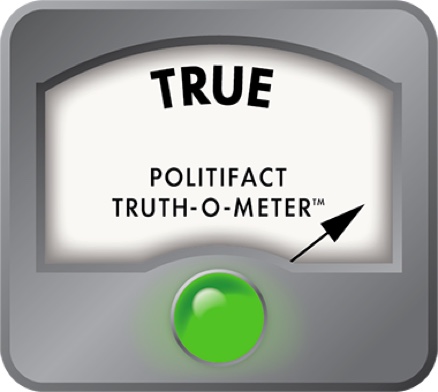 Hemp is helpful, just don't grow it
At a senate judiciary hearing on Smith Hill May 10, William Devereaux, a lawyer, spoke on behalf of the Narragansett Indian Tribe.
Bill S2763, called the "Hemp Growth Act," was up for debate. It would make it legal for residents to grow their own hemp plants if they have a permit and don't have a criminal record. The tribe has historically used hemp, a cousin of marijuana, for many products, like blankets, ropes, and baskets, Devereaux said.
"You can import as many hemp products into this country as you want . but we can't grow it," Devereaux said.  We thought this was an interesting point. We talked to Devereaux, and he elaborated.
"I can go to the Whole Foods right now and buy a box of cereal with hemp," he said. "But if I grow it, that's another story. It's kind of ridiculous."
Indeed, it does seem kind of ridiculous. We wanted to see if he was right.
The history of hemp
Currently, hemp is packaged with marijuana in the Controlled Substances Act, Attorney General Peter F. Kilmartin wrote in a letter he submitted against Senate Bill 2763. "Hemp is considered marijuana," he wrote.
This interpretation came from a few court cases: New Hampshire Hemp Council, Inc. v. Marshall in 2000; U.S. v. White Plume in 2006; and Monson v. Drug Enforcement Agency in 2009.
And therefore, "possession, distribution, manufacture, cultivation, sale, transfer, or the attempt or conspiracy to possess, distribute, manufacture, cultivate, sell or transfer" hemp is banned.
But, this wasn't always the case. In the 17th century, domestic growth of the plant was encouraged for production of rope, sails and clothes. The Declaration of Independence was signed on hemp paper. Historians even say the first American flags were made out of hemp, grown by none other than George Washington and Andrew Jackson.
During World War II the U.S. Department of Agriculture released a "Hemp for Victory" propaganda film, offering to give hemp seeds to farmers, and allowing draft deferment to those who would stay behind and grow the plant for military materials (parachutes, ropes, and other things of that nature), according to a PBS Frontline timeline.   
In 2014, President Barack Obama signed the Agricultural Act of 2014. Section 7606 of that bill allowed for universities and others to grow or cultivate industrial hemp as long as it's for research purposes, or it's allowed under state laws. The farmer also must be licensed.
Can hemp get you high?
In short, no. The hemp and marijuana plants both come from the Cannabis sativa plant. But, marijuana has much more tetrahydrocannabinol, or THC, which is the psychoactive substance that makes you feel high and want to eat an entire pizza.
Hemp has a THC level of about 0.3 percent, on average, while marijuana can have up to a 25-percent THC level, according to a 2015 study.
As Devereaux put it, "For you and I to get high on hemp we'd have to put six bales in a fireplace, light it up with lighter fluid and put a blanket over our heads."
Importing hemp
Now to the second part of Devereaux's claim. Can U.S. citizens "import as many hemp products" as they want?
U.S. Customs and Border Protection  says that hemp products, like paper, rope, clothing, soaps, shampoos, and animal feed, can be imported into the United States. Hemp seeds, as long as they are sterilized, can also be brought into the country.
And about that cereal at Whole Foods? A box of Nature's Path "Hemp Plus Granola" will cost you about $5.
Our ruling:
Devereaux says "you can import as many hemp products into this country as you want . but we can't grow it." He is correct. The Controlled Substances  Act prohibits the growing and selling of hemp, except under very specific circumstances outlined in Obama's Agricultural Act.
U.S. Customs and Border Protection allows for the import of hemp products and seeds, permitted they are "sterilized."
We rate this claim: True.  
https://www.sharethefacts.co/share/7e31ae32-5f48-4c0b-a9e5-99836a711556
Interview, William Devereaux, lawyer, May 19, 2016.
FDA.gov, "Controlled Substances Act," accessed May 19, 2016.
Attorney General Peter F. Kilmartin letter "re: 2016 S2763 'An Act Relating to Agriculture and Forestry."
LATimes.com, "A tip for American farmers: Grow hemp, make money," accessed May 19, 2016.
WAMU.org, "Hemp flag to be flown over U.S. capitol," accessed May 19, 2016.
Thomas.LOC.gov, "House Report 113-333 - AGRICULTURAL ACT OF 2014," accessed May 19, 2016.
Help.CBP.gov, "Importing hemp products into the U.S.," accessed May 19, 2016.
GlobalHemp.com, "Hemp for Victory," accessed May 19, 2016.
PBS.org, "Marijuana Timeline," accessed May 19, 2016.
NBCNews.com, "Colorado Marijuana Study Finds Legal Weed Contains Potent THC," accessed May 19, 2016.
Rhode Island State General Assembly Capitol TV, "5-10-16 Rhode Island Senate Judiciary committee," 4:00 mark.
Rhode Island State General Assembly, "2016-S2763 Hemp Growth Act."
Browse the Truth-O-Meter
More by Jacqueline Tempera
Support independent fact-checking.
Become a member!
In a world of wild talk and fake news, help us stand up for the facts.