Stand up for the facts!
Our only agenda is to publish the truth so you can be an informed participant in democracy.
We need your help.
I would like to contribute
Says Sen. John McCain "told dreamers that he'll support the Dream Act, then he voted against it."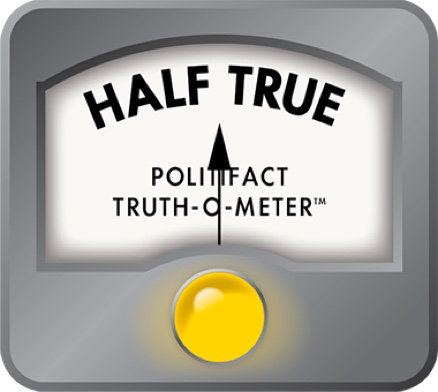 Did John McCain support the Dream Act, then vote against it?
U.S. Rep. Ann Kirkpatrick says Sen. John McCain has changed after 33 years in Washington, D.C.
On immigration, she said of her U.S. Senate rival, McCain's changes are especially striking.
"He told dreamers that he'll support the Dream Act, then he voted against it," Kirkpatrick, D-Flagstaff, said in a May 8 interview with Al Sharpton on MSNBC.
The Development, Relief, and Education for Alien Minors (Dream) Act would have allowed undocumented children brought to the United States permanent resident status if they, among other provisions, completed two years of college or military service.
We wondered if McCain really flipped his position on the Dream Act, as Kirkpatrick claimed. We found that McCain's stance shifted slightly over more than a decade, but that does not equate to a cut-and-dried flip-flop.
McCain's voting record
About a decade ago, McCain supported versions of the Dream Act. He even co-sponsored the 2003 and 2005 versions of the Dream Act, neither of which came to a vote.
He did not sponsor the 2007 version of the bill. He also didn't vote on it.
McCain was campaigning for the Republican nomination for president. One of his opponents, Fred Thompson, had derided the legislation as "stealth amnesty."
When the bill came up again in December 2010, McCain voted against it. The legislation eventually failed after a 55-41 vote in the Senate.
What changed? Responding to conservative criticism, McCain stopped pushing for the Dream Act — unless it came with border security.
Beefing up the border
In November 2007, a month after his skipped vote on the 2007 Dream Act, McCain told the Myrtle Beach Sun-News that he would "vote against anything unless we secured the borders."
A few months later in February 2008, McCain told the Conservative Political Action Conference in Washington, D.C., that "it would be among my highest priorities to secure our borders first." He did not mention the Dream Act in his remarks.
After his "nay" vote on the legislation in 2010, the senior senator said in a statement that he had "great sympathy" for the affected students, but he couldn't put their needs above law-abiding Americans.
"There simply isn't sufficient political support to do anything before we secure our borders," McCain said, "and there won't be until we do."
What Kirkpatrick told Sharpton mimics an attack ad her campaign posted earlier in May. The ad claims McCain "has been on every side of immigration" and appears to show two clips of the Arizona senator speaking out both for and against the Dream Act.
Kirkpatrick's campaign spokesman provided a clip of McCain's remarks at an immigration council in San Diego in July 2008 during McCain's bid for the White House. In the clip, a young woman asks McCain if he would support "our Dream Act."
McCain said "yes, yes." Left unmentioned in Kirkpatrick's talking point is how he also said existing laws needed to be enforced.
"Yes. Yes. Thank you. But I will also enforce the existing laws of a country. And a nation's first requirement is the nation's security, and that's why we have to have our borders secured. But we can have a way and a process of people obtaining citizenship in this country. And we cannot penalize people who come here legally and people who wait legally. And so that's a fundamental principle on which we have to operate."
The campaign then contrasts that with McCain's vote in 2010.  
McCain's campaign spokeswoman pointed out that the senior senator co-sponsored the 2013 Gang of Eight immigration bill, which included a pathway to citizenship that included the Dream Act and also included provisions for border security. He voted yes.
The Dream Act portion of the bill, which House Republicans refused to conference after it passed in the Senate, would have created a five-year path to documentation for immigrants, as long as they met requirements such as having a GED or high school diploma.
Our ruling
Kirkpatrick said, "McCain told dreamers that he'll support the Dream Act, then he voted against it.'"
Her statement leaves out important context.
McCain's views has shifted on the Dream Act, but his waning support hasn't been the complete flip-flop Kirkpatrick makes it out to be.
He did vote against the 2010 Dream Act, years after introducing similar measures in the Senate. But he supported the Dream Act in some form after the vote. He voted yes on the 2013 comprehensive immigration legislation that included pathway to citizenship for undocumented immigrants brought here as children from other countries. McCain made border security the priority before getting a Dream Act.
On balance, we rate Kirkpatrick's claim as Half True.
https://www.sharethefacts.co/share/17c3bb15-cc01-4495-acb5-16e93f457f77
U.S. Rep. Ann Kirkpatrick, "Remarks during MSNBC'S PoliticsNation," May 8, 2016
PolitiFact, "The 2010 DREAM Act had strong bipartisan support,' said Janet Napolitano," Aug. 28, 2013
The New York Times, "Senate Vote 278 - Fails To Advance Dream Act," accessed May 18, 2016
The New York Times, "Text of Republicans' Principles on Immigration," Jan. 30, 2014
DemRapidResponse, "McCain vs. McCain on the DREAM Act," accessed May 18, 2016
ABC News, "From the Fact Check Desk: Obama's New Spanish Language TV Ad Es Erróneo," Sept. 18, 2008
The Huffington Post, "Dreamers Get Best Version of Dream Act Yet in Senate Immigration Bill," May 24, 2013
The Washington Post, "Rep. Ann Kirkpatrick campaign's misleading attack on Sen. John McCain's support for the Dream Act," May 4, 2016
The New York Sun, "McCain skips a key vote on immigration," Oct. 25, 2007
RealClearPolitics, "John McCain's CPAC Speech," Feb. 7, 2008
GovTrack.us, "Senate Vote #168 in 2013," accessed May 23, 2016
GovTrack.us, "S.744 (113th)," accessed May 23, 2016
Congress.gov, "S.1545 - DREAM Act," accessed May 18, 2016
Congress.gov, "S.2075 - DREAM Act of 2005," accessed May 18, 2016
U.S. Senate, "U.S. Senate Roll Call Votes 110th Congress - 1st Session," Oct. 24, 2007
McCain.Senate.gov, "Statement by Senator John McCain on the DREAM Act," Dec. 18, 2010
VoteSmart, "Comprehensive Immigration Reform Act of 2007 Floor Speech," May 25, 2007
Interview with Ann Kirkpatrick campaign spokesman D.B. Mitchell, May 18, 2016
Interview with John McCain campaign spokeswoman Lorna Romero, May 23, 2016
Browse the Truth-O-Meter
More by Anthony Cave
Support independent fact-checking.
Become a member!
In a world of wild talk and fake news, help us stand up for the facts.