Get PolitiFact in your inbox.
Says Hillary Clinton has "not answered a single question" about her immigration plan.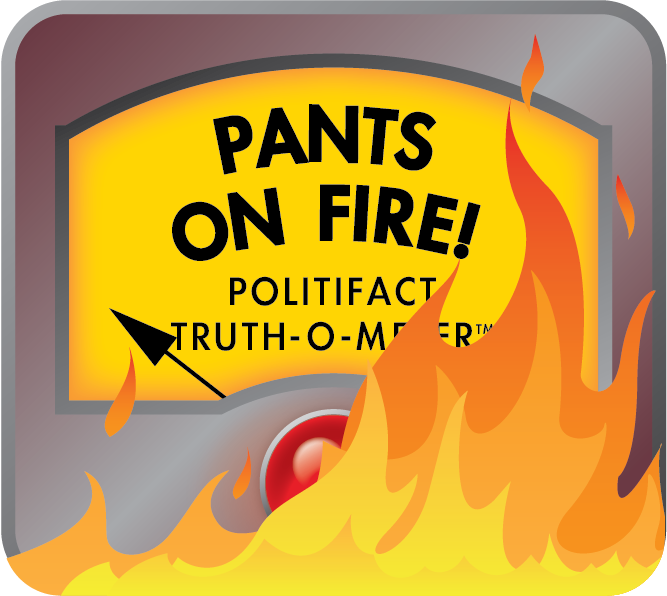 Donald Trump wrongly claims Hillary Clinton has not talked immigration
Donald Trump unveiled a 10-step plan in Phoenix to fix what he called a "broken" immigration system.
Besides calling for an "ideological certification" of undocumented immigrants seeking citizenship, he used the platform on Aug. 31 to attack Democratic rival Hillary Clinton on immigration.
"Now that you've heard about Hillary Clinton's plan, about which she has not answered a single question, let me tell you about my plan," Trump said.
This is not the first time Trump has taken a jab at Clinton's responsiveness.
He said in an Aug. 30 e-mail that Clinton has not had a press conference in 269 days. The former secretary of state did speak at a minority journalists convention in August, but that does not account for her dedicated press corps, so we rated Trump's claim Mostly True. (After our fact-check appeared, Hillary Clinton did hold one, and arguably several, events that would qualify as press conferences.)
But we were curious -- has Clinton failed to address immigration when asked about it?
Multiple instances
We did not hear back from Trump's press office, but we found several instances in which Clinton answered questions about how she would handle immigration as commander in chief.
Clinton spokesman Josh Schwerin provided us with multiple examples, the most recent being a Q&A during the minority journalists convention.
Clinton's first question at the event, according to Time Magazine's transcript, was about immigration.
Lori Montenegro, National Correspondent for Telemundo, asked Clinton to "walk us through" the steps of how she planned to achieve her well-known promise of proposing an immigration bill in her first 100 days as president.
"How will you get immigration reform, something that President Obama was not able to do," Montenegro asked, "so that Latinos can believe that something is going to happen, that their vote, again, is not being taken for granted considering that the House, at least the House, will remain under Republican control?"
Clinton's answer was, essentially, that she hoped the Democrats retake the Senate and force the House to vote on a bipartisan bill.
"I want this to be a clear, high priority for my administration. We will be prepared to introduce legislation as quickly as we can do so," Clinton said. "I am hoping that the outcome of the election, which I am working hard to ensure a victory, will send a clear message to our Republican friends that it's time for them to quit standing in the way of immigration reform."
That example alone is enough to disprove Trump's claim. But we found more examples of Clinton explaining her immigration position in interviews and debates.
During a March Democratic primary debate in Miami with Vermont Sen. Bernie Sanders, Univision's Jorge Ramos repeatedly asked Clinton whether she would deport certain types of undocumented immigrants. From the transcript:
Ramos: "So you will stop those deportations."
Clinton: "I would stop…"
Ramos: "The deportations for children…"
Clinton: "Yes."
Ramos: "... and those who don't have a criminal record."
Clinton: "Of the people, the undocumented people living in our country, I do not want to see them deported. I want to see them on a path to citizenship. That is exactly what I will do."
Clinton also sat down with Vox editor Ezra Klein in June. He asked her several questions on immigration, including whether more documented immigrants would help America's economy.
"I think we have to look at all of these issues -- comprehensive immigration reform with a path to citizenship would deal with a lot of these concerns, not just the 11 million people here: how we would regularize them, what kind of steps they'd have to go through," Clinton said. "Because I believe they do have to meet certain standards if they're going to be on a path to citizenship."
Clinton also took some media questions when she visited the Jackson Diner, an Indian buffet in the immigrant-heavy Jackson Heights neighborhood of Queens, N.Y., on April 4, 2016. A transcript can be found here.
And, there are several examples dating back to last year, including a October 2015 interview with Telemundo in which Clinton told María Celeste Arrarás about a 100-day timeline to review immigration.
"I want to see comprehensive immigration reform.  And I'm going to do everything I can as soon as I get into office to push on that," Clinton said.
We have written about Clinton's immigration plan previously. It calls for encouraging immigrants to become citizens, changing detention policies and using legislation to create a path to citizenship for the undocumented population.
Our ruling
Trump said Clinton has "not answered a single question" about her immigration plan.
We quickly found several instances of Clinton answering multiple questions about her immigration plan. Trump's claim is ridiculous and unfounded.
We rate it Pants on Fire!
https://www.sharethefacts.co/share/a8442017-8c71-4a56-b3f6-4313e6db605c
ABC15, "VIDEO RECAP: Giuliani, Ducey, Arpaio, Mike Pence and Donald Trump speak in Phoenix," Aug. 31, 2016
PolitiFact, "Has Hillary Clinton not had a press conference in 269 days?", Aug. 31, 2016
PolitiFact, "Compare the candidates: Clinton vs. Trump on immigration," July 15, 2016
The Washington Post, "Transcript: The Post-Univision Democratic debate, annotated," March 9, 2016
TIME Magazine, "Read Hillary Clinton's Q&A at a journalism conference," Aug. 5, 2016
Vox, "Hillary Clinton: The Vox conversation," accessed Sept. 1, 2016
NBCUniversal, "Telemundo News' Airs Exclusive Interview with Hillary Clinton," Oct. 5, 2015
Interview with Clinton spokesman Josh Schwerin, Sept. 6, 2016
Browse the Truth-O-Meter
More by Anthony Cave
Support independent fact-checking.
Become a member!
In a world of wild talk and fake news, help us stand up for the facts.