Stand up for the facts!
Our only agenda is to publish the truth so you can be an informed participant in democracy.
We need your help.
I would like to contribute
There was "serious voter fraud" in California.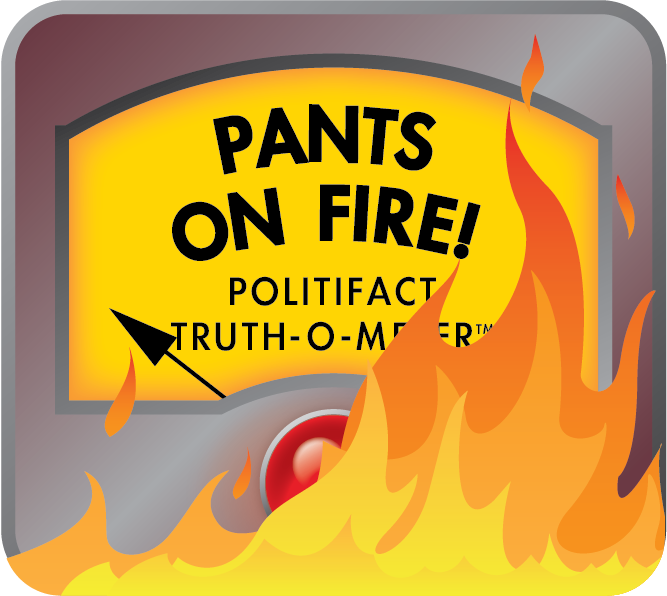 Pants On Fire for Trump's claim about 'serious voter fraud' in California
Grabbing the attention of the Golden State, President-Elect Donald Trump claimed in a recent tweet there was "serious voter fraud" in three states won by Hillary Clinton during the General Election, including California.
Here's his tweet:
Trump made this claim on Sunday during a flood of tweets about voter fraud. The president-elect also said he would have won the popular vote if not for "the millions of people who voted illegally." PolitiFact national examined that claim and rated it Pants on Fire.
We decided to fact-check Trump's eye-opening claim about "serious voter fraud" in California.
Our research
Trump offered no evidence about California voter fraud in his series of tweets.
On Monday, Trump spokesman Jason Miller cited a national study done by the Pew Research Center showing that approximately 24 million voter registrations in the United States are no longer valid or inaccurate. However, no one from Trump's office has shown evidence of "serious voter fraud" in California.
Trump may be drawing on an unsupported claim that 3 million "illegal aliens" cast votes in this year's election. That allegation was made on Twitter by Gregg Phillips, who has worked for the Republican Party and has a voter fraud reporting app.
PolitiFact reported that Phillips has not released any corroborating evidence and noted that public information undermines his statement. It rated his claim False.
On Nov. 8 in California, there were reports of election glitches, such as the wrong names being placed on some absentee ballots and long lines at some polling places.
But state and local election officials, along with independent observers, say there have been no reports of widespread voter fraud in the state.
"His allegations are completely unfounded," California Secretary of State Alex Padilla said in an interview. "I think it's a big disservice to our country and to our democracy to continue to raise these doubts. If anything, a message back to Mr. Trump is, if you have proof, if you have evidence, please bring it forward. Procedures are in place to investigate any real voter fraud. But as the evidence has shown, the cases of voter fraud across the country are statistically minimal if you go back decades."
Padilla's office could not immediately say how many voter fraud complaints it's received for this and past general elections.
Hillary Clinton held a 3.9 million vote lead over Trump as of Nov. 28, a margin that's grown substantially as California continues to count the state's many absentee ballots.
'Broad brush allegations'
Dean Logan, president of the California Association of Clerks and Election Officials and the top elections official in Los Angeles County, said in a statement responding to Trump's tweets, that the state has "a history of accurate and accountable elections."
Logan described Trump's voter fraud claims as "broad brush allegations."
Logan added in an email to PolitiFact California that: "Quantifying complaints or allegations of voter fraud is not a specific data set that we track.  That alone probably gives you a sense of the frequency, but there is no indication that the rate of concern on this issue was higher in this election cycle than in any other."
He added that there are legal avenues for challenging a voter's eligibility. But none were used before or after the election, he said.
"And I think that sort of goes to the point that there's nothing to back up those allegations," Logan said.
Sacramento County's Assistant Registrar of Voters Alice Jarboe said of the more than 530,000 county voters that turned out on Election Day, none has made a complaint about voter fraud.
Jarboe, who's worked at the department for 18 years, said no complaints are "the norm" for elections in her county.
"I've never seen anything (related to voter fraud) that would affect the outcome of an election -- ever," she added.
Kim Alexander, president of the California Voter Foundation, a nonprofit voter advocacy group, said she's not seen evidence of serious voter fraud.
"No system is perfect -- people do make mistakes," Alexander said.
She added, however, that California's voter verification laws are among the most robust in the country. Each county, she noted, is automatically required to perform a recount a fraction of its ballots by hand.
The state also prohibits paperless electronic voting, a type of voting that makes audits nearly impossible, she said.
Trump's unsupported claim about voter fraud in California may also draw on misinformation about two recent state laws: AB 60, which allows undocumented immigrants to obtain state driver's licenses; and the New Motor Voter Act, which by mid-2017 will automatically register citizens to vote when they obtain or renew a driver's license.
The automatic registration only applies to citizens who are already eligible to vote, not to undocumented immigrants. Padilla, California's secretary of state, has said the new system would require potential voters to show identification such as a birth certificate or passport to reflect their citizenship before they are registered.
California voters, in most cases, are not required to show identification at their polling places.
Our ruling
Donald Trump claimed "serious voter fraud" took place on Election Day in California. He offered no evidence backing up his statement and his press team did not respond specifically to a request about fraud in the state.
Elections officials and nonpartisan observers in California said there were no widespread reports of voter fraud. The state has some of the most stringent voter verification laws in the country. Allegations of fraud are so rare that Los Angeles County, the state's largest county, does not track them.
PolitiFact New Hampshire examined Trump's claim that the Granite State also experienced "serious voter fraud." It described Trump's statement as "reckless claim with zero evidence," and rated it Pants On Fire after finding  there were "no complaints of voter fraud filed in an election in which more than 728,000 ballots were cast."
Trump's claim about California voter fraud is equally reckless and without substantiation.
We rate it Pants on Fire.
---
PANTS ON FIRE – The statement is not accurate and makes a ridiculous claim.
Click here for more on the six PolitiFact ratings and how we select facts to check.
https://www.sharethefacts.co/share/212609ba-7a41-42a0-bb8a-2368e2b5121e
Donald Trump, Twitter post, Nov. 27, 2016
Interview, Alex Padilla, California Secretary of State, Nov. 28, 2016
Interview, Alice Jarboe, Sacramento County Assistant Registrar of Voters, Nov. 28, 2016
Interview, Dean Logan, president of the California Association of Clerks and Election Officials, Nov. 28, 2016
Interview, Kim Alexander, president of the California Voter Foundation, Nov. 28, 2016
Pew Center on the States, "Inaccurate, Costly, and Inefficient, Evidence That America's Voter Registration System Needs an Upgrade," February 2012
Los Angeles Times, Donald Trump alleges widespread voter fraud in California. There's no evidence to back it up, Nov. 27, 2016
Snopes.com, License to Vote, Feb. 22, 2016
Huffington Post, Jerry Brown Signs Automatic Voter Registration In California, Oct. 12, 2015
PolitiFact New Hampshire, Trump claims "serious voter fraud" in New Hampshire, Nov. 28, 2016
PolitiFact, Donald Trump's Pants on Fire claim that millions of illegal votes cost him popular vote victory, Nov. 28, 2016
Browse the Truth-O-Meter
More by Chris Nichols
Support independent fact-checking.
Become a member!
In a world of wild talk and fake news, help us stand up for the facts.