Get PolitiFact in your inbox.
"Several elected state officials have opened their homes to children in need of loving families."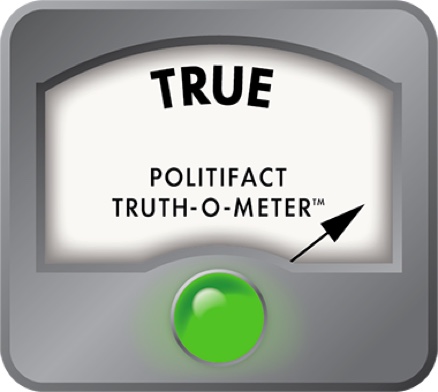 Dan Patrick, calling for more foster parents, says state elected officials 'have opened their homes'
News reports show a persistent crisis at Texas' Child Protective Services, where investigators missed a key deadline to meet with thousands of at-risk kids and dozens of children are sleeping in state offices due to a foster parent shortage.
For his part, Lt. Gov. Dan Patrick -- who has not been an adoptive or foster parent, according to spokesman Keith Elkins -- called on the state's "many faith-based communities" in advance of November's National Adoption Month to "help identify homes open to children in need of foster care."
"Thousands of children in Texas' foster care system need your help," Patrick said in an Oct. 17, 2016, press release. "They need safe and loving homes, and many are looking for a forever home."
Patrick went on: "Several elected state officials have opened their homes to children in need of loving families and are working with me to inspire a statewide movement to answer this calling. I hope you and your family will consider doing the same."
Have elected officials been providing foster care to needy children? A reader asked us to check.
To our inquiry, Elkins gave us the names of five Republican elected officials who had each videotaped a testimonial about her or his "adoption/foster experience."
We watched one video, uploaded to YouTube Oct. 14, 2016, that shows state Sen. Konni Burton, R-Colleyville, talking about her adoption of two girls. "My husband and I are adoptive parents," she says in the video. "They were fostered by wonderful, loving families who opened their homes to care for them before joining our forever family."
Elkins said the video rotation began Oct. 10, 2016 and others would roll out each Monday for several weeks.
Next, we looked for independent confirmation that the officials identified by Patrick's office — several legislators and a statewide elected leader — had fostered or adopted children. In each instance, we found, the official had adopted one child or more. It looked to us like two of the officials provided foster care before adopting.
What we found:
Railroad Commissioner Christi Craddick adopted her daughter Catherine, according to a January 2015 profile in SHALE Oil & Gas Business magazine. In a March 2014 video in which she talked about the experience, Craddick, a single mother, said her daughter was 2 years old and that Craddick became an adoptive parent during her 2012 campaign.

State Sen. Konni Burton of Colleyville years ago adopted two daughters, who were both adults as of October 2016, from the Gladney Center for Adoption in Fort Worth, according to an October 2016 YouTube video in which Burton speaks about the experience. She has not been a foster mother, Burton told us by text.

Sen. Donna Campbell of New Braunfels, was described as the adoptive parent of four children in a May 2015 Austin American-Statesman news story. She hasn't been a foster parent, Krista Heiden in Campbell's office told us.

State Rep. James Frank of Wichita Falls, has adopted two boys, Eli and Isaiah, in 2016, per an Oct. 5, 2016, post on Frank's Facebook page. He was a foster parent, an aide to the representative, Jim Johnson, said by phone.

Rep. John Lujan of San Antonio, is the adoptive father of three sons, including one he and his wife adopted in 2012 after years of foster care and two other children who they adopted in 2015 after about a year of foster care. Lujan told us by phone that in spring 2016, he served as a foster parent to three other children.
Wondering if other state officials had provided foster care or adopted children, we queried the Texas Department of Family and Protective Services. In reply, spokesman Patrick Crimmins said by email that due to privacy concerns, the agency could not discuss such details.
For years, CPS has struggled to find homes for approximately 29,000 children needing foster care, according to an Oct. 7, 2016, Austin American-Statesman news story. Also, as of October 2016, 6,388 children in Texas foster care were eligible for adoption, DFPS spokesman John Lennan told us by phone.
To be a foster or adoptive parent, Texans must attend an informational meeting and meet basic requirements, such as being at least 21 years old, agree to a home study, and allow for a criminal background check. More information has been posted by the state-created Texas Adoption Resource Exchange.
According to the website, foster families are offered monthly reimbursements to help pay for each foster child's clothing, food and transportation, paid from a combination of local, state, and federal funds. The site states that foster parents must inform caseworkers, who visit with the child at least once a month, about changes at home or school. Foster parents also must "make efforts as team members with children's caseworkers toward reunifying children with their birth families," it reads.
Our ruling
Patrick, calling for help finding families able to provide foster care, said: "Several elected state officials have opened their homes to children in need of loving families."
Five Republican elected officials singled out by Patrick's office have all adopted at least one child. Two also provided foster care, leaving plenty of opportunities for other elected leaders to consider such a commitment.
We rate this statement True.
---
TRUE
– The statement is accurate and there's nothing significant missing. Click here for
more
on the six PolitiFact ratings and how we select facts to check.
https://www.sharethefacts.co/share/23c3081f-e1d1-4985-befd-974c63da2b12
Press release, Lt. Governor unveils faith-based initiative on foster care children, Office of the Lt. Gov., Oct. 17, 2016
Email, Keith Elkins, communications director, Office of the Lieutenant Governor of Texas, Oct. 19, 2016
Email, Patrick Crimmins, media relations manager, Texas Department of Family and Protective Services, Oct. 25, 2016
News stories, Austin American-Statesman, "Texas CPS workers miss key deadline in 14,000 child abuse cases," Oct. 4, 2016; "Safety concerns arise as more Texas foster kids sleep in state offices," Oct. 7, 2016
News story, "Children sleeping in state offices due to foster parent shortage," KXAN.com, June 9, 2016
News story, "Abbott, lawmakers tell CPS to step up reform efforts," Houston Chronicle, Oct. 12, 2016
News story, "Texas investigators failed to check on thousands of at-risk children," The Texas Tribune, Oct. 4, 2016
Website, Faith Leaders Summit: Supporting Children and Sustaining Families, Texas Department of Family and Protective Services, last updated Oct. 10, 2016 (accessed Oct. 25, 2016)
Browse the Truth-O-Meter
More by Bobby Cervantes
Support independent fact-checking.
Become a member!
In a world of wild talk and fake news, help us stand up for the facts.