Stand up for the facts!
Our only agenda is to publish the truth so you can be an informed participant in democracy.
We need your help.
I would like to contribute
"As the election tracker FiveThirtyEight has reported, whoever wins Pennsylvania will be our next President."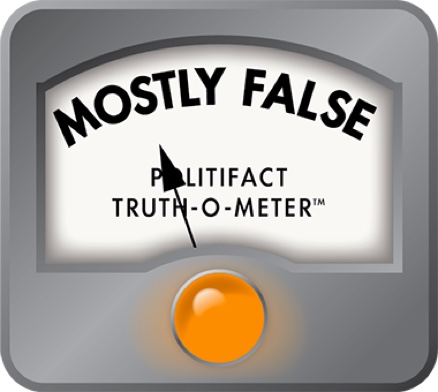 Does Pennsylvania really have the power to decide the president?
Every election, pundits and politicians alike harp on the importance of battleground states, those pockets of uncertainty within the country where less-predictable voting patterns make the outcome a bigger priority for candidates. In 2016, Pennsylvania is one of them. But do voters here bear ultimate responsibility for who is next Commander in Chief?
An August 29 fundraising email from Republican Party of Pennsylvania Chairman Rob Gleason says yes. Because a new poll (not cited) showed Donald Trump to be "within striking distance" of Hillary Clinton, according to the email, now was a time to donate because FiveThirtyEight reported that the winner of Pennsylvania would win the election.
The last statement bears a closer examination. Nate Silver's nationally-renowned prognostication site FiveThirtyEight reports all kinds of statistical analysis in order to predict elections (and it's gotten the last two right.) Naturally, with Pennsylvania as a battleground state, FiveThirtyEight has done a fair bit of reporting on its possible outcomes, as well as how much power it actually could have.
The way FiveThirtyEight figures this out is by determining states' "tipping power" ― that is, the probability that Pennsylvania, for example, will provide the deciding electoral college vote. This is determined by organizing states from most likely to least likely to vote Republican, or the same for Democrats, and finding which state will provide which candidate the 270th electoral vote needed to win (the majority of the 538 available electoral votes.)
Naturally, the dialogue has evolved as the election has gotten closer, and so FiveThirtyEight's certainty in predicting Pennsylvania to be that state with the most tipping power has also varied. In recent elections, the states that have always been the most contested were Ohio, Florida, North Carolina or Michigan. Pennsylvania is so hotly debated this year because its voting patterns have become increasingly split ― even though the Philadelphia metro area and its suburbs form a pretty solid blue voting bloc, Western Pennsylvania and other parts of the state have trended more Republican in recent elections.
When asked for comment, Aaron Bycoffe pointed us to a May article about the topic, but again, the headline reads "Why Pennsylvania Could Decide The 2016 Election." Could. Not will. And that's an important difference.
FiveThirtyEight has dedicated plenty of coverage this year to analyzing Pennsylvania's importance, and the site also has a regularly updated election tracker that includes a list ranking the states with the most tipping power. Currently, Pennsylvania is listed second only to Florida, but the advantage the latter has is 5.7 percentage points, which is a pretty commanding lead compared to the margins of difference between, say, Pennsylvania and the third-likely state, Ohio. Pennsylvania is edging out Ohio in tipping power by just 0.5 percent. Those numbers all still have plenty of time to change before the November election.
When asked to clarify the claim, the Pennsylvania GOP referred to the reports that have most confidently handed Pennsylvania tipping power. Rather than numbers, they've mostly been commentary from staff, like this chat between several editors and a senior politics writer, a couple of whom answer Pennsylvania to the final question of which state will tip the election. Dave Wasserman, who writes for the Cook Political Report, also penned a piece touting the importance of the state and its increased likelihood to determine the winner. But the staff chat was in early June, and Wasserman published his piece in May. The election tracker is updated at least daily.
 
Our ruling
It's true that at various points in its coverage, FiveThirtyEight strongly emphasized Pennsylvania's potential to be the deciding vote. However, saying that it flat-out declared the Pennsylvania winner the automatic winner of the presidency is still misleading. For one thing, FiveThirtyEight itself reports predictive statistical analysis ― which is never going to produce such a definitive answer about a swing state's power. FiveThirtyEight also makes a point of explaining in its election forecast user guide that fluctuations in polling data, which it uses to determine things like tipping power, have more meaning later in the election. So any shifts in the polls (which, given Donald Trump's lack of predictability as a candidate, are not impossible in this election) could rearrange where that tipping power resides.
It's an effective strategy to stress the importance of a state's electoral votes in order to get donations and constituencies to vote, but even that should be accurately represented. FiveThirtyEight's actual election tracker still leaves ambiguity as to Pennsylvania's ultimate tipping power.
We rate this claim Mostly False.
Fundraising email, Rob Gleason, chairman, Republican Party of Pennsylvania, August 29, 2016
Email, Megan Sweeney, communications director, Republican Party of Pennsylvania, August 30, 2016
Email, Aaron Bycoffe, computational journalist, FiveThirtyEight, August 30, 2016
FiveThirtyEight, "Why Pennsylvania Could Decide The 2016 Election," May 17, 2016,
FiveThirtyEight, "Can Trump And Clinton Transform The Electoral Map?," June 14, 2016,
FiveThirtyEight, "The Clinton Campaign Seems To Think Pennsylvania Is In The Bag," June 22, 2016
FiveThirtyEight "2016 Election Forecast," Accessed August 30, 2016
FiveThirtyEight, "A User's Guide To FiveThirtyEight's 2016 General Election Forecast," June 29, 2016
Browse the Truth-O-Meter
More by Kaylee Tornay
Support independent fact-checking.
Become a member!
In a world of wild talk and fake news, help us stand up for the facts.