Get PolitiFact in your inbox.
Says eight Americans died in a knife attack at a Minnesota mall.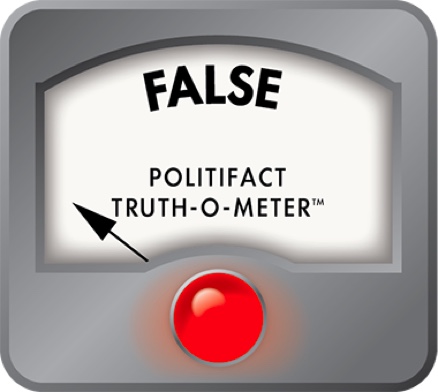 Former Rep. Tancredo incorrectly says eight Americans died in knife attack at Minnesota mall
In a fundraising email for a "Secure Our Borders Gun Giveaway," former Colorado Rep. Tom Tancredo's PAC incorrectly said eight people died in a knife attack at a Minnesota.
Tancredo, a Republican who represented the 6th Congressional District from 1999 to 2009, is known for his hard-line crusade against illegal immigration and provocative comments.
Fortunately, none of the 10 people who were injured died in the Sept. 17 attack at the Crossroads Center mall in St. Cloud. All the victims -- including seven men, one woman and a 15-year-old girl -- have been released from the hospital, the Associated Press reported.    
The only person who was killed was the suspected attacker, a young Somali man dressed as a private security guard, who was shot by an off-duty police officer.
A Sept. 19 fundraising email promoting Team America PAC's gun giveaway quoted Tancredo, the group's founder and president, saying: "I mentioned that we live in dangerous times -- and the events of this week only remind us of that fact once more."
"The threat of radical Islam is higher than ever as the nation mourns the death of eight Americans at the hands of a Somalian refugee in Minnesota," the email inaccurately stated.  
"With these continued threats it's important that we do everything in our power to defend ourselves and our families," Tancredo said. "….I can think of no better way to defend yourself and your family than with an H&K P2000, the same gun used by Border Patrol agents."
The email linked to a Team America PAC website where people could enter the "Gun Giveaway" sweepstakes for the .40-caliber Heckler & Koch handgun.
A Tancredo statement on the contest page said it's being held to "To encourage Americans to elect candidates for office who will work to secure our border."
"After you sign up for the giveaway, please consider making a donation of $100, $50, $25 or even $10," Tacredo said. "We can only continue the fight to secure our borders with your help!"
When PolitiFact partner Denver7 notified Tancredo of the factual error in its fundraising email, he said he was aware of the error and issued this correction to PolitiFact and Denver7:
"My email earlier this morning inaccurately portrayed that the attacks in Minnesota led to innocent deaths and not simply the death of the perpetrator.
"Despite that error, the email was correct in stating that these truly are troubling times, a fact furthered by the shootout and arrest of the Afghani bombing suspect in New Jersey just moments ago.
"Please read the email below for more information regarding how you can protect yourself and your family in the face of these attacks by entering Team America PAC's gun giveaway. I apologize for any confusion with the last email."
In an interview, Tancredo told PolitiFact the PAC's two-man staff had made "apologies all the way around" for the error. "It's my fault too because I should have proofed it," he added.
Our ruling
Tancredo's PAC said that "the threat of radical Islam is higher than ever as the nation mourns the death of eight Americans at the hands of a Somalian refugee in Minnesota."  
He acknowledged the statement was incorrect and issued a correction. People were injured in the attack, but no one died.
We rate the claim False.
https://www.sharethefacts.co/share/b24a9f25-b836-47f7-a984-374f524f8058
Interview with Tom Tancredo on September 19, 2016
Associated Press, "Minnesota mall stabbing's potential terrorism raises fears," September 19, 2016
Associated Press, "Family of Mall Stabbing Suspect 'Devastated,'" September 19, 2016
Denver Post, "Tancredo: Threats on Islam sites could deter terrorists," August 2, 2007
CNN, "Tancredo: Threaten to bomb Muslim holy sites in retaliation," August 4th, 2007
Browse the Truth-O-Meter
More by Alan Gathright
Support independent fact-checking.
Become a member!
In a world of wild talk and fake news, help us stand up for the facts.