Get PolitiFact in your inbox.
Says Neil Gorsuch "comes down on the side of felons over gun safety."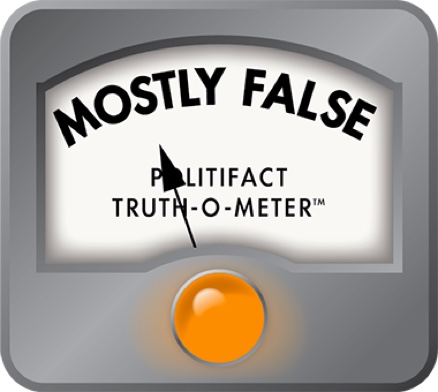 Does Neil Gorsuch side with 'felons over gun safety,' as Pelosi says?
President Donald Trump's Supreme Court nominee favors felons over gun safety, says House Minority Leader Nancy Pelosi, D-Calif.
Pelosi said nominee Neil Gorsuch has ruled against liberal positions on a litany of issues like employee rights, food and water safety, reproductive rights and guns. Gorsuch is a conservative federal judge for the 10th Circuit Court of Appeals, based in Denver.
"If you care about that for your children, he's not your guy," Pelosi said during a Jan. 31 town hall on CNN. "(Former Democratic Rep.) Gabby Giffords' group, the group for responsible solutions relating to gun safety, said that he comes down on the side of felons over gun safety."
Pelosi's claim that Gorsuch "comes down on the side of felons over gun safety" caught our attention. Her office sent us a press release that Giffords' gun control advocacy group, Americans for Responsible Solutions, put out along with the Law Center to Prevent Gun Violence.
"In his time on the 10th Circuit, (Gorsuch) made repeated efforts to weaken the federal law that's prohibited felons from possessing guns for the past 50 years, a law that has saved thousands of lives and enjoys near-unanimous support among Americans and elected officials on both sides of the aisle," wrote Robyn Thomas, the law center's executive director.
It's fair to assume that Gorsuch takes a right-leaning approach to the Second Amendment; the National Rifle Association supports him. But it's misleading to say Gorsuch's past rulings demonstrate that he thinks more felons should be allowed guns than what is already permitted under the law.
Games-Perez
The primary case in question is United States vs. Games-Perez. The defendant, Miguel Games-Perez, was a convicted felon, and he possessed a gun — an apparent violation of the federal law that bans felons from knowingly possessing guns. (Remember the word "knowingly.")
Games-Perez, however, wanted to make the case that he shouldn't be convicted for this offense because he didn't know he was a felon. He said that the state trial judge who ruled on the prior crime (the felony) repeatedly suggested to Games-Perez that he wasn't being convicted of a felony but instead a lesser charge.
In line with precedent, the 10th Circuit denied Games-Perez's request. But Gorsuch disagreed.
Gorsuch said he believes the federal law is written in such a way that a defendant must have both knowledge of being a felon and knowledge of possessing a gun in order to be convicted. Thus, Games-Perez should have the opportunity to make his case in court. If it's decided that Games-Perez really didn't know he was a felon, he shouldn't go to prison on this charge.
The upshot is that Gorsuch's opinion did not say felons should be allowed guns or that the law violates the Second Amendment. It said a defendant who didn't know he was breaking the law should have the chance to make his case in court instead of going straight to prison. He did, though, make the point that this is especially important in this case because possessing a gun is a constitutionally protected right.
While this case has a gun component, Pelosi's claim has it "quite backwards because I don't think Gorsuch's opinion is about guns. For him, it's about treating people fairly before sending them to prison," said Eric Citron, a partner at Goldstein & Russell who profiled Gorsuch for SCOTUSblog, and a self-described liberal.
In theory, if courts adopted Gorsuch's interpretation of this law, it could marginally weaken the federal law because some people charged with possessing a gun as a felon might successfully convince a jury they didn't know they were felons and thus not go to prison for that offense.  But it doesn't change the fact that felons are not allowed to possess guns, and people generally know whether they've been convicted of a felony.
Adam Skaggs, litigation director for the Law Center to Prevent Gun Violence, emphasized the fact that Gorsuch's reading of the statute deviated from the majority of justices on the panel, as well as other federal courts.
And if Gorsuch's opinion were to be adopted, "The immediate effect is to create the possibility that this guy would be back on the street," Skaggs said.
Reese
Gorsuch's 2014 decision in United States vs. Reese has also been cited against Gorsuch. But it takes a tremendous leap of logic to view this decision as an attempt to rethink the federal ban on gun possession by felons.
In this case, a court had convicted defendant James Reese of being a felon in possession of a firearm. But Reese appealed the decision to the 10th Circuit and won because the state of New Mexico had restored his civil rights. If a felon's civil rights have been restored under state law — including the right to vote, serve on a jury, hold public office and own firearms under state law — federal law allows the felon to legally own a gun.
The 10th Circuit's decision was uncontroversial. The opinion was unanimous and written in just 300 words. Even the government attorneys who brought the original charges conceded "that Mr. Reese's federal firearms conviction is unsustainable."
Had the court come to a different conclusion, it would have been "appalling," said Eugene Volokh, a professor at the University of California, Los Angeles, School of Law, who clerked on the Supreme Court with Gorsuch.
Pope
We won't spend much time on this third case, United States vs. Pope. We wanted to note, though, that here, Gorsuch had the opportunity to address the question: Is there a situation in which the federal ban on gun possession by people with domestic violence convictions is unconstitutional?
Here, he intentionally chose not to answer the constitutional question. Instead, he relied on procedural rules to affirm a grand jury's decision to charge the defendant, convicted of domestic abuse, with violating the federal ban.
Rule of law
Volokh and Citron both noted a touch of irony: In both Games-Perez and Reese, Gorsuch advocated in favor of a big-picture principle generally associated with liberals more so than conservatives: defending the rights of criminal defendants.
This is an area where the late Justice Antonin Scalia, whose seat Gorsuch might fill, found common ground with liberals, too.
"This is a standard liberal position historically," Volokh said. "It's a standard rule-of-law conservative position, as well. The criticism of (Gorsuch) for this is misplaced."
Skaggs sees it differently. He said Gorsuch is willing to "bend over backwards" to make rulings outside the mainstream opinion on the law banning felons from owning guns, noting that it's important to consider whether Gorsuch would advocate for criminal defendants' rights in the same manner in cases that don't involve guns.
Our ruling
Pelosi said Gorsuch "comes down on the side of felons over gun safety."
There's one case, Games-Perez, where Gorsuch wouldn't immediately send the defendant, a felon, to prison for having a gun, despite the federal ban on felons possessing guns. But Gorsuch's reasoning wasn't about whether the law infringed on the defendant's Second Amendment rights. Instead, he thought the law allowed the defendant an opportunity to make the case in court that the he didn't know he was a felon.
Two other cases that came up in our research, Pope and Reese, turned out to be irrelevant.
Pelosi's statement contains an element of truth but ignores critical facts that would give a different impression. We rate it Mostly False.
https://www.sharethefacts.co/share/499b4c72-4a9d-4076-87de-deafa052455c
CQ, CNN town hall transcript, Jan. 31, 2017
Americans for Responsible Solutions and Law Center to Prevent Gun Violence, joint press release, Jan. 31, 2017
Everytown for Gun Safety and Moms Demand Action, joint press release, Feb. 1, 2017
U.S. Code, 18 U.S. Code § 922 - Unlawful acts, accessed Feb. 1, 2017
10th Circuit Court of Appeals, U.S. vs. Pope, July 23, 2010
10th Circuit Court of Appeals, U.S. vs. Games-Perez, Sept. 17, 2012
10th Circuit Court of Appeals, U.S. vs. Reese, May 23, 2014
SCOTUSblog, "Potential nominee profile: Neil Gorsuch," Jan. 13, 2017
NRA-ILA, "NRA Applauds Neil Gorsuch's Nomination to the U.S. Supreme Court," Jan. 31, 2017
McClatchy, "Here are Trump Supreme Court nominee Neil Gorsuch's most interesting decisions," Jan. 31, 2017
Slate, "Unlike Trump, Neil Gorsuch Has Shown Flickers of Humanity on Criminal Justice Issues," Jan. 31, 2017
Phone interview, Law Center to Prevent Gun Violence Litigation Director Adam Skaggs, Feb. 2, 2017
Phone interview, Goldstein & Russell partner Eric Citron, Feb. 1, 2017
Phone interview, UCLA law professor Eugene Volokh, Feb. 1, 2017
Emails, Pelosi spokesman Drew Hammill, Feb. 1, 2017
Browse the Truth-O-Meter
More by Lauren Carroll
Support independent fact-checking.
Become a member!
In a world of wild talk and fake news, help us stand up for the facts.