Stand up for the facts!
Our only agenda is to publish the truth so you can be an informed participant in democracy.
We need your help.
I would like to contribute
"If you're in Texas, you have got to drive 120 miles to get an ID."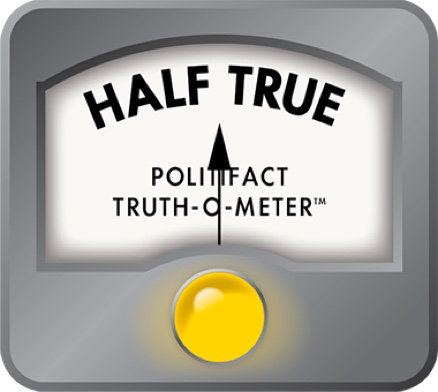 In Texas, do you have to drive 120 miles for a voter ID?
During a CNN debate among candidates to chair the Democratic National Committee, Tom Perez -- a leading candidate who served as secretary of labor and assistant attorney general for civil rights under President Barack Obama -- emphasized the importance of protecting voting rights.
Perez cited efforts, typically led by Republicans, to require voters to show state-issued ID cards at the polls. Democrats say such policies suppress the vote. Republicans say they cut down on voter fraud.
"I've spent a substantial portion of my life doing these cases at (the) Department of Justice," Perez said at the debate. "Let me give you some facts and figures. We sued Texas, and we won. And we won, because over a 10-year period, 46 million votes were cast -- zero, count them, zero reported incidents of illegal noncitizen voting, two incidents of in-person voter fraud, (out of) 46 million votes cast. If we weren't on television I would call this a word that begins with a B. I will anyway. It's bunk. And you know what, it's bunk in every other case. And if you're in Texas, you have got to drive 120 miles to get an ID. If you're poor, that is a poll tax."
This includes a lot of different claims, but we will look at one aspect. Is it true that you have to drive 120 miles to get an acceptable ID in Texas?
The short answer: The vast majority of Texans don't. Residents of its big metropolitan areas like Dallas, Houston, San Antonio and Austin will certainly have a driver's license office much closer than that.
However, for a small percentage of the population, the trip could be that far, or even farther.
The source of the talking point
The statistic comes from testimony against Texas' voter ID law, which required voters to show certain forms of a government-issued ID.
The law, signed in 2011 by then-Gov. Rick Perry, required voters to show a valid government-issued photo ID, such as a Texas driver's license, Department of Public Safety identification card, state concealed handgun license, U.S. military ID or U.S. passport.
When the law was under attack, Texas state Sen. Carlos Uresti, a Democrat from San Antonio, testified that some of his constituents would have to drive up to 120 miles to secure a driver's license, the Houston Chronicle reported.
This bit of testimony appears to have been picked up by federal appellate judges in Washington, who ultimately issued a unanimous ruling striking down the law.
During oral arguments, U.S. Appeals Court Judge Robert L. Wilkins asked the attorney defending the law for the state whether the law would be a burden on people having to travel more than 100 miles for a driver's license. "How does that impact your argument?" Wilkins asked. "Isn't that unduly burdensome?"
John Hughes, the attorney for Texas, said rural Texans are used to driving long distances, according to the Washington Post. "People who want to vote already have an ID or can easily get it," he told the judges.
But another judge on the panel, David S. Tatel, said, "The record tells us there is a subset of registered voters who lack ID. We have to think about the economic burden and the fact that minorities are disproportionately poor." He, too, cited the 120-mile drive statistic, the Post reported.
And the talking point made it into the ruling in which the appeals court struck down the law.
That said, the claim deserves some context.
Where would someone have to drive that far?
Uresti, the Texas state senator, had testified that the drive could be up to 120 miles for some Texans who live between San Antonio and El Paso -- basically, the lightly populated western portion of the state. So that's where we focused our attention.
We found one newspaper reader who contributed some thoughts on the law to the Dallas Morning News. Kirby Warnock, of the Dallas suburb of Oak Cliff, told the paper that he has family in the Big Bend region, a rural area of west Texas along the Rio Grande.
"If a person lives in tiny Imperial, or Terlingua, they have to get a friend or family member to drive them 60 miles and 120 miles respectively, round-trip, just to be able to vote," Warnock said.
So we looked at the situation in Terlingua. According to the Texas driver's license handbook, the closest driver's license office to Terlingua is in Alpine. According to Google Maps, that is 83.4 miles one way, or about 167 miles round trip. That's an even longer distance than Perez had said.
This shows that there's at least one place in Texas that would require more than a 120-mile round-trip journey. (Imperial, Texas, for the record, is only 30 miles from Fort Stockton, or a 60-mile round trip, as Warnock indicated.) It's also worth noting that the 9,145 people who live in Brewster County, Texas -- where Terlingua is located -- are 43 percent Hispanic, which is a bit higher than the state average.
Considering that there are no driver's license offices in 81 of the state's 254 counties, it's not hard to imagine that there are other locales beyond Terlingua for which a 120-mile round trip would be necessary to secure a driver's license.
How common would such a long trip be?
But just because a 120-mile drive is possible in Texas doesn't mean it's common. Most of its 27.5 million people live in metropolitan areas.
To get a handle on how many people might be impacted by long trips for a driver's license, we looked at the 81 smallest-population counties in the state.
As it turns out, the population of Texas's 81 least-populated counties is 343,823, or 1.3 percent of the overall state population. And it's likely that many of them already have a driver's license.
So the 120-mile threshold is a pretty extreme scenario that affects a tiny slice of Texas' population. That said, it's still possible that the law would be a burden for thousands of rural residents living far from a Department of Public Safety office.
Our ruling
Perez said, "If you're in Texas, you have got to drive 120 miles to get an ID."
He has some basis for this statement: The 120-mile figure did crop up in the court case against the law, and we found at least one example of a west Texas town for which the distance was actually even longer.
However, Perez not only failed to communicate just how rare this scenario is, but he didn't even use a basic qualifier like "some people in Texas." Taken literally, he said everyone in Texas has to drive 120 miles to get a license.
The statement is partially accurate but leaves out important details, so we rate it Half True.
CORRECTION, Feb, 27, 2017, 11 a.m.: After we published this article, several readers noted that there was a closer driver's license office to Terlingua than Fort Stockton -- the one in Alpine. We have changed the article to reflect this. We have not changed our rating.
https://www.sharethefacts.co/share/fd5bccc4-db1f-4a28-9f62-e4bbba9e2063
Tom Perez, remarks during the CNN debate between Democratic National Committee chair candidates, Feb. 22, 2017
U.S. Court of Appeals for the D.C. Circuit, ruling in State of Texas v. Eric Holder, Aug. 30, 2012
Texas Department of Public Safety, Texas Driver Handbook, accessed Feb. 24, 2017
U.S. Census Bureau, population facts for Texas and Brewster County, Texas, accessed Feb. 24, 2017
Texas State Library and Archives Commission, "Population Estimates for Texas Counties, 2010-2015: Arranged in Descending Order," accessed Feb. 24, 2017
Washington Post, "Texas tells court its voter ID law does not discriminate," July 13, 2012
Washington Times, "Tom Perez knocks down Trump's voter fraud claim as 'bunk,' " Feb. 22, 2017
Houston Chronicle, "Common sense Voter ID not always so common," Aug. 30, 2012
Time magazine, "Legal Challenges to Voter-ID Laws: Too Little, Too Late?," Sept. 4, 2012
Dallas Morning News, "Sounding Off: Best Southwest readers tell us what they think of the Texas voter ID law," October 2014
Houston Chronicle, "Federal judges reject Texas Voter ID law," Aug. 30, 2012
Browse the Truth-O-Meter
More by Louis Jacobson
Support independent fact-checking.
Become a member!
In a world of wild talk and fake news, help us stand up for the facts.