Stand up for the facts!
Our only agenda is to publish the truth so you can be an informed participant in democracy.
We need your help.
I would like to contribute
Obamacare "is in a death spiral."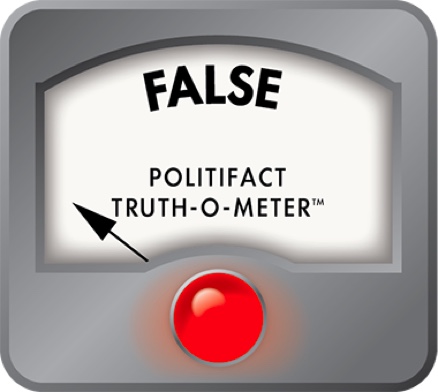 Is Obamacare in a 'death spiral'?
Republican leaders say they will table health care talks following the defeat of the House GOP to replace Obamacare. As House Speaker Paul Ryan put it, "Obamacare is the law of the land."
But some conservatives say that President Barack Obama's signature piece of legislation can't last much longer, regardless of whether Congress finds a legislative compromise.
"It is in a death spiral," conservative radio host Hugh Hewitt said March 26 on Meet the Press. "The New York Times yesterday pointed out that — the president of Aetna — that you will lose coverage in many places in America for everyone, and that to me is a death spiral for those people."
The idea that Obamacare is in a "death spiral" — a specific term used in the health insurance industry — is a claim that we've heard before. Experts say Hewitt is incorrect.
We reached out to Hewitt through his radio program but did not hear back.
Still no 'death spiral'
"Death spiral" is a health industry term built around three components:
Shrinking enrollment;

Healthy people leaving the system;

Rising premiums.
Specifically, a death spiral occurs when shrinking enrollment leads to a deteriorating risk pool (or when healthy people leave the plan due to the cost). That leads to higher premiums for the people remaining in the insurance pools, which causes enrollment to shrink even further, continuing the cycle until the entire system fails.
The latest government figures show enrollment in the Affordable Care Act is slightly down from last year. Through Jan. 31, 2017, some 12.2 million people were signed up for coverage through a federal or state marketplace, which is a decrease of 500,000, or 4 percent, from the same point last year.
Experts noted that marketplace sign-ups were running in line with their 2016 pace as of the middle of January, which experts said might suggest the decline in sign-ups was somehow related to the Trump administration, not an impending death spiral.
For example, the Trump administration decided to at least partially halt marketing and outreach encouraging people to sign up for health coverage.
But experts say the enrollment decline isn't an indication the health care law is in a death spiral. There is no direct connection, they said, showing that the declining enrollment is causing premiums to increase.
Why not? Because federal government subsidies in the form of tax credits are largely shielding customers from feeling the premium increase.
As we have reported, premiums are increasing. But that isn't affecting the cost for most consumers, due to built-in subsidies under the Affordable Care Act. The subsidies cap premium prices at a certain percentage of income for anyone below 400 percent of the federal poverty level (in 2016 that would be $47,520 for a single person).
Among the people who have signed up so far for 2017, 81 percent will receive a subsidy.
Data also shows no uptick in healthy people leaving the health insurance market.
The U.S. Centers for Medicare and Medicaid Services reports the share of people signing up for health care in the low-risk demographic — ages 18-34 — remains about the same in 2017 as it was in 2016, at 26 percent of enrollees.
"There is no data to indicate a drop in the number of younger enrolled, although the announced policy not to enforce the IRS penalty, if not reversed, could result in a decline over time," said John Rother, president and CEO of the National Coalition on Health Care.
Hewitt referred to a New York Times article that quotes the president of Aetna saying that in many places people will lose health care insurance.
We couldn't find that article, but a simple remark on how premiums are rising and insurers are leaving the marketplace is not enough evidence to meet the actuarial definition of a death spiral.
CBO, independent analysis: No death spiral
Others have also concluded that the Affordable Care Act is not in a death spiral. The nonpartisan Congressional Budget Office, as part of its recent analysis of the GOP legislation, described the Affordable Care Act as stable.
Matthew Fiedler, a fellow with the Center for Health Policy at the Brookings Institution, similarly concluded in a recent analysis that the Affordable Care Act is not in a death spiral.
Fiedler found that marketplace premium increases had little if any impact on health insurance sign-ups and that the impact on the individual market risk pool will more than likely be minor, despite the small decline in enrollment numbers.
"It therefore remains likely that insurers' individual market business will return to a roughly break-even or slightly profitable position in 2017, absent other policy changes," Fiedler wrote.
Our ruling
Hewitt said Obamacare is "in a death spiral."
That's a specific phrase that describes a process where health people leaving the insurance market causes insurance premiums to rise to the point that more healthy people leave the market. At some point, the system becomes unsustainable.
Experts say there is no evidence that cycle has started with Obamacare, because federal subsidies are keeping people from feeling the brunt of premium increases. The CBO and other independent analyses have found the health care system to be stable.
We rate this claim False.
Email, Paul Ginsburg, University of Southern California professor of the practice of health policy and management, March 26
Email interview, John Rother, president and CEO of the National Coalition on Health Care, March 26
Interview, Sherry Glied, dean of NYU's Graduate School of Public Service, March 26
Interview with Timothy Jost, a health-care policy expert at Washington & Lee law school, March 26
PolitiFact Wisconsin, "Paul Ryan wrongly claims actuaries have determined Obamacare is in a 'death spiral'," January 18
Centers for Medicare and Medicaid Services, "Final enrollment report: November 1, 2016 – January 31, 2017."
Browse the Truth-O-Meter
More by Allison Graves
Support independent fact-checking.
Become a member!
In a world of wild talk and fake news, help us stand up for the facts.