Stand up for the facts!
Our only agenda is to publish the truth so you can be an informed participant in democracy.
We need your help.
I would like to contribute
"Some of the safest communities in the United States are along the border."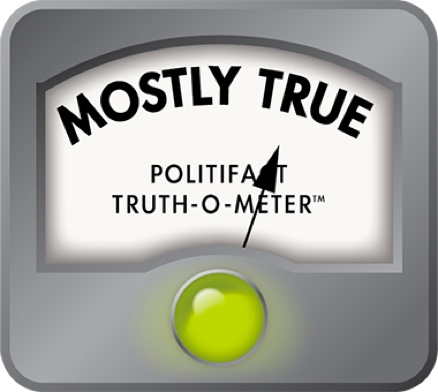 Jorge Ramos: Border communities some of the safest in the United States
Univision journalist Jorge Ramos said President Donald Trump's promised border wall is built on a false premise.
Ramos appeared on Fox News on May 12 and told Tucker Carlson that there is "no invasion" of immigrants coming illegally.
Ramos said the number of immigrants in the country illegally has been stable, at about 11 million, over the past half decade, and more Mexicans are leaving than coming to the United States (which we have rated True).
"You know, whatever we're doing at the border somehow is working. Some of the safest communities in the United States are along the border," Ramos said. "So, I don't think a wall is really going to help."
Studies show immigrants are less likely to commit crime than the native-born population, though the Trump administration often backs its tough stance against illegal immigration with claims that immigrants bring a wave of crime and threaten public safety.
We wanted to know if the border region has some of the country's safest communities, as Ramos claimed.
FBI data shows they have lower violent crime rates than other places (though the FBI has cautioned against making safety comparisons), and some local crime statistics show drops in crime in recent years.
One possible explanation: Border towns have a heavier presence of federal and local law enforcement.
The U.S.-Mexico region includes the four U.S. states of California, Arizona, New Mexico and Texas and six Mexican states.
Some estimates pin the population in the border region (from both Mexico and the United States) at more than 15 million people, as of 2015. Many of the residents live on one side of the border and work on the other, with likely 1 million legal border crossings daily.
Ramos has a point that these communities tend to be safe.
The most common kinds of crime are those that ail other poor communities, such as drinking and driving, and domestic violence, said Tony Payan, a fellow and director of the Mexico Center at the James A. Baker III Institute for Public Policy at Rice University.
"The murder rates, however, are indeed very low," Payan said.
He said it's very difficult to tell exactly why those communities don't have high levels of crime, but would not disregard as a deterrent the heavy presence of law enforcement.
"But it may also have to do with other issues like the crime levels among migrants," Payan said. "It is well known, contrary to what Mr. Trump may say, that crime among migrant communities is lower than that among natives. And those communities tend to have very high migrant communities and foreign-born populations."
When we asked Ramos about his comment, he pointed to reports in the Huffington Post and the Texas Tribune.
The April 2015 Huffington Post report quotes former U.S. Customs and Border Patrol Commissioner David Aguilar at a 2015 Border Security Expo event. Aguilar reportedly said that border communities are safer than the interior of each of the border states — as well as Washington, D.C. — and "violent crime is lesser along the border than it is in the interior."
Robert Harris, then a commander heading a joint task force for the Department of Homeland Security, told the Huffington Post that violence on the Mexican side of the border did not reach the United States sector because criminal groups were less organized in the United States.
The February 2016 Texas Tribune analysis offered some support for Ramos' statement.
The Tribune article said that based on state and federal data, violent crime rates in many border cities either remained the same or dropped between 2009 and 2014 -- setting them apart from larger cities in the state.
In Houston, for instance, the violent crime rate was at 991 crimes for every 100,000 residents, according to data from the FBI's Uniform Crime Reporting program.
The border cities of Laredo, El Paso, Edinburg and Brownsville recorded fewer than 400 crimes for every 100,000 residents, the Tribune said.
It's important to keep in mind that the FBI has warned against using its data to rank and compare the safety of communities, because such comparisons may neglect unique factors in each locale. CQ Press years ago ceased using the words "safest" and "dangerous" in its annual rankings of cities with the lowest and highest crime rate.
Our colleagues at PolitiFact Texas considered the FBI's cautionary note in a past fact-check of a claim that El Paso is the safest city in Texas and in the United States. PolitiFact Texas rated that claim Half True, because it was based on CQ Press' past lists and related news stories that labeled El Paso the safest. Also, the rankings did not factor in every Texas burg and did not account for differences in population density, PolitiFact Texas found.
(PolitiFact Texas analyzed crime in Texas in another fact-check in 2014, rating Half True a claim about less crime in the Rio Grande Valley than in other major Texas cities.)
In its report, the Tribune also noted that border communities have a large presence of local and federal law enforcement officers.
Ponce Treviño, Webb County Jail commander, told the news organization:
"You've got to understand, we're a border city so we have a lot of local law enforcement. You have Laredo (Police Department). You have Webb County Sheriff's Office. You've got the constables. Then you have the federal government here. You've got customs. You've got border patrol. You've got ICE. You have a big influx of law enforcement and there's officer presence, so that makes the crime rate a lot lower."
In 2011, the Austin American-Statesman analyzed all 14 counties sharing a border with Mexico and two dozen border cities. It found that between 2006 and 2010, violent crime on the U.S. side fell 3.3 percent. The combined number of murders in the 14 counties also dropped, from 97 in 2006 to 73 in 2010, according to the newspaper.
The newspaper said its data analysis did not paint a picture of "out-of-control chaos" at the border, although some areas did see a rise in crime.
"Violent crime increased in seven border counties, although those tended to be among the region's least populated, so a small number of incidents can have an outsize effect on rates," the Statesman reported. "Aggravated assaults, in particular, spiked in Starr County and the city of El Paso, the latter long held up as a paragon of border safety."
While violent crime overall decreased in the border, it "badly trailed" the more than 12 percent statewide decrease in that same timeframe, the newspaper found.
Our ruling
Ramos said, "Some of the safest communities in the United States are along the border."
Violent crime rates in some border communities are lower than in other parts of the United States, according to FBI data. The FBI has warned against using its crime rates to rank communities' safety because doing so overlooks other factors. Yet, local law enforcement officials have said crime is low in their border communities, and heavy federal and local law enforcement presence may be deterring crime in border communities. 
Overall, we rate Ramos' statement Mostly True.
Fox News, 'Why Do You Lock Your Doors?': Tucker Battles Jorge Ramos On 'Racist' Border Wall, May 12, 2017
Email interview, Univision journalist Jorge Ramos, May 15, 2017
Huffington Post, Former Border Patrol Head: U.S. Side Of Border Is Safer Than Washington, April 22, 2015
Texas Tribune, Border Communities Have Lower Crime Rates, Feb. 22, 2016
TucsonSentinel.com, Border security still big biz despite financial problems, legislative flameouts, April 29, 2017
PolitiFact, Trump-O-Meter: Build a wall, and make Mexico pay for it
Congressional Quarterly, City Crime Rankings 2013 Rankings by Population Categories
FBI, Uniform Crime Reporting Statistics: Their Proper Use
U.S. Environmental Protection Agency, Border 2020: US-MEXICO ENVIRONMENTAL
PROGRAM State of the Border Region Indicators Interim Report 2016
Email interview, Tony Payan, a fellow and director of the Mexico Center at the James A. Baker III Institute for Public Policy at Rice University, May 15, 2017
Phone interview, Guadalupe Correa-Cabrera, residential fellow at Wilson Center and associate professor in department of public affairs and security studies at the University of Texas Rio Grande Valley, May 15, 2017
Browse the Truth-O-Meter
More by Miriam Valverde
Support independent fact-checking.
Become a member!
In a world of wild talk and fake news, help us stand up for the facts.