Get PolitiFact in your inbox.
"BUSTED: NASA Accidentally destroys every climate change advocate by exposing massive truth behind Antarctica."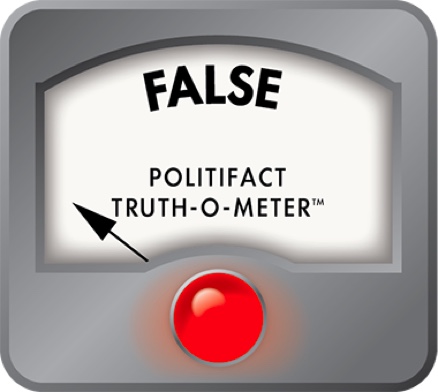 No, NASA Antarctica study didn't discredit climate change science
The public has been misled by climate change advocates about the real reason behind the melting of Antarctica's western ice sheet, claims the website American News.
"BUSTED: NASA Accidentally destroys every climate change advocate by exposing massive truth behind Antarctica," states a Nov. 8 headline.
Facebook users flagged the post as being potentially misleading, as part of the social network's efforts to combat fake news. We emailed American News but did not get a reply.
The American News story refers to a real study by NASA, but the headline falsely suggests that the study debunks climate change advocates. A NASA scientist involved in the study told us the headline is inaccurate.
Here's the real story: On Nov. 7, NASA's Jet Propulsion Laboratory in Pasadena, Calif., issued a summary of the study about the heat source under West Antarctica. The paper, "Influence of a West Antarctic mantle plume on ice sheet basal conditions," was published in the Journal of Geophysical Research: Solid Earth.
According to the NASA press release, the study "adds evidence that a geothermal heat source called a mantle plume lies deep below Antarctic Marie Byrd Land, explaining some of the melting that creates lakes and rivers under the ice sheet."
The heat source isn't new or increasing, but may help explain why the ice sheet collapsed so rapidly in an earlier area of climate change and remains unstable.
Some 30 years ago, a scientist at the University of Colorado Denver suggested that heat from a mantle plume under Marie Byrd Land might explain regional volcanic activity and a topographic dome feature, NASA wrote. Recent seismic imaging has supported this concept.
The American News story used an actual quote from the NASA press release by the first author of the study, Hélène Seroussi. When she first heard the idea, she said, "I thought it was crazy. I didn't see how we could have that amount of heat and still have ice on top of it."
To study the concept, NASA scientists used a numerical depiction of the physics of ice sheets  to capture natural sources of heating and heat transport from freezing, melting and liquid water; friction; and other processes.
Mantle plumes are thought to be narrow streams of hot rock rising through Earth's mantle and spreading out like a mushroom cap under the crust, NASA wrote.
The Marie Byrd Land mantle plume formed 50 million to 110 million years ago, long before the West Antarctic ice sheet came into existence, NASA wrote.
"At the end of the last ice age around 11,000 years ago, the ice sheet went through a period of rapid, sustained ice loss when changes in global weather patterns and rising sea levels pushed warm water closer to the ice sheet -- just as is happening today," NASA said.
Erik Ivins, a scientist and the second author on the study, told PolitiFact that the study didn't address climate change.
"The study itself is about steady state conditions that would exist at the bottom of the ice sheet for many many millions of years," he said. "We think of climate change as occurring 10 years, 100 years, maybe 500 years -- our study has nothing to do with those time scales."
The NASA study is about the bottom of the ice sheet. Climate change has had an impact on the top of the ice sheet. Warmer ocean waters intruding on the ice shelf causes the ice shelves to break up. When grounded ice sheets exit the land and go into the water that causes sea level rise
"This study doesn't discredit that," he says. "Nothing in our paper has anything to do with climate change."
We interviewed a few experts on climate change including Ben Strauss, vice president for sea level and climate impacts at Climate Central, a news organization that focuses on climate change.
"It merely suggests the presence of a natural contributor to West Antarctic ice sheet melt and instability," he says. "It does not prove that this is the only factor. It does not state that it explains all of West Antarctic mass loss. Saying that a natural heat source disproves any effect of human-caused climate change is just as ridiculous as saying that natural moonlight disproves illumination from a streetlamp."
Our ruling
The American News headline says "BUSTED: NASA Accidentally destroys every climate change advocate by exposing massive truth behind Antarctica."
The story refers to a real study by NASA about Antarctica, but that study doesn't discredit climate change scientists.
We rate this claim False.
American News, "BUSTED: NASA Accidentally Destroys Every Climate Change Advocate By Exposing Massive Truth Behind Antarctica," Nov. 8, 2017
NASA Jet Propulsion Laboratory, "Hot News from the Antarctic Underground," Nov. 7, 2017
Interview, Ben Strauss, Ph.D., Vice President for Sea Level and Climate Impacts, Climate Central, Nov. 14, 2017
Interview, James E. Hansen, Climate Science, Awareness and Solutions Program Earth Institute Columbia University director, Nov. 14, 2017
Interview, Richard B. Alley, Department of Geosciences, and Earth and Environmental Systems Institute professor, Pennsylvania State University, Nov. 14, 2017
Interview, Erik Ivins, NASA senior research scientist, Nov. 14, 2017
Browse the Truth-O-Meter
More by Amy Sherman
Support independent fact-checking.
Become a member!
In a world of wild talk and fake news, help us stand up for the facts.