Stand up for the facts!
Our only agenda is to publish the truth so you can be an informed participant in democracy.
We need your help.
I would like to contribute
The GOP tax plan "Sabotages the health care of 13 MILLION Americans."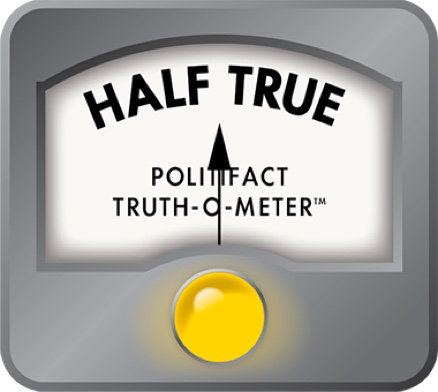 Pelosi's problematic claim GOP tax plan 'sabotages' health care of 13 million Americans
Many Democrats in Congress describe the GOP tax plan as a scheme to benefit the wealthy at the expense of the middle class.
In recent weeks, their attacks have been expanded to say it would take away or damage health care for millions of Americans.
That particular criticism started after Senate Republicans added a provision to their tax overhaul bill that would eliminate the Affordable Care Act's individual mandate — the requirement that Americans have health insurance or pay a penalty. GOP Sen. Susan Collins of Maine has expressed concern over the inclusion of this provision in the tax bill, which needs approval from nearly all Republican senators to pass.
House Minority Leader Nancy Pelosi, D-Calif., was the latest Democrat to lodge a comparable criticism of the bill.
The GOP tax plan "Sabotages the health care of 13 MILLION Americans," Pelosi's political team wrote on Twitter on Nov. 27, 2017 as part of a longer list of criticisms of the bill.
PolitiFact New York and The Washington Post have fact-checked similar statements by Democratic leaders about the bill's impact on health care. They found those claims were partially accurate but ignored key facts.
We'll take a look at those and rate Pelosi's statement.
Similar claims
Earlier this month, PolitiFact New York rated Half True the claim by Democratic New York Gov. Andrew Cuomo: Congressional Republicans "want to take health care from millions of Americans in order to pay for" a tax bill.
It found Cuomo had a point: Ending the individual mandate would result in an estimated 13 million fewer Americans with health coverage by 2027, according to the Congressional Budget Office analysis.
Pelosi's spokesman pointed to the same CBO report when PolitiFact California asked for evidence backing up the congresswoman's claim.
In its analysis, however, PolitiFact New York pointed out that ending the individual mandate isn't the same thing as stripping away health insurance for a large number of Americans. While some would lose access to health insurance due to increased premiums, many others would drop their coverage voluntarily.
The Washington Post Fact Checker, meanwhile, gave Two Pinocchios — which it describes as its Half True rating — to Senate Minority Leader Chuck Schumer when he said, "We're kicking 13 million people off health insurance to give tax cuts to the wealthy."
The Post described the first part of Schumer's statement as "problematic."
"CBO, in estimating the impact of repealing the individual mandate, is mostly describing a voluntary action of people choosing not to buy health insurance. That's not the same as "kicking off" 13 million people. Granted, some people may feel they don't have a choice because their premiums increased. Senate Democrats need to more accurately describe the CBO report," the Post concluded.
Sabotage?
Pelosi, through her political team's tweet, claims the GOP tax plan "sabotages" the health care of 13 million Americans. We took this to mean it intentionally strips health care from millions. If healthy people leave the individual market, premiums will go up for the remaining and sicker enrollees. That could force some people to drop their plans due to cost.
But, as with the claims from Cuomo and Schumer, the statement from Pelosi and her staff ignores the fact that a large portion of the 13 million people would voluntarily drop their plans and would not see a direct health impact.
PolitiFact New York cited research from RAND Corp. that estimated roughly two-thirds of disenrollment would stem from voluntary choices and one-third would be involuntary. Other research has put the percentage at about 50-50, said Linda Blumberg, a health policy specialist at the Urban Institute.
Our ruling
Nancy Pelosi recently claimed the GOP tax plan "Sabotages the health care of 13 MILLION Americans."
She has a partial point: Senate Republicans have proposed eliminating the ACA's requirement that all Americans have health insurance or pay a penalty. By getting rid of this, the CBO estimates 13 million fewer people would have insurance a decade from now.
Many would voluntarily leave the individual health care marketplace, driving up premiums for those who remain, forcing some who want to keep their insurance to drop it.
But like other top Democrats, Pelosi left out much of the story. "Sabotaged" just doesn't fit for the two-thirds of those researchers say would leave voluntarily.
PolitiFact New York and The Washington Post examined similar claims and rated them the equivalent of Half True. They were partially accurate but omitted key information.
We agreed with their assessments.
We also rate Pelosi's claim Half True.
---
HALF TRUE – The statement is partially accurate but leaves out important details or takes things out of context.
Tweet, Nancy Pelosi's political team, Nov. 27, 2017
Washington Post, Schumer's claim that the GOP is 'kicking 13 million people off health insurance', Nov. 16, 2017
PolitiFact New York, What impact will eliminating individual mandate have on uninsured, deficit?, Nov. 16, 2017
Browse the Truth-O-Meter
More by Chris Nichols
Support independent fact-checking.
Become a member!
In a world of wild talk and fake news, help us stand up for the facts.