Stand up for the facts!
Our only agenda is to publish the truth so you can be an informed participant in democracy.
We need your help.
I would like to contribute
In the Alabama Senate runoff, "the candidate I endorsed (Luther Strange) went up MANY points after endorsement!"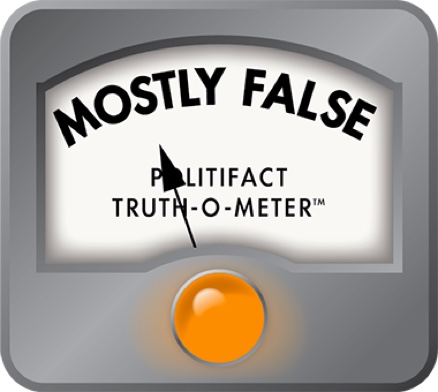 Donald Trump says Luther Strange gained many points after endorsement, but evidence is weak
The defeat of Sen. Luther Strange, R-Ala., in a Sept. 26 runoff election was a blow for President Donald Trump, who had endorsed Strange over his Republican rival Roy Moore. Strange's loss even led Trump to delete several of his pro-Strange tweets shortly after the election.
But Trump didn't drop the subject, tweeting a few days later, "In analyzing the Alabama Primary race, FAKE NEWS always fails to mention that the candidate I endorsed went up MANY points after endorsement!"
When we took a closer look, we found weak support for Trump's claim.
The White House pointed us to a news release from Emerson College's polling unit, which conducted several polls of the Alabama contest.
The news release announcing the results of the Emerson poll conducted Sept. 21-23 included the following analysis: "Moore still leads Strange 50 percent to 40 percent, but the gap has narrowed. Strange trailed Moore by 14 points two weeks ago in Emerson's previous Alabama poll … President Trump's ardent support of Luther Strange in the recent weeks is the likely cause of the gap closing." (Trump's rally in support of Strange was held on the evening of Sept. 22, meaning a portion of the survey occurred after that event.)
The lines from the news release don't provide as much support as Trump seems to think they do.
For starters, there's some question whether a four-point gain merits the label "MANY" -- or whether it's even mathematically significant, given that the poll had a five-point margin of error.
There are also questions about the timing. The Sept. 22 rally for Strange wasn't actually the unveiling of Trump's endorsement -- it had been public for weeks. Trump officially endorsed Strange on Aug. 8, a point Trump glossed over in his tweet. In other words, voters who had been paying attention during either the Aug. 15 primary (which included three major Republican candidates) and the Sept. 26 runoff (which included just Moore and Strange) would have known that Strange was Trump's endorsed candidate.
Finally, focusing solely on the Emerson poll leaves out a lot of other polling data that showed little movement toward Strange after either Trump's formal endorsement or his rally.
Here's a rundown of polls from the RealClearPolitics.com archive:
| | | | | |
| --- | --- | --- | --- | --- |
| Poll | Dates | Moore | Strange | Leader in poll |
| |   |   |   |   |
| | 7/24 - 7/24 | 33 | 35 | Strange +2 |
| | 7/31 - 8/3 | 31 | 29 | Moore +2 |
| | 8/5 - 8/6 | 30 | 22 | Moore +8 |
| | 8/8 |   |   |   |
| | 8/8 - 8/10 | 35 | 23 | Moore +12 |
| | 8/10 - 8/12 | 29 | 32 | Strange +3 |
| | 8/12 - 8/13 | 38 | 24 | Moore +15 |
| |   |   |   |   |
| | 9/8 - 9/9 | 40 | 26 | Moore +14 |
| | 9/21 - 9/22 | 48 | 40 | Moore +8 |
| | 9/22 |   |   |   |
| | 9/21 - 9/23 | 50 | 40 | Moore +10 |
| | 9/22 - 9/23 | 55 | 45 | Moore +10 |
| | 9/23 - 9/24 | 57 | 41 | Moore +16 |
These 11 polls show little convincing evidence that Trump's official endorsement or his rally moved the needle for Strange.
One Emerson poll, taken just after Trump's official endorsement from Aug. 10 to Aug. 12, showed Strange up by three points. That was 11 points better than his eight-point deficit in the last pre-endorsement poll.
However, in context, that Emerson poll looks like an outlier. To believe that Strange was really up by three points at that stage of the contest would require dismissing two polls by the Republican firm the Trafalgar Group that bookended the Emerson poll by two days on each side. One had Moore ahead by 12, while the other had Moore ahead by 15.
As for polls after the rally, those undertaken at least partially afterward showed high and expanding leads for Moore.
Indeed, if you look at the actual ballots cast -- the only vote that really counts -- Moore ended up outpacing Strange by an even wider margin in the runoff.
"Moore's edge over Strange grew from six points in the first round to nine in the second, so the actual votes suggest that Trump did not help Strange close the gap on Moore," said Kyle Kondik, an analyst at the University of Virginia's Center for Politics.
Kondik also pointed to analysis of data from the polling firm 0ptimus by the Republican firm Firehouse Strategies. The analysis found that even as knowledge of Trump's endorsement of Strange became better known among the electorate, Moore's margin grew, from seven points on Sept. 13 to 10 points on Sept. 24, two days before the election.
"We can concretely say that Donald Trump's endorsement and active campaigning for Sen. Strange had absolutely no impact on the ballot," Firehouse Strategies concluded.
Our ruling
Trump tweeted that in the recent Alabama Senate runoff, "the candidate I endorsed (Luther Strange) went up MANY points after endorsement!"
Trump can point to one poll that showed Strange narrowing Moore's lead by four points after his rally. But other polling data doesn't back this up, and his tweet glosses over the fact that he had announced his endorsement weeks earlier and that the increase in that one poll is so modest as to be within the margin of error. We rate his statement Mostly False.
Donald Trump, tweet, Sept. 30, 2017
RealClearPolitics, Alabama Senate primary polling summary, accessed Oct. 2, 2017
RealClearPolitics, Alabama Senate runoff polling summary, accessed Oct. 2, 2017
Emerson college, news release, Sept. 11, 2017
Emerson college, news release, Sept. 25, 2017
Firehouse Strategies, "CLIENT MEMO: Key Findings from the Alabama Senate Run-Off," Sept. 29, 2017
The Hill, "Trump endorses Luther Strange in Alabama Senate GOP primary," Aug. 8, 2017
CNN, "Trump touts 'Big Luther's' loyalty, electability at Alabama rally," Sept. 22, 2017
Email interview with Kyle Kondik, political analyst at the University of Virginia's Center for Politics, Oct. 2, 2017
Browse the Truth-O-Meter
More by Louis Jacobson
Support independent fact-checking.
Become a member!
In a world of wild talk and fake news, help us stand up for the facts.