Stand up for the facts!
Our only agenda is to publish the truth so you can be an informed participant in democracy.
We need your help.
I would like to contribute
Says the Austin metro region "will lead" the nation "with population growth over 50%" over the next 30 years.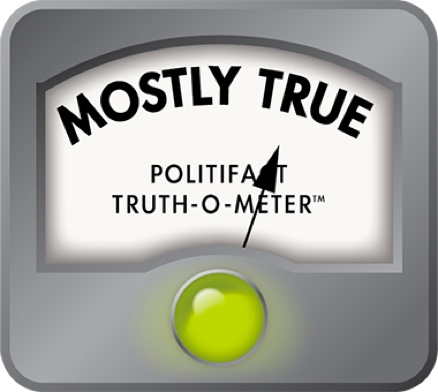 John Thomaides, San Marcos mayor, says Austin region will outgrow all others to 2046
San Marcos Mayor John Thomaides floated big numbers in a tweet suggesting the Austin area is on pace to outgrow all other places nationally in coming decades.
"Metro population will grow by 67 million people over the next 30 years," Thomaides wrote in June 2017. "Austin metro will lead with population growth over 50%."
Watch out San Antonio and parts between, Austin's about to bulge worse than the perilous interstate that splits Texas.
But hold on: We can't fact-check whether predictions will come true. In this instance instead, we focused on whether Thomaides, who was elected mayor in 2016, had a solid factual basis for his claim about the Austin metropolitan area's likely population.
Mayor cites economist
For starters, Thomaides told us by email that he jotted the information in his tweet while attending a panel discussion including economist Jim Diffley during the 2017 United States Conference of Mayors in Miami Beach.
Diffley, who works for IHS Markit, a consulting firm that says it gives clients including governments and banks "next-generation information, analytics and solutions," later confirmed that he'd delivered the numbers--including the firm's expectation that from 2016 to 2046, metro regions nationally will gain 66 million added residents.
Diffley emailed us a May 2017 IHS Markit report presenting the firm's population-growth forecasts for metro areas coast to coast--including a chart in the report's appendix stating that from 2016 to 2046, the five-county Austin-Round Rock area's population will grow 87 percent--surging from 2,059,500 to 3,858,800. The five counties are Travis, Williamson, Hays, Bastrop and Caldwell.
That 87-percent forecast shouldn't seem a shock. In 2014, we rated True a claim that the population of Austin alone had basically doubled every 25 years since its founding.
Notably too, the report projects the greater Austin area will grow considerably more than what Thomaides said.
As the report headed to print, Diffley told us by email, the firm acted on fresh U.S Census Bureau figures by reaching a new, slightly lower projected 2046 population for the Austin region of 3,780,000 residents, which it lately predicts would be up 83 percent from a new estimate of the region's 2016 population, 2,064,000.
Austin-Round Rock predicted to grow faster than every region?
We kept our sights on the report behind Thomaides's claim. That report, we noticed, indicates the Austin area's population increasing far faster than other regions nationally--though not all other regions.
Among big Texas metro areas, the report chart suggests the San Antonio area will grow 53 percent, from 2,431,700 residents to 3,727,100 people. Other big Texas metros and their projected 30-year growth rates: Dallas-Fort Worth, 57 percent; Houston-The Woodlands-Sugar Land, 56 percent; McAllen-Edinburg-Mission, 59.8 percent; and El Paso, 30 percent.
Nationally, the chart indicates, only three less-populous Florida metros will grow at a greater clip than the Austin area. Per the chart, The Villages will see 96.5 percent population growth, reaching 245,400 residents; Naples-Immokalee-Marco Island will see 88 percent population growth, reaching 694,300 residents; and Cape Coral-Fort Myers will experience 84 percent growth, becoming home to 1,339,000 people.
We further inquired how the firm reached its regional projections. By phone, Karl Kuykendall, an IHS Markit regional economist, said that the company maintains econometric models for states and metro area that take into account historical growth including births, deaths and domestic migration--also factoring in economic determinants such as jobs and income changes.
Kuykendall, noting the Austin region's population about doubled from 1990 to 2010 in going from 856,000 to more than 1.7 million, said: "Austin has been one of the fastest-growing areas over the last two to three decades." And, he said, as long as key drivers drawing people to the region "don't fundamentally change, you can have a lot of confidence" in its 2046 projections. He cited as factors the region's "highly educated" workforce, attractive cultural amenities and its reputation as a hotbed for technology start-ups and expansions.
Geographically too, Kuykendall said, "there's still a lot of room for growth."
Alternate growth scenarios
We queried a pair of Austin experts on growth for takes on the IHS Markit projections.
By email, Beverly Kerr of the Austin Chamber of Commerce called IHS Markit a solid source. "I don't think the projection that Austin will be at 3,858,800 by 2046 is too out there," Kerr said.
Kerr otherwise noted that Ryan Robinson, the City of Austin demographer, has separately projected the Austin-Round Rock area having a 2045 population of more than 4.3 million, more than doubling an estimated 2 million residents in 2016, a forecast Robinson reaffirmed to our emailed inquiry.
Kerr wrote that Robinson assumes the region's rate of growth decreasing over time, which she said offers "a reasonable middle ground between the aggressive and conservative versions of the state projections."
Kerr otherwise pointed out that the state demographer, Lloyd Potter, has said that assuming migration continues at the pace set in 2000-2010, the Austin-Round Rock metro area would be home to 4,651,780 people in 2046--for more than a doubling in residents. If that's too aggressive an assumption, Kerr noted, the Potter-led Texas Demographic Center also provides a forecast of 3,081,305 residents in 2046, assuming a migration rate half the 2000-2010 rate. That would still be a 60 percent bump from this more conservative scenario's estimate of 1,930,408 people living in the region in 2016.
We also asked the census bureau about forecasts of regional population changes. By email, spokeswoman Virginia Hyer said the agency doesn't produce metro-level population projections.
Our ruling
Thomaides said the Austin metro region "will lead" the nation "with population growth over 50%" over the next 30 years.
That "over 50%" is actually an understatement, based on what experts including the Texas state demographer predict. And while the report behind the mayor's claim showed Austin No. 1 in projected growth among similar-sized metro areas, less populous metro areas in Florida were projected to grow at even faster clips.
We rate this claim Mostly True.
---
MOSTLY TRUE – The statement is accurate but needs clarification or additional information. Click here for more on the six PolitiFact ratings and how we select facts to check.
Emails (excerpted), John Thomaides, mayor of San Marcos, Aug. 17 and 24, 2017
Truth-O-Meter article, "Austin's population has doubled every 25 years or so since its founding," PolitiFact Texas, March 7, 2014
Emails, Jim Diffley, executive director, IHS Markit Economics, Sept. 6, 18 and 20, 2017
Report, "U.S. Economies: Past and Future Employment Levels, Transportation and the Costs of Congestion; Population Forecast," IHS Markit, May 2017 (received by email from Jim Diffley, chief economist, IHS Markit, Sept. 6, 2017)
Phone interviews, Karl Kuykendall, principal economist, U.S. regional service, IHS Markit, Sept. 18 and 20, 2017
Emails, Beverly Kerr, vice president, Research, Austin Chamber of Commerce, Sept. 18-19, 2017
Web post, "Austin Area Population Histories and Forecasts," Ryan Robinson, city demographer, Department of Planning, City of Austin, December 2016
Documents showing projected population changes, Austin-Round Rock metropolitan area, assuming migration rate of 2000-10 or assuming half the migration rate of 2000-10, fetched from web page, "2014 Texas Population Projections by Migration Scenario Data Tool," Texas Demographic Center (accessed Sept. 20, 2017)
Emails (excerpted), Ryan Robinson, city demographer, Department of Planning, City of Austin, Sept. 18, 2017
Email, Virginia Hyer, public affairs specialist, Media Relations Branch, Public Information Office, U.S. Census Bureau, Sept. 20, 2017
Browse the Truth-O-Meter
More by W. Gardner Selby
Support independent fact-checking.
Become a member!
In a world of wild talk and fake news, help us stand up for the facts.